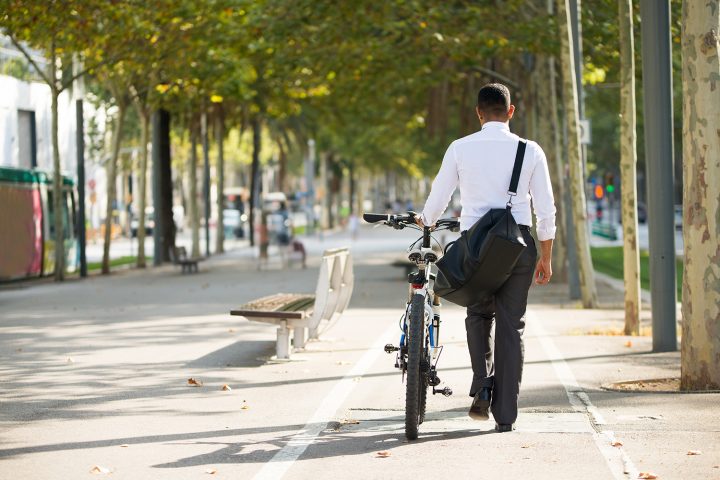 Metro Manila is finally placed under General Community Quarantine after two months of being under Enhanced Community Quarantine. Most industries are now easing back to the new normal operations but with very limited mass transportation options, majority of us are having a difficult time getting to our offices. You've seen it in the news: walking kilometers after kilometers to get to the nearest train or bus station, only to find out that there are no buses/trains stopping at the station.
A good piece of the pie have decided to get on a bike and pedal their way to their workplace. Some of these bike commuters have only ridden the bike around the comforts of their village or the streets of a residential area. While there are bike lanes now in major roads and highways, one can still never be too careful pedaling from point A-B.
John-John Torres passionately shared his Top 7 Bike Safety Tips for bike commuting newbies.
1. Make sure you have bright headlights, and NOT just blinkers.
Your headlight (maybe 400 lumens) should be strong enough to light the road when you are in the dark parts between street lamps. Your headlights have to be bright enough to see debris/litter and cracks/potholes in the dark. Taillights should be bright enough to be seen even when under a strong street lamp.
TIP: invest in USB rechargeable lights, so you can charge while you're at work!
2. Always bike in a Predictable and Orderly manner.
This way, the cars or motorcycles behind you (that you don't see) have time and opportunity to avoid you. Do not quickly swerve or brake suddenly. Do these in a predictable and orderly manner for your own safety.
3. Always give way to pedestrians.
Just let them go. If you ride quickly towards a pedestrian, they might get startled and unexpectedly step back or jump forward or freeze (you really won't know), directly into your path. Make your presence known before you get there by calling out loud "Good Morning!" or "Good Evening!" It is a much more pleasant way to call their attention, than screaming at them "BIKE BIKE BIKE!!"
4. Make your proper HAND signals in an obvious and grand Manner.
Make sure you hold that hand signal for several seconds, don't just flick a hand in your desired direction. Holding the signal hand will allow the car or jeepney or motorcycle behind you to avoid you.
Here's a quick bike hand signal guide: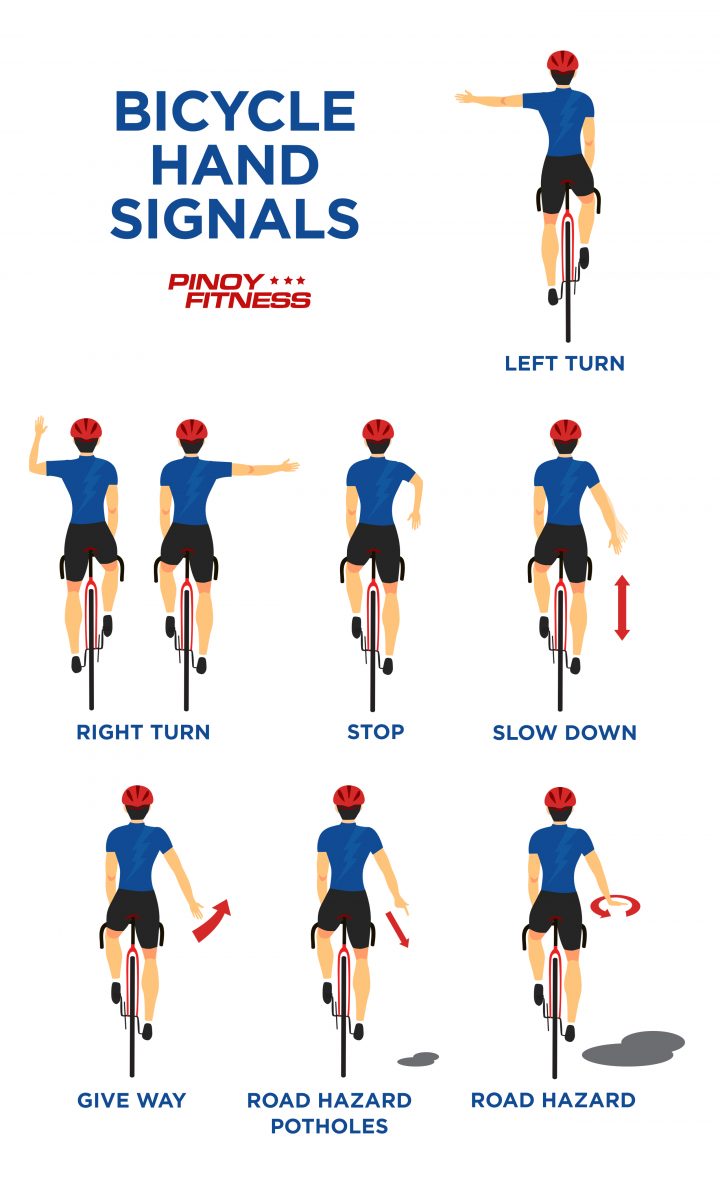 5. Bike on the rightmost part of the road.
Be especially careful about motorcycles overtaking in the small space on your right-hand side! They could easily startle you into a crash when they do that, especially at night. So when cycling on the road, stay as far right as you can so the motorcycles will find no space to shoot through on your Right, and choose to overtake you on your Left, as they should.
6. Wear clear lenses.
So you can also use them at night. Bicycles have no windshields. So the clear glasses serve as protection against bugs and dust in the eyes, which could easily cause a crash, especially at night. Clear Lenses are for function and not just form.
7. Wear reflective clothing.
Don't rely on just your lights and blinkers to make your presence known. You can wear a reflective band on your ankle or on your upper arm or both.
Check out also what these veteran cyclists have to say: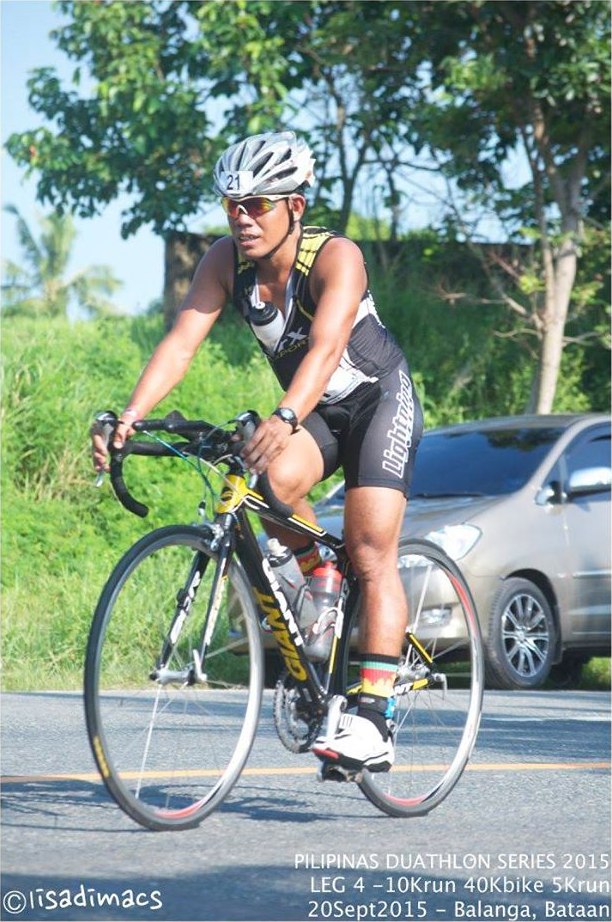 Timmy Santos
Years biking to work: 12 years
"Ingat lng sa daan kailangan din ng proteksyon sa katawan tulad ng helmet, gloves, sapatos at makukulay na damit para kitang kita sa daan. Sa mga baguhan, kailangan matuto ng hand signals. Magdala ng ID, pera, tubig, cellphone. Laging nasa gilid lng ng kalye para iwas disgrasya."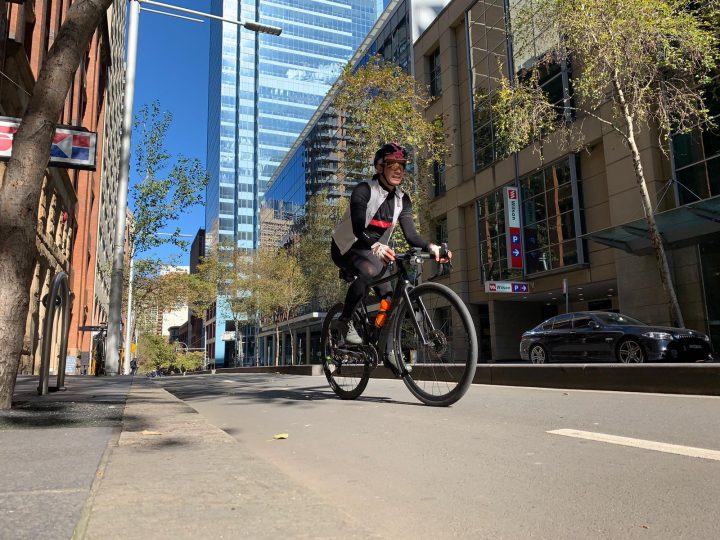 Erwin Varona
Years biking to work: 3 years
Usual bike to work route: Willoughby to North Sydney, Australia
Distance 1 way: 5 kms
"When bike commuting, strictly follow all road rules. Bikes and motorists are all equal on the road. Share the road and follow the same rules. Also, always wear a helmet, have working brakes, a bell, and lights."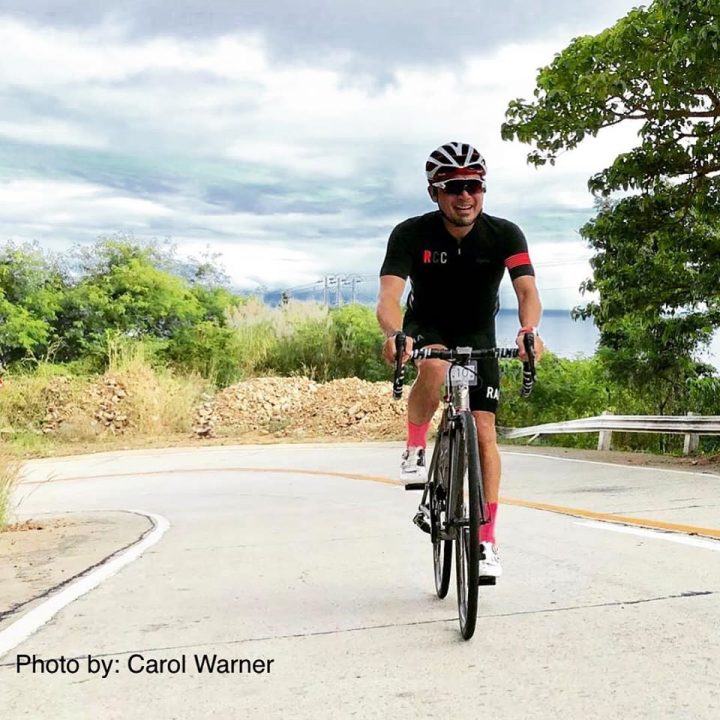 As what John-John said… bike through roads with the mindset that YOU HAVE NO RIGHTS to be there. We know we have rights, but with that mindset, you will be more careful and polite. Say Good morning! Good Evening! Thank you! Say it Out loud. And you will help to spread a good impression for the other cyclists that are out there too.