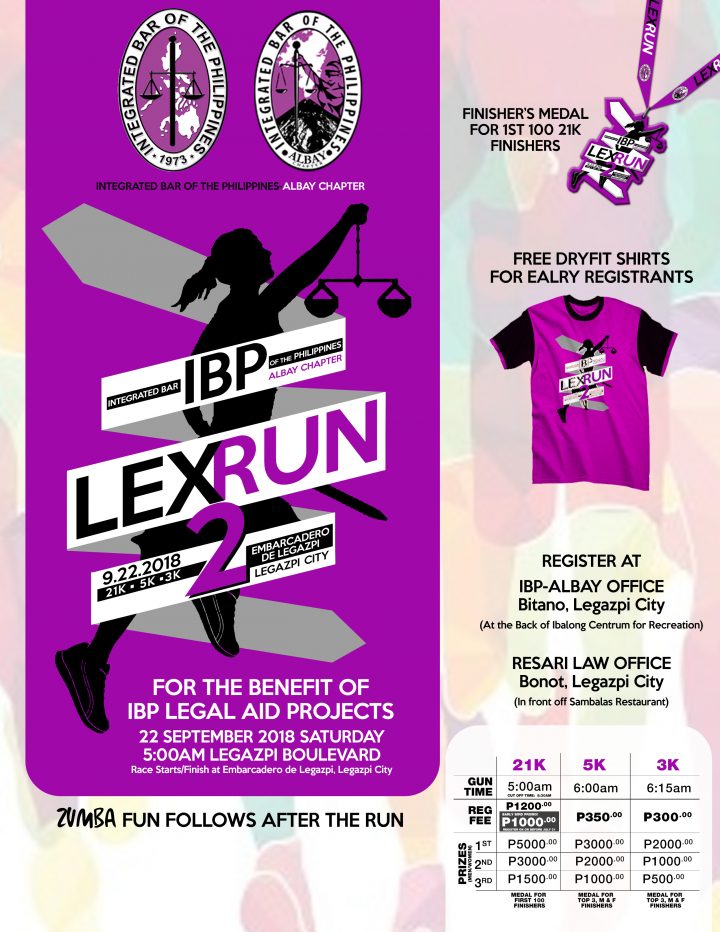 The IBP Albay will celebrate the National Law Week on the 3rd week of September 2018. One of the activities that will be rolled out by IBP Albay is LEX RUN 2.
The first edition of IBP Lex Run was successfully held on February 27, 2016. This year, LEX RUN 2 will be held on September 22, 2018, Saturday.
The race will start and finish at Embarcadero de Legazpi. Lex Run 2 has three categories: 21km – Half Marathon, 5km, and 3km Fun Run. After the marathon and fun run it will be followed by a ZUMBA FUN. Funds generated from this activity will be used for the benefit of the IBP Albay Free Legal Aid projects.
LEX Run 2
September 22, 2018
Embracadero de Legazpi, Legazpi City
3K|5K|21K
Organizer: Integrated Bar of the Philippines-Albay Chapter
Get Updates – Click Here
Registration Fees:
3
K – P300
5K – P350
21K – P1200

- Inclusive of Dryfit shirts for the first 200 pax for the 3K distance, for the first 300 pax for the 5K distance, and for the first 100 pax for the 21K
Registration Venues:
1. On-site:
– IBP-Albay Office in Bitano, Legazpi City (Back of Ibalon Centrum for Recreation)
– Resari Law Office in Bonot, Legazpi City
– Soon: Ayala Malls Legazpi
For More Information:
Kaloi Garcia – [email protected]