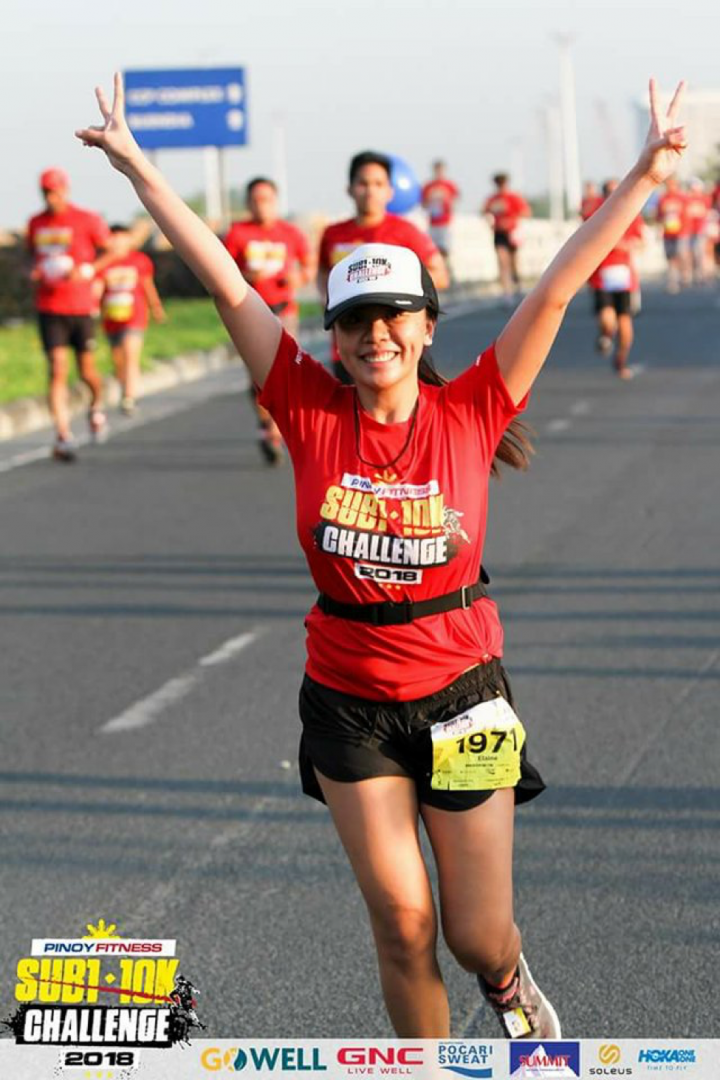 I'm proud I participated in this year's Pinoy Fitness Sub1 10K Challenge last March 25 not only because running is my favorite hobby but also because it was my first Sub 1 attempt.
But to be honest with all of you, I didn't make it to the cut-off time.
Yes. I did survive to finish with a rank 1,948th among 2,010 runners. And that is an achievement unlocked (Yehey!). I prepared for this but still failed to receive the most sought after Finisher's Medal – the metal that symbolizes courage, endurance, and most of all, speed. Nevertheless, it was a yielding experience for me especially while I was queuing in line to get my Finisher's T-shirt – this is when several questions started to fill my mind.
Why should I belittle my small achievements? Why do I feel the need to impress? Why am I so concerned about my weaknesses? Why am I in a rush to achieve other's short-term expectations of me? Why do I think I need to take the extra mile just to be ahead of others? Why is it so hard to be humble?
To be fair, I never imagined I could I run this far since I was as weak as the flower that sways with every wind back in the days.
I was the type of girl who messed up even her Physical Education subjects.
Sure, I could enumerate and define all components of Physical Fitness but I didn't have the muscular endurance to do even two or three curl-ups. I could only score five in the jumping jacks. And as for the sit and reach test, I wasn't even able to reach my ankle. I also remember the disappointed look of those I play badminton with every time I attempt to hit the shuttlecock but it never landed in the receiver's service court.
You get the point, I was never the athletic type… until I discovered running.
I joined my first Million Volunteer Run last February 6, 2016, at the Mall of Asia. At first, I didn't enjoy it. My legs were sore after just a few kilometers and it even came to the point where I told myself, "I'd rather do the laundry than wake up at 3 am for this". I didn't have a good start in running.
But with the overpowering emotion in me to run again, I participated in Auditor Run organized by Institute of Internal Auditors last May 27, 2017. I was very excited to receive the 10K Finisher's Medal. And since I was so desperate to take a selfie with the medal, I didn't turn to the other route to complete the remaining last 5K, instead, I headed to the finish line. I cheated and it was the most disrespectful thing I did to myself.
Why do I feel the need to impress? Am I this desperate to resort to cheating?
After the auditor run, I soon realized that it's better to get an honest zero than a cheated 10K medal. So I tried again and joined a 5K in the 41st National Milo Marathon last July 30, 2017. After contemplation and a lot of running, I soon realized the true value and importance of honesty and humility in this sport. There is no point in cheating as you are only ever running to be a better you and not to impress others. There is no point in skipping training and taking the shorter route as that will never make you a better runner.
So I trained… a lot
In less than a month after beating the energy gap, we finished strong at 3:04:15 gun time in the Pinoy Fitness Kasama Run last August 20, 2017. I ranked 1672nd among the 1,799 Kasama runners. My boils didn't stop me from reaching the finish line. I had many realizations in mind while enduring the 16K run.
And again, last January 14 this year, we registered and joined the PSE Bull Run in BGC. I crossed the finish line within 48:31 chip time and ranked 507th among the 854 runners. My running buddy turned to be my best friend finished the race by almost just 30 minutes. After claiming the freebies, I was hesitant to take a selfie with my 5K Finisher's T-shirt.
I felt lowly with running "just" a 5K because I thought it was just a "little" achievement and I wished it was 10K or 21K
But my best friend preached me to appreciate my "little" victory because being boastful is being ungrateful. And he was right. Why is it so hard to be humble? Why do I belittle my small achievements?
Why joining the sub 1 challenge was all worth the pain
It was my first time to join the Sub1 10K Challenge this year. I crossed the finish line but I wasn't qualified for the Finisher's Medal.
Yet I was and still proud of this triumph.
This may be a small achievement for many, but I felt the surreal rush of pride inside of me. Those behind-the-scenes preparation and failures- from my collections of sweatshirts and colorful socks after the long night run, learning and actually doing some carb-loading, and those pangs of instant frustration each time I see screenshots of training logs were all worth the pain.
Today, I have learned to celebrate my small achievements, rather than to belittle them.
And at the end of the day, as I wrote in my first article "How to Prepare Yourself before Finding Mr. Right" I penned that humility is not only a feeling but also and always a blessing.