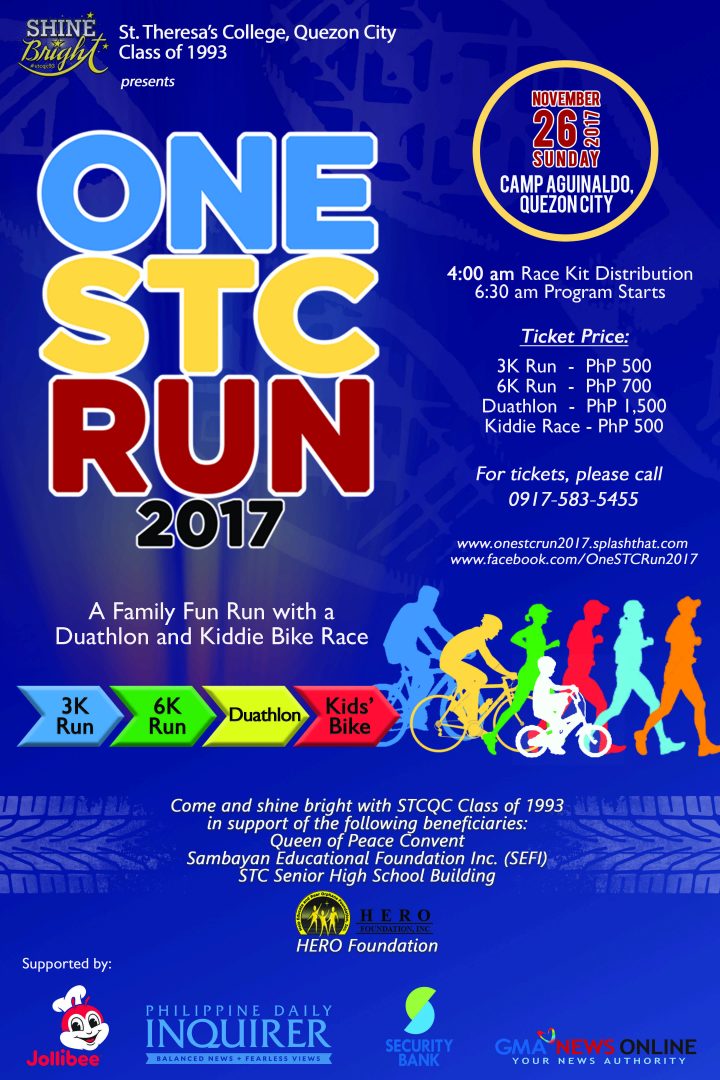 The successful One STC Run organized by the St. Theresa's College, Quezon City Class of 1992 last year inspired STCQC Class of 1993 to continue the event. Both classes — including the STCQC Alumnae Association — hope that this would become an annual gathering for Theresian families and their friends.
On its second year, One STC Run is now One STC Run 2.0: A Family Fun Run with Duathlon and Kiddie Bike Race.
STCQC 1993 designed this year's Run for:
– families who want to spend a healthy morning together
– the serious athletes; and
– the kiddos who want to exhibit their biking prowess!
The Run is also one of the fundraising activities of STCQC 1993 for its Homecoming on 27 January 2018 and the class's chosen beneficiaries: The Queen of Peace Convent, the retirement home of the Sisters of the Missionary Heart of Mary (ICM); the scholars of STC's Sambayan Educational Fund, Inc. (SEFI); and the construction of the new senior high school building.
As this year's Run will be at the Armed Forces of the Philippines (AFP) General Headquarters at Camp Aguinaldo, we thought it best to also give tribute to the valor of our soldiers.
The Run participants can also make a separate donations to help sustain the education of the children of soldiers, under the auspices of HERO Foundation.
ONE STC RUN
November 26, 2017
Camp Aguinaldo
3K|6K|DUATHLON|KIDDIE BIKE RACE
Organizer: STCQC BATCH 1993
Registration Fees:
3K Run – P500
6K Run – P700
Duathlon – P1500
Kiddie Bike – P500
Registration Venues:
STEP 1: BUY TICKETS
– Buy tickets from your Section / Batch Representatives or to any Batch '93 organizers.
– Ticket selling will be from October 7 to November 22 only.
STEP 2: REGISTER
– Register online using the ticket code. – CLICK HERE
– Completely fill-out the form to successfully register.
– Expect a confirmation email sent to your registered email address three (3) days after online registration.
STEP 3: CLAIM RACE KIT
– Race Kits will be distributed on event day from 4:00 AM until 6:00 AM only.
– Present email confirmation upon claiming.
– No email confirmation, No race kit.
Shirt Design: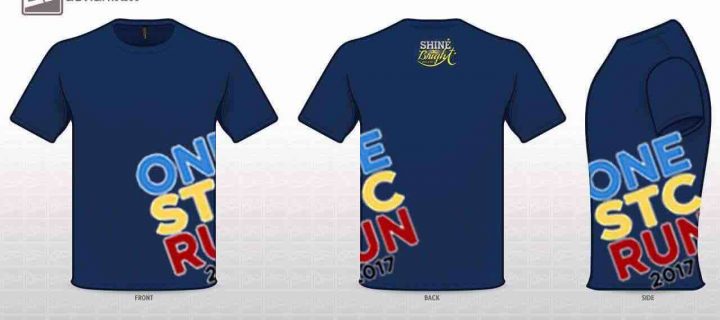 For More Information:
Visit – https://www.facebook.com/OneSTCRun2017/
For tickets, please call 0917-5835455