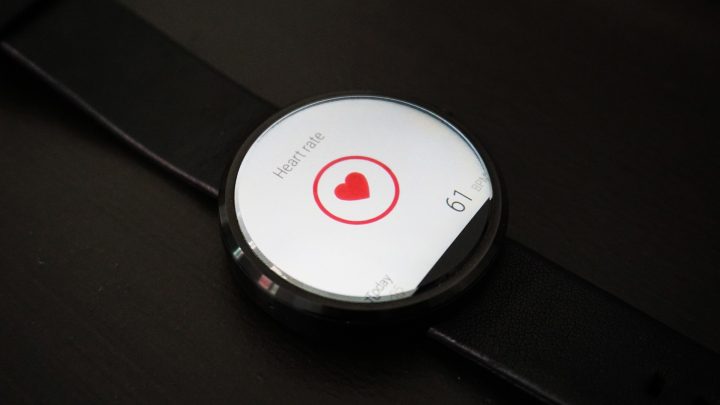 One of the most common misconceptions about running is that if you always run as fast as you can for as long as you can, you'd achieve all the benefits of running. For example:
Do you want to lose weight? Run as fast as you can for as long as you can!
Do you want to improve your endurance? Run as fast as you can for as long as you can!
Do you want to be faster? Run as fast as you can for as long as you can!
It seems sensible because it's much harder to run fast therefore it must produce better results, right? Apparently, that's not always the case. Running fast or training in high intensity is beneficial to an extent but can also cause injuries and burnouts. The different intensities of running, from warming up to sprinting, have a corresponding heart rate zone that has different benefits and effects on your body.
Heart Rate Zones and Maximum Heart Rate
Heart rate zones are basically the intensity of your workout as compared to your maximum heart rate. Each of the zones requires a varying level of effort and gives different benefits and improvements on your body and performance as a runner – like an increase in metabolism, better cardiovascular performance, etc.
To understand heart rate zones, it is important to first know your own Maximum Heart Rate. An estimation of the maximum heart rate of a normal person (i.e. normal body weight and without heart complications) can be calculated by using the simple formula below:
220 – Your Age = Maximum Heart Rate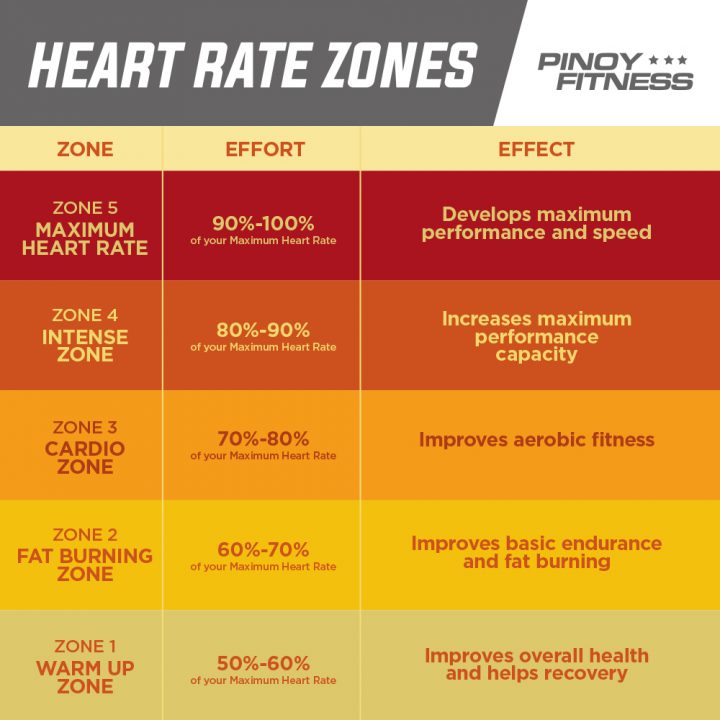 ZONE 1: WARMUP ZONE (50-60% OF YOUR MAXIMUM HEART RATE)
Walking and cycling at moderate speed are some exercises that can be done in this very low-intensity zone. It is best for runners and athletes recovering from injuries. This zone requires a minimal amount of effort and is also done by runners as a warmup because it helps you prepare for training in higher heart rates zones.
ZONE 2: FAT BURNING ZONE (60-70% OF YOUR MAXIMUM HEART RATE)
To reach the fat burning zone, runners don't actually need to sprint or run very fast. Long slow runs fall in this category wherein light to medium effort is exerted by runners. In this zone, there is a boost in metabolism that enables the body to be more efficient at burning fat. Aside from this, general endurance is also built which is very important in improving running performance.
ZONE 3: CARDIO ZONE (70-80% OF YOUR MAXIMUM HEART RATE)
Running at moderate speed and being able to talk to your running buddies are the signs that you are in the cardio zone. This is the ideal training zone for runners because it helps improve the overall cardiovascular performance which means better blood circulation in the heart and skeletal muscles.
Constant training in this zone will also improve your efficiency as runners and decrease the difficulty of your runs because you are developing overall muscle strength.
ZONE 4: INTENSE ZONE (80-90% OF YOUR MAXIMUM HEART RATE)
The moment that you are no longer able to sustain a conversation with your running body is the time that you have entered the anaerobic or intense zone. You will start to breathe heavily and feel fatigue in your muscles. In return, training in this zone improves speed endurance and conditions you for maximum performance capacity for short running sessions. It also helps increase the lactate threshold which means you will be able to run longer before lactic acid builds up in your bloodstream.
ZONE 5: MAXIMUM HEART RATE (90-100% OF YOUR MAXIMUM HEART RATE)
In this zone, the heart, blood, and respiratory system are being trained to work at their maximal capacity. People with intermediate fitness do not necessarily need to train in this level yet, but professional athletes or very fit people train in this zone to achieve peak performance in their respective sport (i.e. develop speed). Even so, training in this zone is usually just done for several seconds or a few minutes.
How Can You Monitor Your Heart Rate?
Manually monitoring your heart rate while running is almost impossible to do. Luckily, portable and quite stylish heart rate monitors are available in the market right now that are usually worn around the wrist to monitor pulse rate and give your heart rate in an instant. Popular brands nowadays includes Garmin, Fitbit and Polar Watches. Check them out!
SOURCES: Runners World | Crossfit Bloomfield | Polar