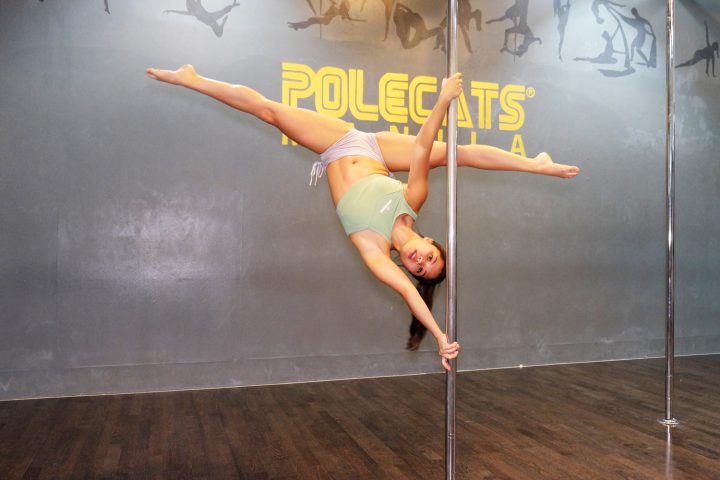 Kayleen Ortiz: Empowering Lives through Pole Dancing
It's Wednesday night, I go up the 22nd floor of Strata 100 Building in Ortigas, quickly ask for directions, and find myself inside Polecats Manila, the country's pioneering pole dancing studio. The beginner's class has just ended, and the intermediate class is going through their warm up routine.
I look at the ladies attending the class, and they're a mixed group. Tall ladies, petite ladies, thin ladies, curvy ladies, corporate ladies. They were not at all the pole dancers I had in mind.
They were ladies just like me.
Meet Kayleen
Leading the class is 28-year old Kayleen Ortiz, co-founder of PoleCats Manila. Prior to pole dancing, Kayleen had no fitness background whatsoever; the UST Communication Arts major was actually a debater back in college.
"What got me into pole dancing was the aesthetics of it…it looked nice. I liked seeing how the artists move," she shares.
"I went to an event where there was a performer. I came up to her and said, 'teach me!'"
That was seven years ago. Today, Kayleen is the country's highest certified aerialist and has been teaching pole dancing classes for five years.
"The appreciation I have for the aerial arts in general (silks, hoops, and pole) is… it's not something we are meant to do. We are meant to walk on the ground. There's a certain level of freedom that you feel when you get to 'fly', because it's something your body was not designed to do, yet you're capable of doing it. So that's my main thing about this whole sport. That's what makes me like it. It's pretty bad-ass," she smiles.
The Basics
So what are the requirements to sign up for class?
"Nothing, just don't wear lotion. That's it!" she says.
"Just wear the shortest shorts you can find." This is not because you should look sultry during class, but because one moves better when your skin touches the pole; there's better grip.
"We've always believed that pole is for everyone. We've had people of all shapes and sizes walk into the studio. People who are big, people who are small. Even people who are differently-abled. My oldest student is 61, and she's fine!"
Yes, there are men in her classes, too!
"We have more students who don't have any fitness background. They're in their 30s na and they've been told that they're too old na, that dancing's not for them."
"Most of the students are searching for something. They've endured heartbreak, they got bored in the gym, they've gone through something big in their lives, and they're trying to do something for themselves."
For Kayleen, the studio is a safe space where students can find themselves and be themselves without any judgement. She helps her students push their limits, opening up possibilities of what their bodies can do.
"That's the main thrust of the group: We want to defy limits, we want to move all ways. We want you to discover what you can do for yourself."
A Confidence Booster
Aside from better flexibility, a stronger upper body, and killer abs, Kayleen says pole dancing is a powerful confidence booster.
What keeps students coming back is "the feeling they get after a class."
"You're going to really feel good about yourself. That you've accomplished something. That it's fun. You'll meet new friends and become part of a community."
When her students feel awesome, Kayleen feels awesome as well.
"It's a good thing to be able to realize that your body is strong, but it's a different kind of high to be able to pass that on, to make them realize that they're strong as well. That's what gives me fulfillment in teaching this class. They're so happy that their bodies were able to something they never thought they could."
For ladies like me who think that they have to be sexy first before they sign up for the class, Kayleen has this to say: Just go for it.
"People always say 'magpapapayat muna ako' – but you can never be completely ready for it. Just take the first class and everything else will fall into place."
"Make that decision to go to the studio, we'll take care of the rest."
Polecats Manila is located at the 22nd Floor of Strata 100 in Ortigas and you can also find them at 360 Fitness Club studios in Alabang, The Fort and Makati. For more information visit polecatsmanila.com or Follow Kayleen on IG at @kayleenortiz