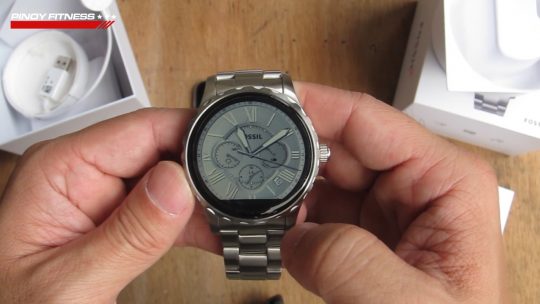 First Look at the Fossil Q Marshal Smart Watch
Fossil, just released their newest smartwatch called the Fossil Q. The Q Marshal is the newest digital display stainless steel watch that can connect seamlessly to your smartphone via bluetooth. Powered by Android Wear™, this touchscreen smart watch can track your daily activity (like steps, distance, calories), get mobile notifications and has customizable faces to fit your style.
PRODUCT DETAILS:
– Built In Fitness Tracker
– Mobile to Watch Notifications: Social Media, Text, Email, App Alerts, Multiple Time Zones, Calendar Alerts
– Functions: Personalize Your Watch Face, Control Your Music, Voice Activated Google, LED Flashlight, Google Maps Enabled, Interchangeable Watch Band
– Connectivity: Bluetooth® Smart Enabled / 4.1 Low Energy, Wi-Fi 802.11 b/g/n – Powered by Android Wear™
– Compatibility: Android™ Devices 4.3+ and iOS 8+ / iPhone 5+
– Battery Life: ~24 Hours
Still can't believe that this is a smartwatch with a built in fitness tracker!
If you're looking for a stylish smartwatch and activity tracker then you should definitely checkout the new Fossil Q, it's available in a variety of designs for both men and women at price starting at 16K, a hybrid alternative is also available starting at P10,300.
The Fossil Q is now available in Fossil Stores, selected L-TimeStudio and Wristpod stores.