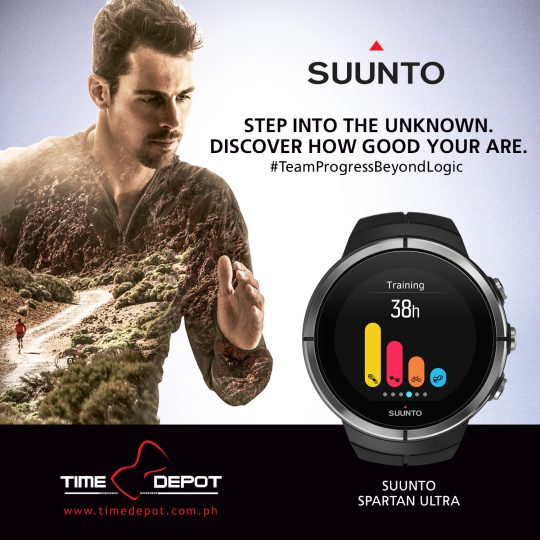 Suunto launches the new Spartan Ultra Multisport Watch
Imagine going on a week long adventure, Biking in Halsema, Running in Camp John Hay, Trek to Sagada, Surf in La Union, Swim in Pangasinan, all without needing to charge your GPS multisport watch and still get all the details of your adventure with precision and accuracy, sounds impossible? Then you haven't heard of the new Suunto Spartan Ultra multisport watch yet.
Named after the historical Spartan warriors, that until today is a symbol of strength, endurance and inspire modern day feats of heroism among athletes who drive themselves to ever higher peaks of excellence.
We got a chance to take a look and feel the the Spartan Ultra, our initial impression it that the watch feels solid and durable, the screen is bright and the display can be easily seen even in bright light conditions.
Though the Spartan Ultra feels very light, its a bit bulky compared to other sports watches, this is primarily because it packs more juice than almost all other sports watches in the market, boasting a 20-200Hours battery life.
We're hoping to get a test unit soon so we can test out the other features.
Key Highlights of the Suunto Spartan Ultra:
Titanium bezel and proven SUUNTO durability make it light and incredibly tough enough to take the knocks and drops of everyday training without skipping a beat.
Outdoor Grade Color Screen. High contrast display is easily visible under any light condition. Intuitive menu lets the wearer easily tailor Spartan Ultra to his immediate needs.
Preset Sport modes. Designed for the multisport athlete, preset modes include Cycling, Outdoor/Indoor running, Swimming, Weight Training, and more. These can be further customized in the Movescount site.
Multi-Info Display. Spartan Ultra can display anywhere from 3 to 8 lines of information depending on the mode, reducing the need to scroll between display modes and distract from the workout.
20-200H battery life. High powered battery and efficient Bluetooth and GPS technology minimize energy consumption; a must for Ironman athletes, ultramarathoners and multi-day trekkers.
Bluetooth connectivity. Spartan Ultra can be paired with SUUNTO cadence/HR pods, third party devices such as power meters, and can also sync to a mobile phone for email alerts.
Smart Training Insights. Everytime you sync your Spartan Ultra to the SUUNTO Movescount site, you get access to invaluable training metrics such as time in Training Zones, Training Effect, Exercise Post Oxygen Consumption (EPOC), and your training log.
Community Powered Progress. Connect Spartan Ultra to the Movescount community and you can reach out to coaches, discover new routes with cycling/running heat maps, and even plan out your next ride/run by downloading the route to Spartan Ultra.
Personal Best and Peer Group Training Insights. Spartan Ultra informs you when you've hit a new Personal Best in your workout, as well as lets you compare how you stack up with your peers
If your into Ultra Running, Long Distance Races or just love long week adventures, you should definitely checkout the new Suunto Spartan Ultra.
SUUNTO Spartan is distributed by Time Depot and retails at the following prices:
Spartan Ultra All Black Titanium – P45,000
Spartan Ultra Stealth Titanium – P40,000
Spartan Ultra Black – P40,000
Spartan Ultra White – P40,000
Available at the following stores nationwide:
Metro Manila
Time Depot Rockwell, Shangri-La, Festival Mall, SM the Block, SM Mall of Asia, Robinsons' Manila
Maximus Athlete's Café Shop in Sparta
North Luzon
Time Depot Harbor point Subic
Visayas/Mindanao
Time Depot SM Cebu, SM Davao, Centrio Cagayan de Oro