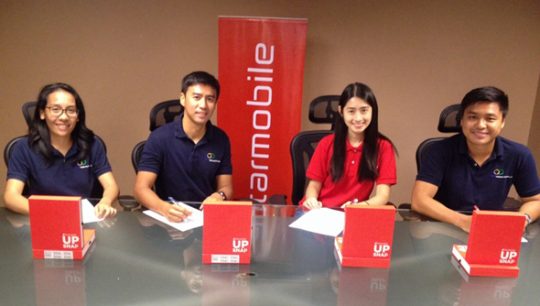 Starmobile Partners With Trisports Solutions Inc For Multisports Events
Armed with the common objective of community building and developing upcoming athletes while providing innovations to existing enthusiasts, premier multisport events organizer Trisports Solutions, Inc. and Filipino tech leader Starmobile recently signed a partnership agreement for exciting monthly race events from August until December 2016. The sealing of partnership was attended by Starmobile brand representative Vikha Vargas and Trisports Solutions, Inc. team members Mikey Chua, Carlo Sampan, and Gel Gequinto.
As an advocate of sportourism, TriSports Solutions, Inc. will take its race events to different provinces around the Philippines. Starmobile will be present at these events to introduce athletes to its in-demand Android smartphone perfect for active travelers, the UP SNAP. The smartphone is equipped with an 8MP UltraPixel camera which features light sensors with larger-than-average pixels, allowing users to capture the most amazing photos of their adventures. Its big battery and GLONASS feature for geotagging make it a powerful and useful travel companion. For more information on the Starmobile UP SNAP, visit Starmobile's website www.starmobile.ph.
The first leg of TriSports Solutions, Inc and Starmobile's partnership will be at the Turbo Sprint Triathlon on August 14, 2016 at Riviera Sports and Country Club Silang, Cavite. This will be followed by the Biathle Leg 1 on September 11, Enduro Sprint Triathlon on November 13, and Biathle Leg 2 on November 4. Stay updated with the latest news on these races by visiting www.trisports.ph.