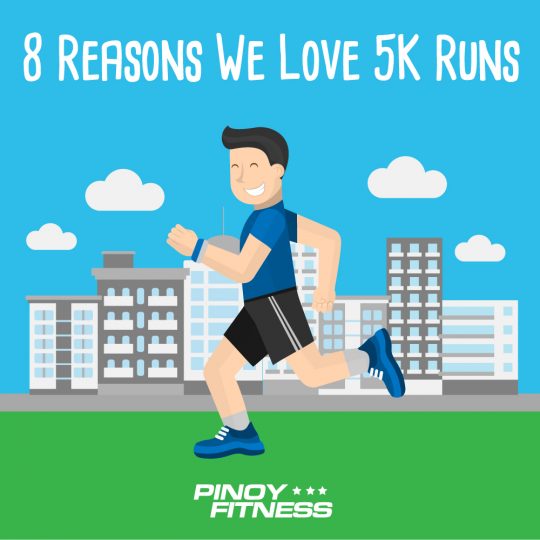 8 Reasons why we love 5KM Runs
"5KM lang yan, sobrang dali! Bitin pa nga eh." Many runners take this distance for granted, thinking that it's only for beginners. But honestly, it's actually one of our favorites. Here are 8 reasons why hindi dapat ini-ismall ang 5KM.
1. You can easily squeeze this into your day.
5km runs can be completed within 40 minutes or less, so you can do it anytime within the day – before going to work, during lunch break, or at the end of the day. There's simply no excuse not to go out and run.
2. If you can't make it to a race, hindi masakit sa loob.
Imagine all those training sessions that will wasted if you have to cancel joining a marathon for reasons beyond your control. Sayang! You might feel a bit disappointed about not making it to a 5KM race, but again, you can do it anytime and anywhere you want.
3. You can run with more friends and family.
This distance is newbie-friendly, so you can run with people who aren't that into the sport yet. Run with your mom, your brother, your barkada, or even your dog! Who knows, this might spark their love for running (except for your pet, of course).
4. No tan lines, no paltos!
Because you're done quickly, you don't have to stay out under the sun for too long. There's also less risk of feet blisters and skin chafing.
5. You push yourself to improve.
When you run longer distances, there's a little uncertainty if you will finish it; you might suffer from cramps, you might not reach the cut-off. To complete it (regardless of the time) is already an achievement. When it comes to 5KM runs, you know you'll finish it. The fulfilment is not in the completion of the run, but in knowing that you ran faster than the last time.
6. Long workouts aren't necessarily better.
Studies have shown that short but high-intensity workouts burn more calories and boost the production of the human growth hormone (HGH), also known as the fitness hormone. It also regulates blood sugar levels better. So running a hard, 30-minute 5KM can actually do your body more good than an hour or more on the treadmill at pasyal pace.
7. The body recovers faster.
The body needs to recover for at least 4 weeks after running a marathon; on the other hand, it only needs 2-3 days to recover from an intense 5KM run. This gives you the flexibility to join several races in a year with less risk of being injured or burning out.
8. It's a great way to stay fit if you can't do long runs anymore.
If endurance training has taken a toll on your mind and body and your performance is not what it once was, maybe it's time to change your strategy. Doing regular 5KM runs still allows you to maintain your current fitness levels. Plus, slaying that short distance is a good morale booster, too.