Plana FORMA as Cross-Training for RUNNERS
I was never into fitness classes until I became a runner. Now that running is a big part of who I am, I became more open to trying out different types of fitness classes. So when we got an invite from Plana FORMA, I became overly eager to try it out. Two weeks ago, after finalizing what class I'd take, I joined the Forma Core class.
To give you a brief idea of what Plana FORMA is, based on their website, Plana FORMA is a barre technique that is an exciting synergy of dance, pilates and yoga. The Plana FORMA technique targets and tones those hard to reach areas such as the arms, abs, seat and thighs using ones own bodyweight as the point of resistance.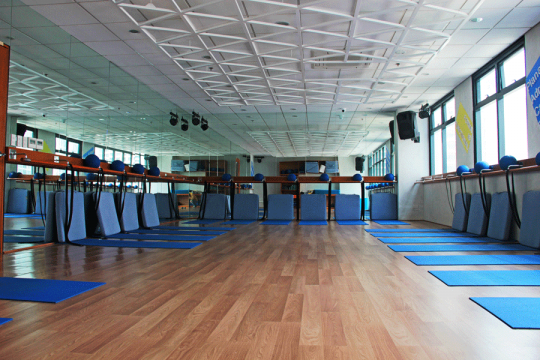 Plana FORMA studio in Makati
From the moment the session began, I was just pumped up. Maybe it was because of our bubbly instructor, Cristin Gapasin, and the music she used during the workout. It made me all hyper and excited. I just loved her playlist.
The warm-up was tough for me. It was a combination of some bicep curls with light dumbbells which was new to me since I never used weights in my exercise. My arms were tired after a few reps. They felt fatigued, heavy and exhausted.
When we moved to the barre, it was tougher because of the numerous squats and butt-firming poses that would help tone your hips, glutes, thighs and calves. My legs were just shaking. Cristin would correct my posture as we lifted one leg up and did some stretching exercises.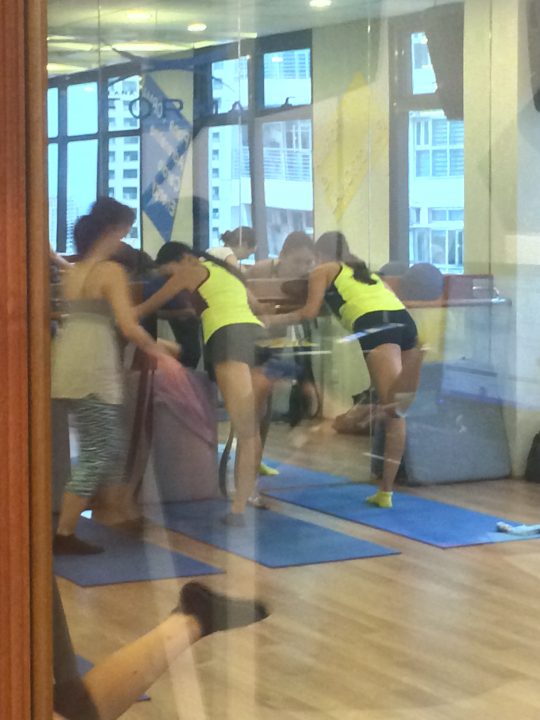 Butt-firming exercises at the barre
The "smaller muscles" that I never knew existed in the first place were also targeted by those stretches. For a time I thought I wouldn't be able to move my legs after the poses.
(Note: I took the Forma Class a week after I finished my 42k, so I wasn't sure if it was because my legs were still recovering from the marathon, or maybe I'm just saying this to excuse myself).
Exercises on the barre, the foam mat, band and the inflated ball were composed of several stretching and abdominal exercises which I would say were manageable for me since I regularly have abdominal core exercises at home after my weekday short runs.
I would say the 55-minute class was fast-paced, and if you are a beginner with zero exercise, this will be very challenging. I think I was the only first-timer in the class because the others quickly understood the poses required by the instructor while I constantly focused my eyes on her poses. The entire workout gave me that adrenaline rush that made me want to come back and try out more Plana FORMA sessions. It's a dynamic workout and a good fitness regimen that could give you a sculptured physique. If you consistently join their sessions, it would improve your balance, posture and stability. Looking at the other ladies in the class I joined, their bodies were toned and they just looked amazing.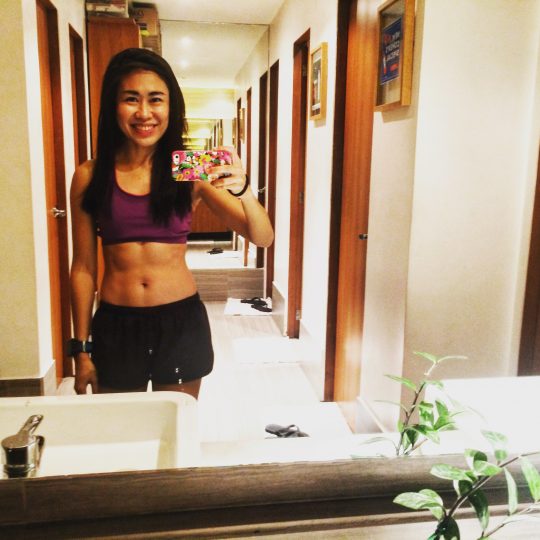 My post-Plana FORMA selfie
Overall, I would recommend runners to try the Forma Core class because it's a good cross-training exercise especially since it targets the small muscles which usually get neglected in our usual core training exercises.
For more information about Plana Forma, you may check their website forma-asia.com.
Like them on Facebook or follow them on Instagram @planaforma.
Address:
17th Floor Frabelle Building, Rada Street, Legazpi Village Makati City
Contact Info: Cell Phone: (63) 9176584640 Landline: (632) 8337235