K-Swiss Subic Bay International Triathlon – A Race Report
by: Don Manebo | Photos by: Team Ponkan / Team Norman / SCPZ
My favorite distance to race in triathlon is the standard or Olympic distance (1.5km swim, 40km bike, 10km run). Even as I've progressed in fitness, having been involved in the sport for almost four years now, I have not outgrown this distance. It continues to be challenging, exciting, and in the right conditions, downright humbling. For the beginner, like I was (and still am), it represents a milestone; completing it is an accomplishment in itself. For those not so new in the sport, it is a tremendous test of fitness as the athlete is up against his or her lactate threshold the whole entire race. With belabored breathing, high heart rate, and a persistent sense of urgency, I really feel like I'm "racing" the entire race rather than just doing the race. Be that as it may, the distance is not so long as to require an extended period of recovery unlike a 70.3.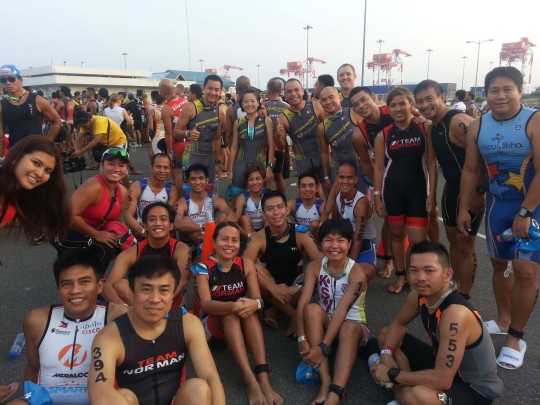 If my favorite triathlon distance is the Standard distance, then Subic International Triathlon or "SubIT" is my favorite race of that distance. It is, in my humble opinion, the benchmark Standard distance race in the country. Two reasons why: one, it is an ITU sanctioned race and so we get to watch and race alongside ITU triathletes – and you really get to appreciate just how remarkable these athletes are; two, the heat; I'll add a third reason – the heat. Held in the last weekend of April, 26-27 to be exact, in the middle of summer, it gets brutally hot on the run.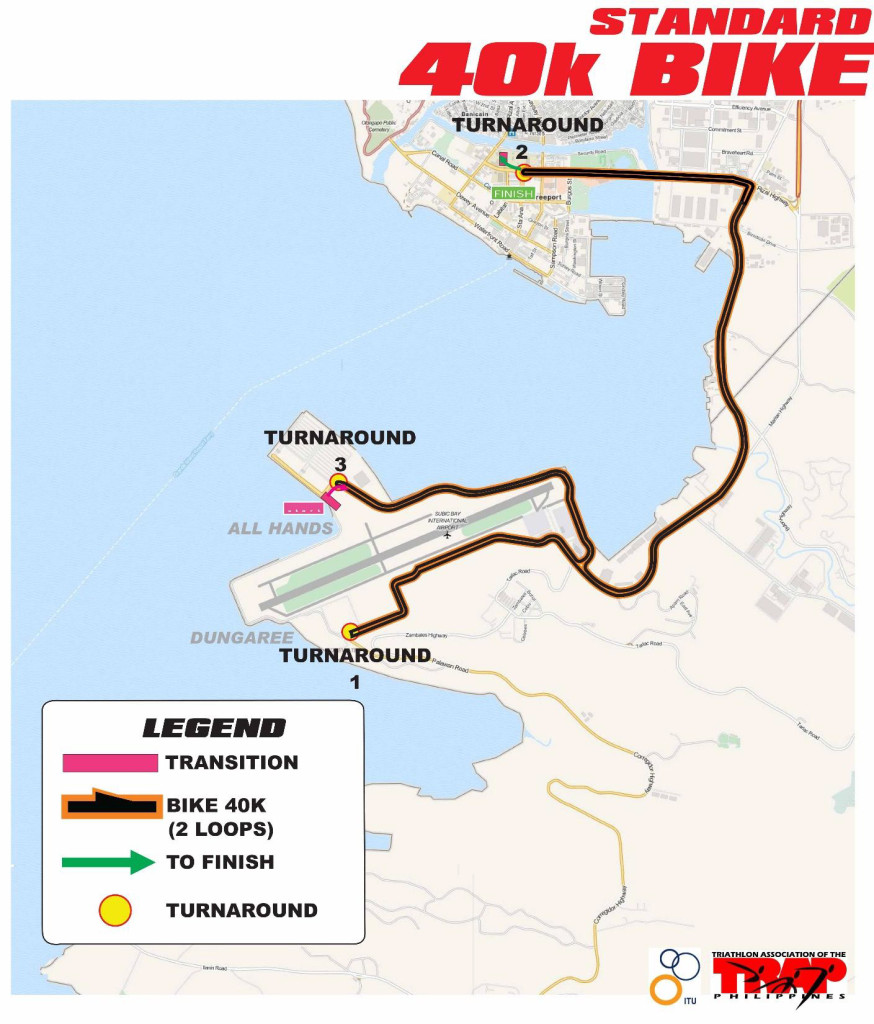 This year, there were changes that made the event even more exciting. Prior to this race, the pontoon start for the elites is something that I've only witnessed on television. It was, for the first time in SubIT history, implemented in this race. Also, changes in the bike course, by way of eliminating the climb up towards Ocean Adventure, made for a faster and overall more exciting race. The transition too having been relocated to the spacious parking lot area of the swanky Harbor Point mall allowed for an enhanced, more festive post race experience.
SubIT is my third race this year, my two prior races were disappointing. In Challenge, I lacked run fitness and suffered from GI issues forcing me to walk a good amount of the 21km run. In Aboitiz Tri in Pico de Loro just three weeks ago, my race unceremoniously ended on the bike when my front tire got sucked into a road crack, throwing me into "endo" face plant. Thus, I looked forward all the more to doing this race but I was also mindful of the superstition that bad things comes in threes, and thus extra cautious if not apprehensive at first.
Preliminaries done, let me describe how my race went.
My age group was last to start at 7:15am. The conditions were perfect: the water was calm and the sun mildly warm. Unlike the elites, the age groupers would start in the water: this was done for practical and safety reasons as 200 racers diving in at once would probably make for a hazardous start. The swim is one loop starting from All-hands Beach in a clockwise diamond shaped loop.
The horn blew, signaling the start of the race for my age-group. The first 100 meters, while frantic, was surprisingly nonviolent. I didn't experience any elbowing, jostling, or kicks that are common in larger group starts. Having poor sighting skills, I was hoping I would find a navigationally proficient swimmer to follow. I did – Mr. Jeff Lo of Pinoy Fitness himself – my teammate. I latched on to him and another swimmer beside him. It was an ideal situation for me because on my own I would be swimming in a zigzag and I can't hold the pace that Jeff can. But following him, I swam straight and kept the pace up (for fear of losing feet to follow).
The visibility wasn't the greatest but all I needed to do was see 5' in front of me so I could tail the feet ahead. Visibility only became a problem after the last turn on the way back to the pontoon as the sun was directly in front of us. Look up and all you see is the fierce ray of the sun, look down and it's the whitewash and bubbles created by the swimmer ahead. I continued to follow the trail of bubbles and sure enough it led me to the finish of the swim. Time out of the swim: 32:xx.
The transition was long-ish. My bike was racked near the end. I got to my bike, put on socks, race bib number, struggled a bit with my helmet. (Being more of a pure time trial helmet, it was snug and getting it on wasn't so easy).
On the bike, we are immediately greeted with a strong headwind. I tried to stay tucked to keep a small profile, still I felt like a sail being pushed back. We turned towards the naval magazine area where there is a short climb. There are some turns to navigate in that portion of the bike course then the first turnaround. As we make our way back to town, we are again met with strong winds, this time side winds. The flattish profile on this section made it a fast ride back. Frequently, on flat sections, my mind wanders off and I lose concentration and my pace drops. This is something I need to improve on, how to push consistently hard on flats.
I get to the second turnaround in town without issue. I should point out that, while an ITU event where drafting is allowed for the elites, for the age-groupers it is a non-drafting course. I did note that on one occasion, someone was sucking my wheel for about 2 kms (not that I mind, perhaps he didn't know). What was more of an issue (because it concerns the safety of racers) are athletes blocking the left side of the road, normally reserved for passing. On one occasion, I was guilty of passing on the right (also against the rules) because the left was blocked.
On the second loop back, where we had to fight against a headwind on our way out, we were now being graciously assisted by the same wind pushing against our back. I remember seeing 50km/h on my computer at one point. I took two GUs on the bike and drank a full bottle of 50:50 mix water and Pocari Sweat. Much like the first lap, the second lap was without problems. I got back to transition, glad to have finished the bike upright unlike the last race. Bike time: 1:09:xx.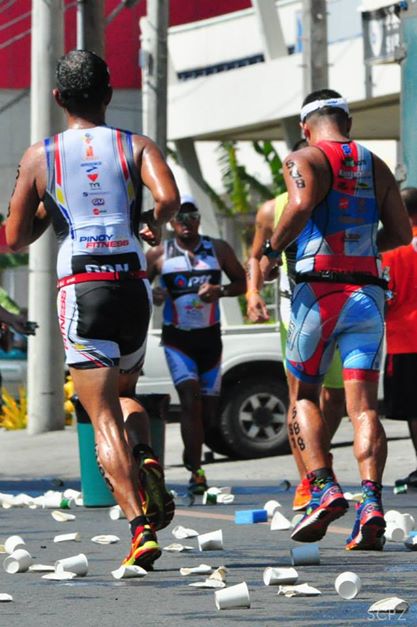 At this time (9:00AM), the sun was already out in full bloom. No longer was it just comfortably warm. It was blistering hot and it would only get hotter. The run consists of three laps. On the first km, I felt reasonably well with a little bit of side stitch. I looked at my watch and noted that my pace was too much. I tried to settle into my goal pace but the entire run, my pace progressively decreased, undoubtedly due to the heat.
The aid stations equipped with water, Gatorade, ice, and sponges supplied the hydration and occasional relief we needed. A firetruck spray also provided some respite from the heat. Still, the last lap for me became miserable. I got a little bit of a scare when I began to experience the same symptoms I had in Challenge when I stopped sweating and felt bone dry. I didn't know what it was then a sign of, but now realize that it was likely due to dehydration. In that race and in this, though I felt I drank enough fluids, I failed to take into account the effect of the heat and that I had to drink more – hence, the symptoms of dehydration.
I also felt I was on the verge of "bonking" having only taken two gels on the bike and none on the run. Thus, upon getting to the last two aid stations I drank Gatorade (something I don't normally do) to get some sugar in. Almost immediately, I felt refreshed.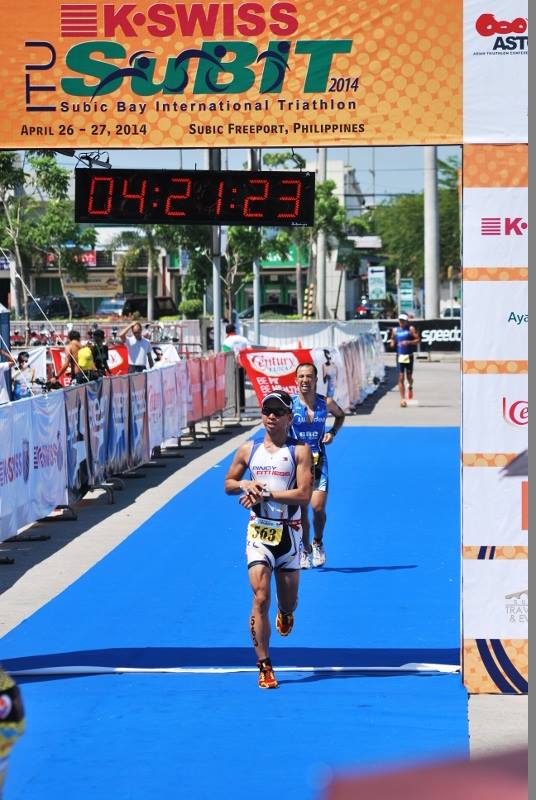 On the last 200m to the finish line, though exhausted and depleted, I pushed a little and sprinted to the end (which is always a fun way to end races). Run time of 54:xx and a total time of 2:36, a personal best(!), and more importantly, I didn't crash.
Post race facilities and festivities were great. I got a medal, finisher shirt, an ice bath and a free massage. Again, SUBIT, as always lived up to its billing and what it is known for (the heat), and improved in ways that enhanced the race experience of all its participants. I'll be there again next year, hoping to do a little better but happy as always just to finish.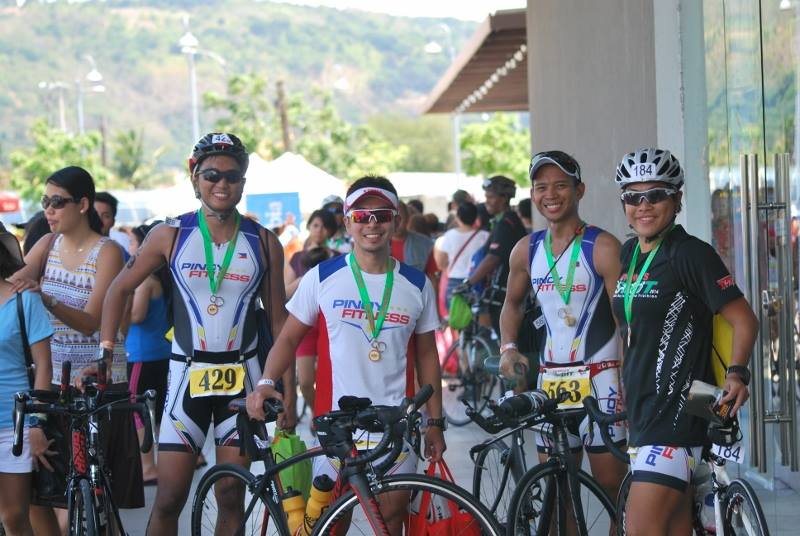 Thanks and congratulations of course to my Pinoy Fitness teammates, Jeff, Ria, Mike, all of whom also did this race, and to Rish who raced the day before in the Sprint distance and Brandon as well. We also debuted our brand spankin' new trisuits this weekend, awesome design and extremely comfortable.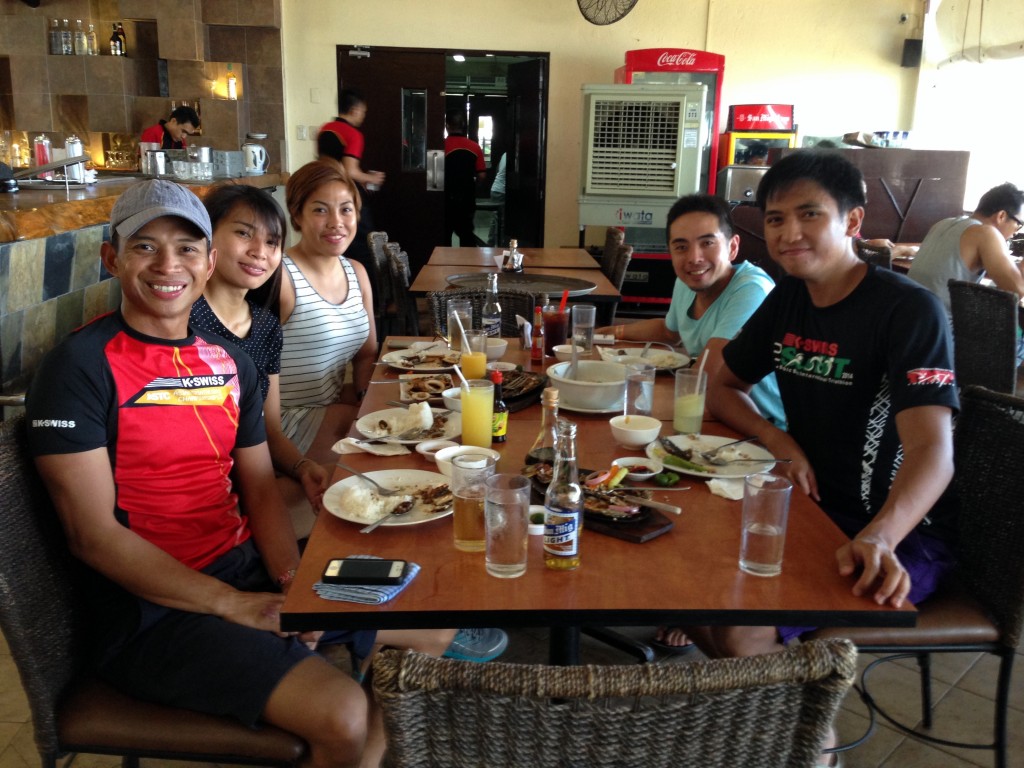 I'll note that the best part of racing in SubIT (and in Subic generally) is the duty free shopping and post-race food indulgence. We opted for Gerry's Grill after, with sisig, sizzling plates, sinigang and a bottle of beer to replenish the glycogen stores in our body.
Thanks to our sponsors, Brooks, TYR, GU, Salt Stick, Cavalli Business Center and Nessotech for all the support for the team. Till the next race!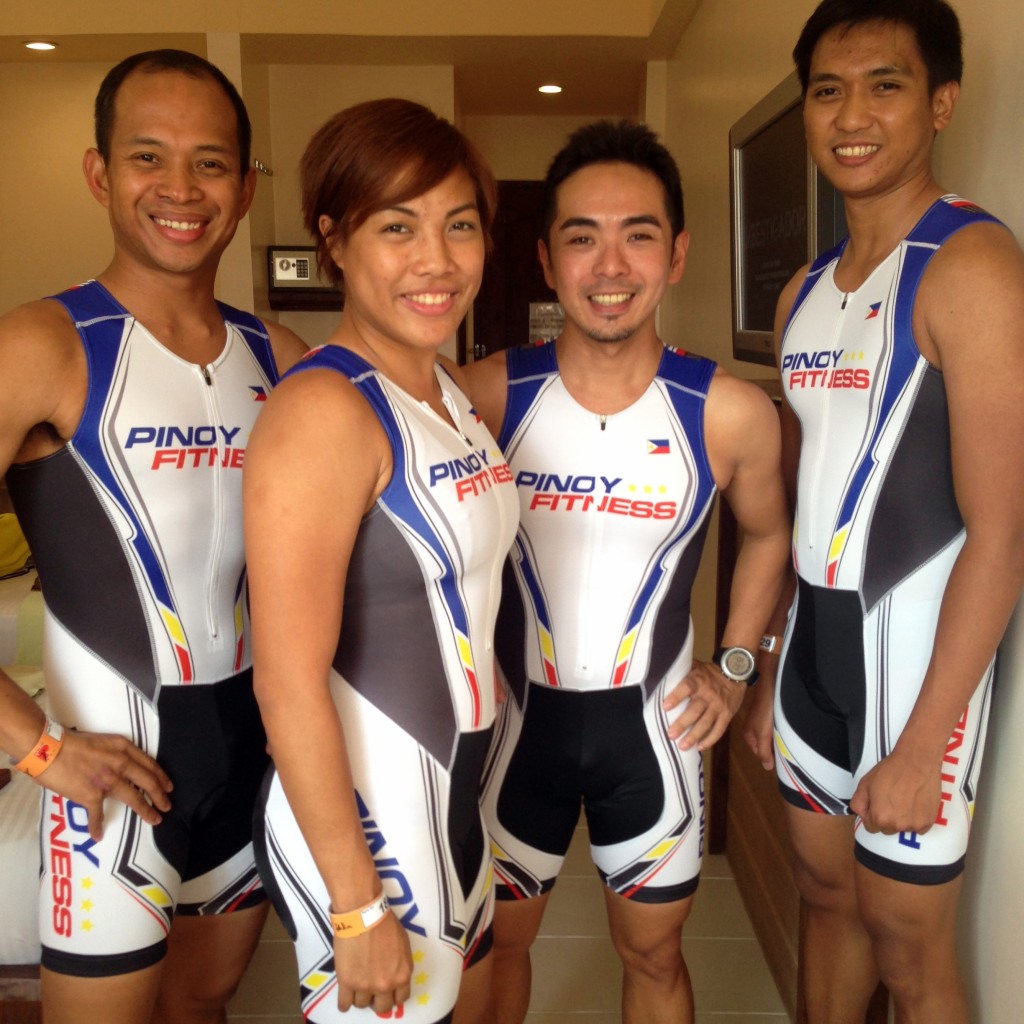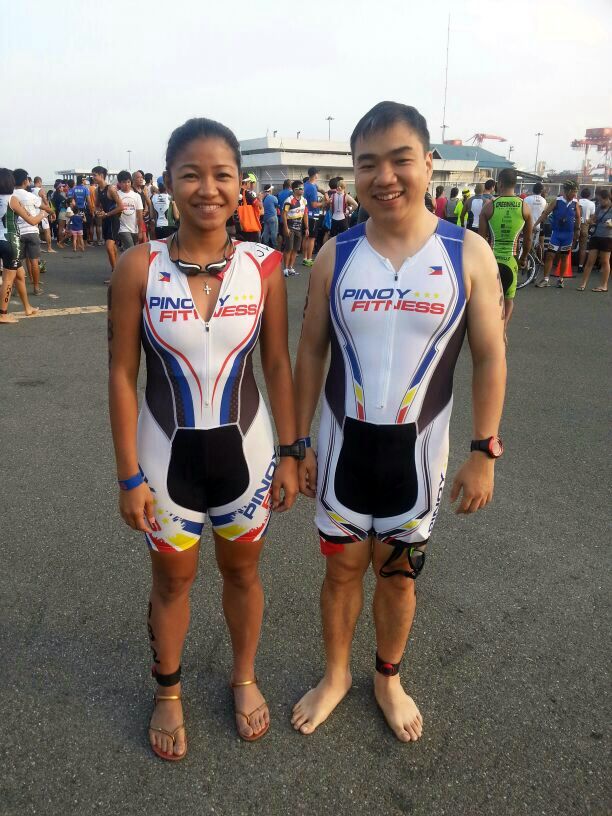 Thank you Team Ponkan, Team Norman and SCPZ for the wonderful photos.
For Instant Updates – Follow US!
https://www.facebook.com/pinoyfitness
https://www.twitter.com/pinoyfitness
https://www.instagram.com/pinoyfitness
PF Online Community -> https://members.pinoyfitness.com
PF Online Shop -> https://shop.pinoyfitness.com
Like this Post!? Share it to your friends!