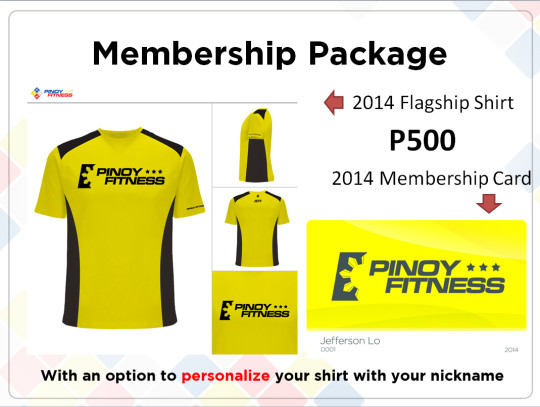 Hello Everyone! We would like to introduce something very exciting that we are offering this coming 2014! We are releasing the very first PINOY FITNESS Membership Package!
2014 Pinoy Fitness Membership Package
Package Fee: PHP 500
Includes:
– Limited Edition 2014 Pinoy Fitness Flagship Tee
– Membership Card
– Option to customize nickname on shirt
The PINOY FITNESS Membership Package aims to encourage the passion for sports, fitness, wellness and health, and empower the sense of camaraderie and community that is uniquely Filipino.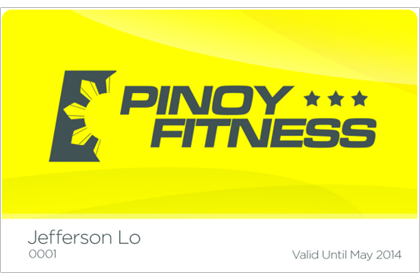 Fuel your Passion:
To be able to Fuel the Passion for Sports, Fitness, Wellness and Health, we have partnered with some of your favorite brands to extend discounts to every Pinoy Fitness Member Card holder.
A quick summary of partner brands:
SHOES:
– Brooks – 15% OFF
– Berghaus – 15% OFF
– New Balance – 10% OFF
– Skechers – 10% OFF
– Merrell – 10% OFF
– Reebok – 25% OFF
Sports Watches:
– L-TimeStudio (SOLEUS, Asics, Puma, adidas, SOMA) – 15% OFF
– TIMEX – 15% OFF
– POLAR – 15% OFF
Clothes/Compression:
– CWX – 15% OFF
– TYR – 15% OFF
– Moving Comfort – 15% OFF
– 2XU – 10% OFF
Nutrition:
– GNC – 20% OFF
– Health Express – 10% OFF
Eyewear:
– Smith Optics – 15% OFF
Swim Gear:
– Aquasphere – 10% OFF
And more to come…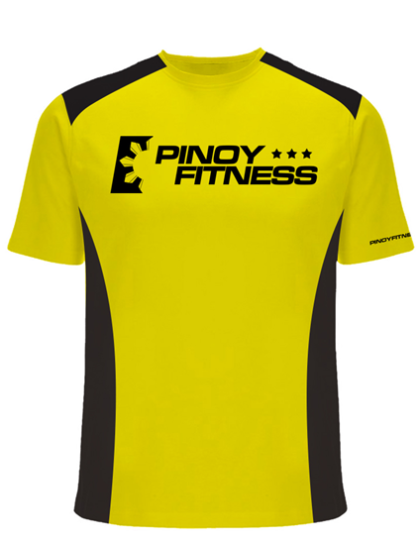 Sense of Camaraderie:
The 2014 Pinoy Fitness Flagship dri-shirt symbolizes the sense of camaraderie. It's a symbol that we share the same passion and that we are a family who smiles, greets, run and have fun together.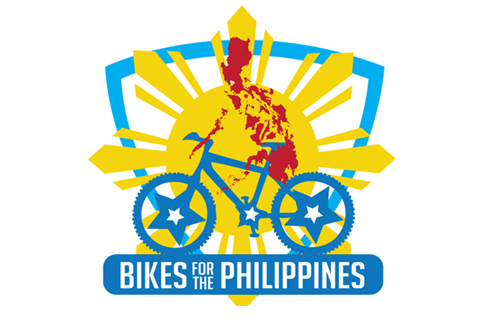 Helping the Community:
We are also forging a partnership with Bikes for the Philippines where part of the profits from the PF membership package will be donated to help provide bikes to public high school students who don't have any means of transportation a go to school.
How do you Grab the Package:
Due to the customization needed, we need the shirts to be pre-ordered. Our target delivery of the shirts is around first week of February, in a first-order, first-served basis.
STEP 1: Complete the Registration Form -> Click Here
STEP 2: Pay Online (Paypal / Credit Card / BPI / Eastwest Bank) -> Click Here
STEP 3: Help us by spreading the good news about the package
P.S. Make sure to sign-up at our Member's Portal for FREE -> Click Here
Download Registration Form:
[wpdm_file id=10]
So we're calling out to all Pinoy Fitness Readers and Followers… in 2014 it's time to become members! See you this weekend in RUNNR BHS!
Share a thought below. Cheers!
For Instant Updates – Follow US!
https://www.facebook.com/pinoyfitness
https://www.twitter.com/pinoyfitness
https://www.instagram.com/pinoyfitness
PF Online Community -> https://members.pinoyfitness.com
PF Online Shop -> https://shop.pinoyfitness.com
Like this Post!? Share it to your friends!