Possibly one of the toughest Marathon you'll ever face. Are you ready for this!?
Corregidor Marathon will see its inaugural edition on January 11, 2014 on the island of Corregidor. With Corregidor International Half-Marathon (CIHM) as its forerunner, which is now on its fourth year, Corregidor Marathon will usher in a new level of challenge in the running scene. As the half-marathon course of Corregidor could be top-viewed as forming an "8" loop, running the full marathon distance entails a double "8". Hence, participation to the Corregidor Marathon will be limited to 88 slots only. The race is an open competition. All race participants upon crossing the finish line will receive a Finisher's Medallion and a rank-indicated Finisher's Trophy. There will be one male and one female overall winner whose title will be Corregidor Marathon Man and Woman, respectively. Each will receive Php30,000.00 cash prize and a champion's trophy. Age bracket top finisher will also be distinguished and will be awarded with a certificate of achievement.
Prior to actual race registration, preliminary slot registration will be implemented to screen participants based on the set age-determined qualifying times, on a first-come, first-served basis. Prospective participants who have not yet run a full marathon but has participated already in a half-marathon race during the past 12 months may nominate their best half-marathon finish time for consideration. A qualifying time standard of 2h30m00s for men and 3h00m00s for women will be applied. Prospective participants who have already finished an ULTRA-MARATHON distance (50Km and up) or an IRONMAN distance TRIATHLON (half or full) get an outright exemption from the qualifying time requirement.
The pre-registration will run until August 16. To pre-register, please follow the format indicated below. Provide complete and factual information as required. The required details may be submitted to CORREGIDOR MARATHON organizers via direct message or wall post on the FB Fan Page CORREGIDOR MARATHON. Any form of misrepresentation will automatically entail disqualification.
Corregidor Marathon Moved to Jan 11, 2014 – OFFICIAL STATEMENT: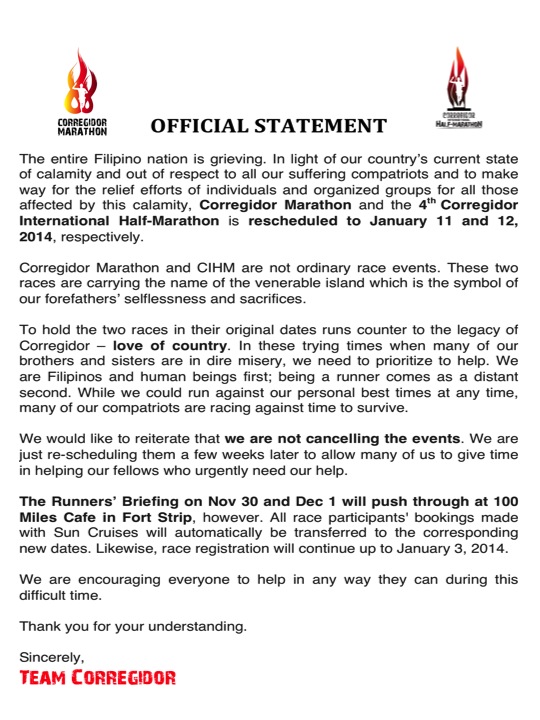 Corregidor Marathon
December 7, 2013 January 11, 2014
Corregidor Island, Philippines
Pre-Registration Format:
QUALIFYING TIMES:
Age / Male / Female
18-29 / 4h30m00s / 5h00m00s
30-39 / 5h00m00s / 5h30m00s
40-49 / 5h15m00s / 6h00m00s
50-59 / 5h30m00s / 6h30m00s
60 & above / 6h00m00s / 7h00m00s
1) Full Name (Surname, First Name, Middle Initial)
2) Gender
3) Birthdate (DD-MM-YY)
4) Country/Province
5) Occupation
6) Team (pls indicate NA if not applicable)
7) Email address
8) Best marathon finish time, name and complete date of race (Specified race must have been held between Aug 16, 2012 and Aug 16, 2013.)
Accepted pre-registered participants will be notified by email beginning August 17. Actual race registration will start on August 21. Details of the registration process will be included in the email notification.
Registration Fee:
42K – PHP 6,000 (88 Slots)
– Inclusions: roundtrip ferry transfers, pre-race carbo dinner, post-race lunch buffet, race backpack, personalized race shirt, RFID timing chip, finisher's medallion, finisher's trophy
5K (Blitz) / 3K (Thrill) – PHP 2,500 (150 slots)
– Inclusions: roundtrip ferry transfers, post-race lunch buffet, race shirt, race sling bag, RFID timing chip, finisher's medal
Registration, Ferry and Room Reservations Procedures:
*(For 5K Blitz & 3K Thrill participants, ignore below #1, #3b, #3c, and #3e)
1) Visit and "Like" the Facebook fan page "Corregidor Marathon". Check whether your most recent race finish time complies to the age-bracket specified qualifying time (see "About" in the fan page)
2) Pay the corresponding race registration fee by way of a bank deposit at any BDO branch using the following details:
BDO Checking Account
Account Name: Big Big Big, Inc.
Account Number: 000410417114
*For our international participants, as follows are the details when depositing corresponding race registration fee through bank transfer:
BDO (Banco de Oro Unibank, Inc.)
Branch details: 041 Bel-Air
Swift Code: BNORPHMM
Acct details: Checking Account
Account Name: Big Big Big, Inc.
Account Number: 000410417114
3) Submit to the Corregidor Marathon FB fan page the following via direct message:
a) photofile or scanned copy of the deposit slip (with your full name written on it)
b) digital copy of 2 photos (1 headshot and 1 in running action)
c) photo file or scanned copy of any gov't issued ID indicating name and birthdate
d) photo file or scanned copy of duly filled up and signed 2-page race registration form (downloadable from the FB fan page)
e) in MS Word or PDF format: short resume detailing biographic details, years into running, races participated in, and occupation
4) Once race registration is validated, you will receive in 48 hours your race inclusion confirmation via email. After receiving your confirmation, immediately contact Sun Cruises (8am to 5pm – Mon to Fri; 8am to 12nn Sat) at 5275555 loc 4511 and 4512, 0917-5459917, 0917-8084641, 0922-8475418 to book for ferry trip schedules.
Indicate the desired trip schedule:
From Manila to Corregidor
a) Overnight – departure on Dec 06 @ 1:00pm (mandatory for Marathon distance participants)
b) Day trip – departure on Dec 07 @ 5:00am
Return from Corregidor to Manila
a) departure on Dec 07 @ 2:30pm (priority for Overnight participants)
b) departure on Dec 07 @ 6:00pm (priority for Day trip participants)
c) departure on Dec 08 @ 2:30pm (priority for Overnight CM & CIHM participants)
d) departure on Dec 08 @ 6:00pm (priority for Day trip CIHM participants)
Your desired schedule is subject to first-come, first-served basis.
* For those travelling with noncompeting companions, you may avail of Sun Cruises' regular tour package at P2,300/person. Please contact Sun Cruises if availing of this.
5) If applicable, make accommodations reservation with Sun Cruises (only registered participants will be given reservations; maximum of 1 room per participant only). Pay the appropriate accommodations booking amount through the payment mode advised by Sun Cruises.
6) On Nov 30 & Dec 1 (as advised through email by Team Corregidor) at
Galileia Events Place in 100 Miles Café, Fort Strip, BGC attend the Runners' Briefing, pick-up the race pack, and claim the Boarding Pass and/or Accommodations Booking ticket from Sun Cruises. Anyone may pick up your kit at Runners' Briefing from 1pm to 8pm. They may be asked for identification and your signed authorization note.
Gun Start:
42K – 6AM
5K – 8AM
3K – 8:15AM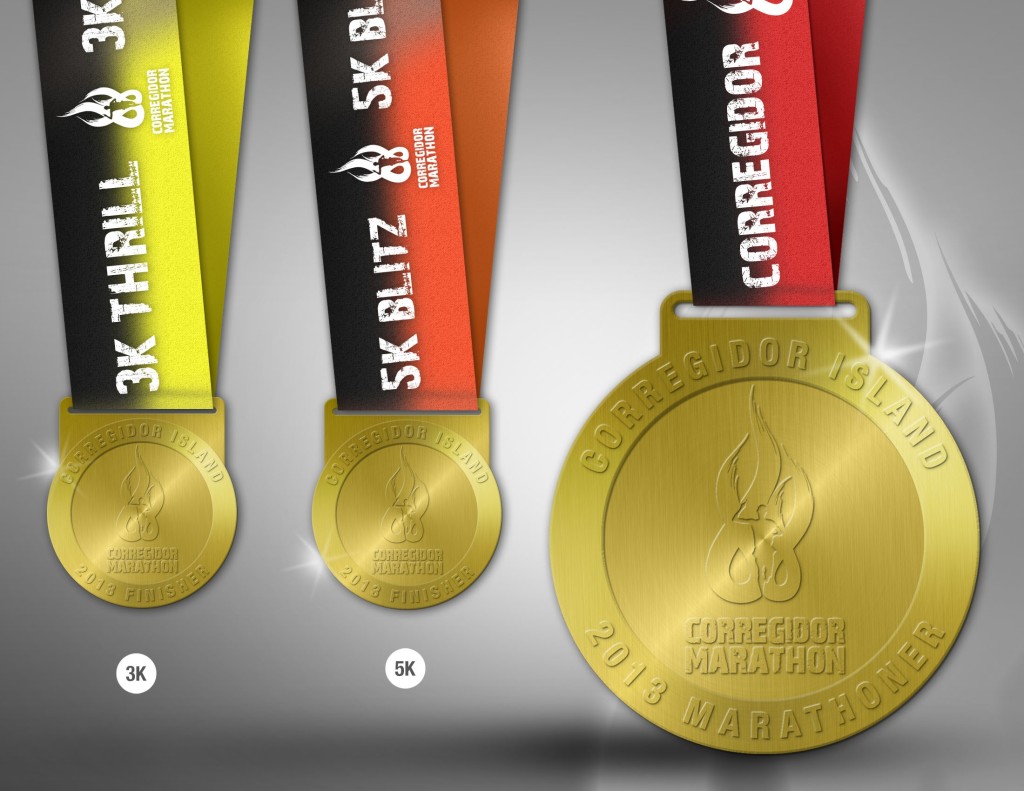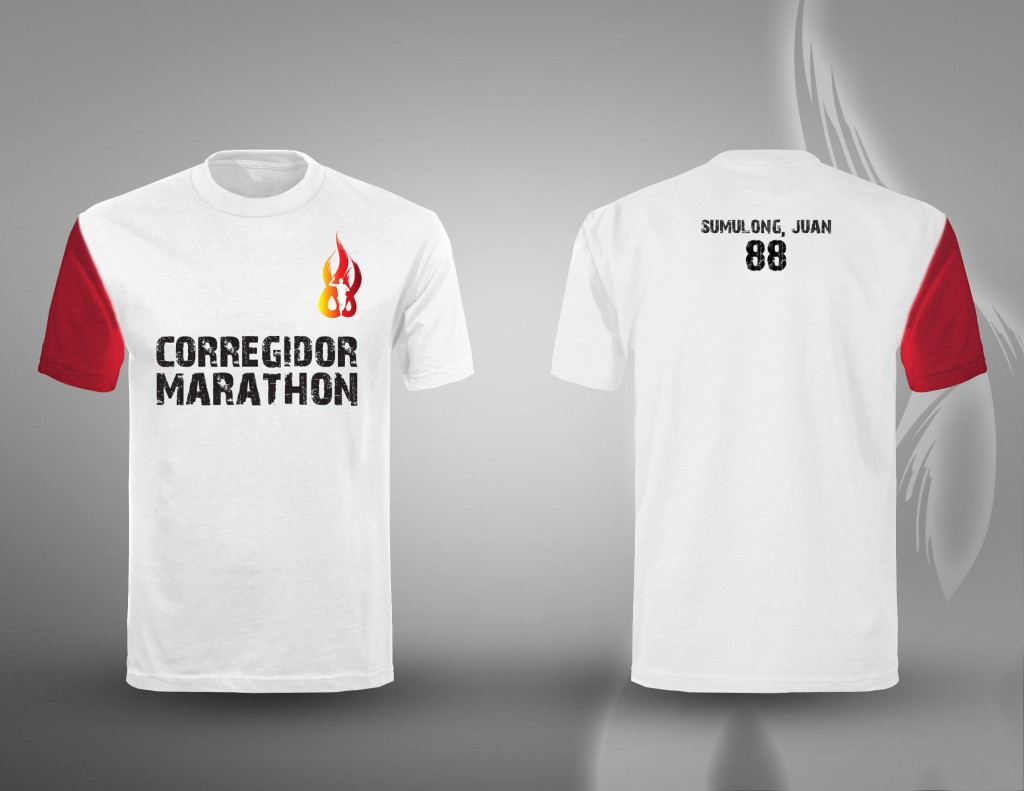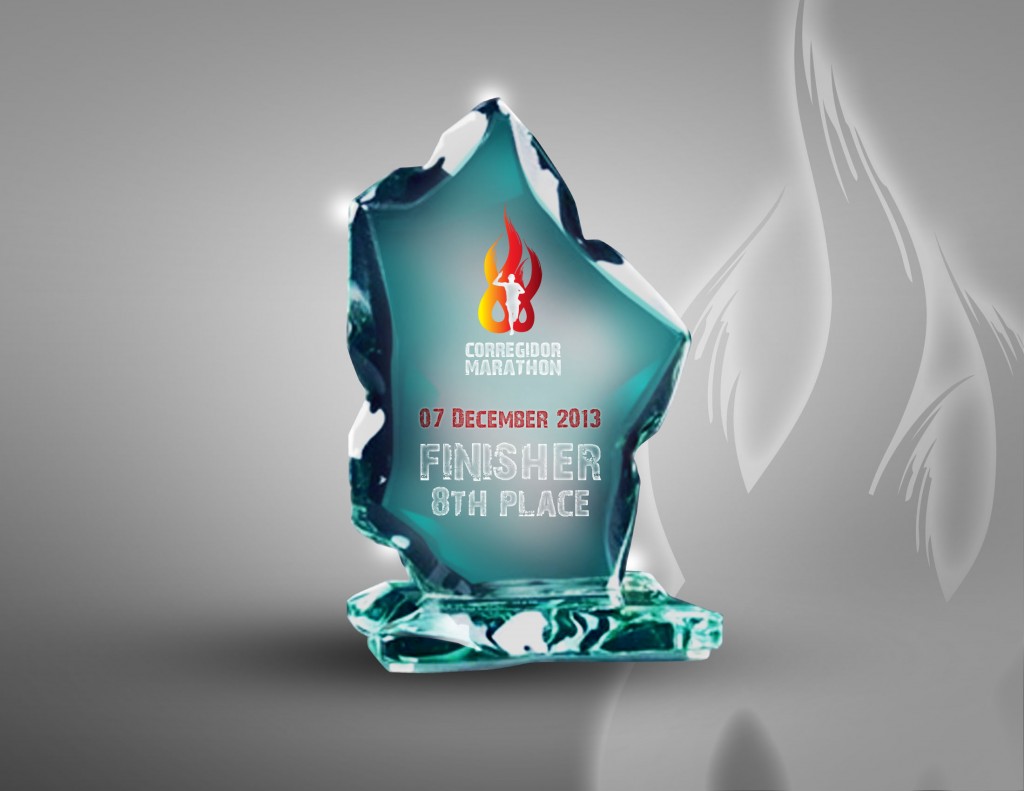 For More Information:
Visit -> https://www.facebook.com/CorregidorMarathon
For Instant Updates – Follow US!
https://www.facebook.com/pinoyfitness
https://www.twitter.com/pinoyfitness
https://www.instagram.com/pinoyfitness
Like this Post!? Share it to your friends!