Congratulations to all finishers of the recently concluded Yakult 10 Miler Run 2013!! Time to share your feedback and experiences about this event here!
Yakult 10 Miler Run 2013
March 17, 2013
CCP, Manila
Race Results:
Yakult 10 Miler Run – 3K Race Results
Yakult 10 Miler Run – 5K Race Results
Yakult 10 Miler Run – 16K Race Results
Photo Links:
(Submit your links)
Are you a Photographer? Submit your Photo Links here – Click Here
Photo links will be updated here as they become available! Feel free to share your comments and feedback about the event below.
PRESS RELEASE
Kenyans in 1-2-3 finish in Yakult 10 Miler
Willy Rotich found little challenge from local foes as he and two other Kenyans once again came up with a 1-2-3 finish in the 24rd Yakult 10-Miler (16-kilometer) yesterday at the Cultural Center Complex in Pasay City.
With last year's winner Benjamin Kipkazi not around to chase him, Rotich reached the Star City finish line along Vicente Sotto Ave. in 51 minutes and 30 seconds.
Rotich, who is still sore from a trailing running competition he joined with Kipkazi last Friday, was one minute and 14 seconds ahead of Eliud Kering, who was the only one chasing him halfway into the race.
Another Kenyan, Elijah Kipruto, took third coming in with a clocking of 54:20.
Far Eastern University varsity runner Darwin Lim, back from a three-month layoff and a left knee injury, placed fourth in 56:55. "The race was nice and smooth, and it was only my friends Eliud and Elijah who were chasing me," said Rotich, who was runner-up to Kipkazi last year. In the women's division, FEU varsity bet Jennysmyl Mabunga surprised defending champion Irine Kipchumba for the women's 16K honors.
The 20-year old Mabunga pounced on an opportunity to leave behind Kipchumba after the first seven kilometers of the race and clocked a time of 1:03.14. Kipchumba arrived at the finish line, some six minutes and 14 seconds behind Mabunga, who earned the P7000 top purse with Rotich. Batangueno runner Bendoy Junrel topped the men's 5-km run in 16:49, while insurance company employee Alyssa Casaclang won the women's side in 23:39. Mark Alvin de Roxas ruled the 3-km boys (10-12 year old) action, while Tara Borlain dominated the girls side with sister Samantha. Miguel Ignacio clinched the 3km boys (6-9 years old) side with Nyvella Imbao in the girls section.
Michael Ong, head Yakult Sales and Planning department with Mitsuo Taniguchi, Plant Manager, Koji Kuroda, Plant Technical Consultant, Kenjie Egami, Project Manager for Yakult Phils, Inc, awarded the cash prizes, trophies and Yakult gift packs, while Connie Fortich, Skechers Ambassdor, awarded the Skechers performance shoes and Skechers apparel. Over 2300 runners saw action in this event which is also supported by Skechers.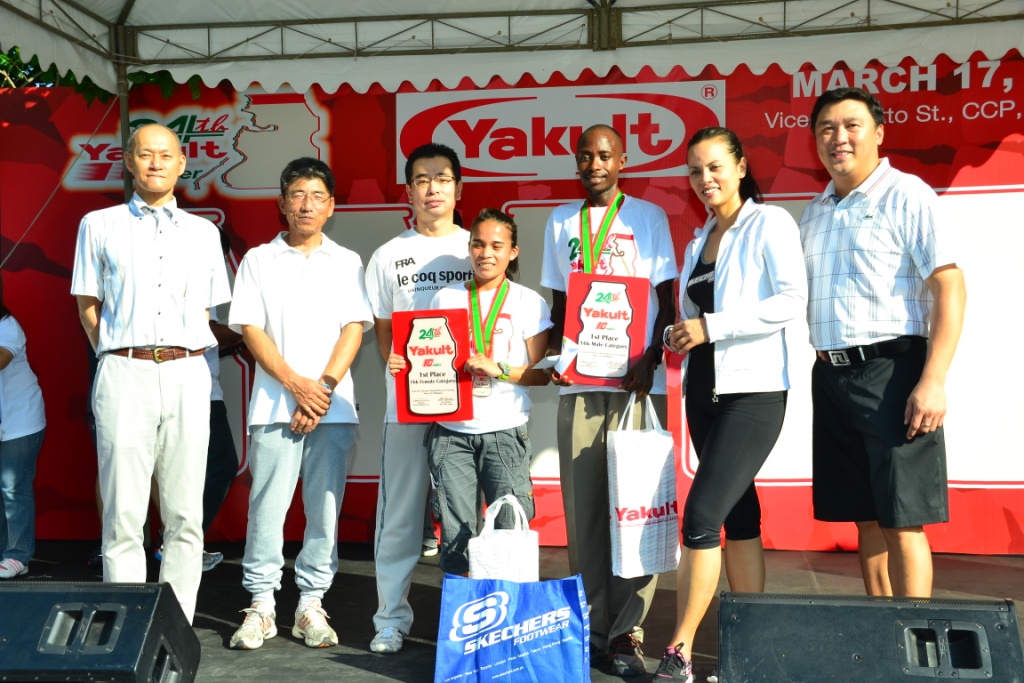 Photo captions:
Willy Rotich and Jenysmyl Mabunga, 24th Yakult 10 Miler male and female champions pose with Michael M. Ong (extreme right) Yakult Phils. Inc. Sales and Planning manager, Connie Fortich, Skechers Ambassador, Mitsuo Taniguchi, Plant Manager, Koji Kuroda, Plant Technical Consultant, and Kenjie Egami , Project Manager. Rotich and Mabunga, aside from the cash prize and gift pack from Yakult also received Skechers apparel and Skechers performance shoes.
Visit -> https://shop.pinoyfitness.com
For Instant Updates – Follow US!
https://www.facebook.com/pinoyfitness
https://www.twitter.com/pinoyfitness