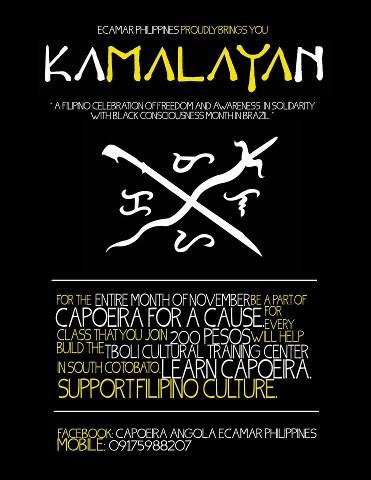 Capoeira Angola was borne out of a people's struggle to preserve their cultural roots, rituals and beliefs against colonial oppression.
In keeping with this tradition, ECAMAR Philippines proudly invites you to support of their indigenous Filipino Culture through "KaMalayan: A Filipino Celebration of Freedom & Awareness in Solidarity with Black Consciousness
Month in Brazil".
For the whole month of November, come to class and support Filipino Culture! Proceeds from all Capoeira Angola classes will help build the T'boli Cultural Training Center – A project of the Lemuhen Cultural Dance Troupe composed of T'boli youth in Mindanao.
Having witnessed the discrimination and stereotyping that have contributed to the decline of T'boli culture, the Lemuhens strive to educate current and younger generations, help them appreciate their own rich cultural identities and share the beauty of T'boli culture with others.
Join them and stand up for Filipino Culture!
KaMalayan
November 2012 (whole month) @ 8-10pm (Tues) and 2-4pm (Sat)
ARTs Plus School for the Arts, 4th Floor Insular Bakery Building, P.Burgos Poblacion, Makati City
Organizer: Capoeira Angola ECAMAR Philippines
Registration Fees:
PHP 200.00 per class
Class Schedule:
– Tuesday 8-10pm
– Saturday 2-4pm
Registration Venues:
ARTs Plus School for the Arts
4th Floor Insular Bakery Bldg
5051 P. Burgos Street Poblacion, Makati City
(5-10 minutes away from A-Venue, Makati Ave)
Directions to ARTs Plus (coming from Ayala Avenue, Makati):
– Turn to Makati Avenue
– Turn right at Kalayaan Avenue
– Turn left at P. Burgos intersection
– Turn right at General Luna street (landmark: 7-Eleven)
– Turn right at Dona Carmen (first street to your right after turning to 7-Eleven)
Contact Details:
Cell: 0917-5988207
Facebook: Capoeira Angola Ecamar Philippines
For Instant Updates – Follow US!
https://www.facebook.com/pinoyfitness
https://www.twitter.com/pinoyfitness
Like this Post? Share it to your Friends!