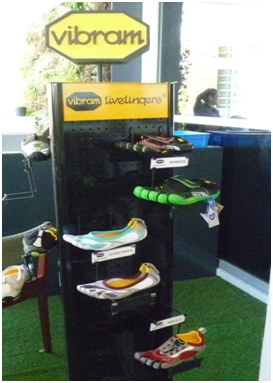 It's fun in the sun! And Vibram is launching its FiveFingers Spring & Summer 2012 Collection.
The launch was held at the Skye Launch in Bonifacio Global City. Coming out of the evator in the Penthouse of the W Building, participants were ushered to the bar entrance where they lined up for their free pair of Vibram FiveFingers. Personalities spotted were Coach Zinnia Villarin, Lt. Col. Mike Logico, Gerard and Jan Marini Pizzara, Bearwin Meily, Ultimate Celebrity Sole Survivor Albert Sumaya, Jr. popularly known as Betong. While the program was going on, a very sumptuous food was served to everyone.
The event was well attended by various personalities in the field of sports. Barefoot runner Lt. Col. Mike Logico shared his testimony how Vibram VFF simulates the foot movement when running. The members Philippine Dragon Boat – Canoe Racing Team proudly confessed their passion for their sports and how Vibram VFF takes care of their feet during training and on actual race days. Surfing instructor and icon Paolo Soler tells the whole crowd how Vibram VFF adds up convenience in his daily life.
Vibram is the next thing to being barefoot. You can actually feel the ground, yet you don't need to worry about getting cut in the foot because you are assured that your soles are well protected.
Vibram has come up with various designs to suit different individual needs. If you love trekking, you can get yourself a pair of Vibram VFF Trek. You can use your VFF's in running, when you go to the gym, or if you engage in water sports. Most of the designs, though, can be used in running. From casual to sporty – there's a perfect pair for you. There are even different colors to choose from to match your mood!
And so why Vibram? Here are the five reasons*:
1. Strengthens Muscles in the Feet and Lower Legs – Wearing FiveFingers will stimulate and strengthen muscles in the feet and lower legs, improve general foot health and reduce the risk of injury.
2. Improves Range of Motion in Ankles, Feet and Toes – No longer 'cast' in a shoe, the foot and toes move more naturally.
3. Stimulates Neural Function Important to Balance and Agility – When wearing Vibram FiveFingers, thousands of neurological receptors in the feet send valuable information to the brain, improving balance and agility.
4. Eliminates Heel Lift to Align the Spine and Improve Posture – By lowering the heel, our body weight becomes evenly distributed across the footbed, promoting proper posture and spine alignment.
5. Allows the Foot and Body to Move Naturally, Which Just FEELS GOOD.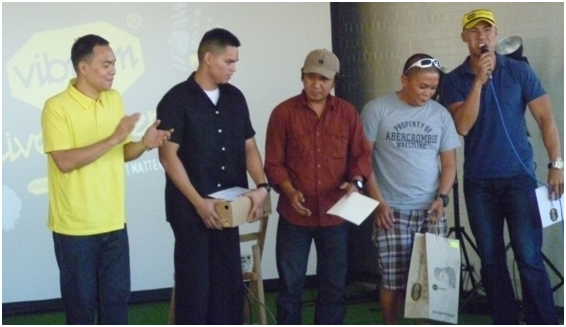 Sometime in March, Vibram also launched a video making contest on Facebook called 'Why I really love my VFFs." During this event, all videos submitted were shown, and then the Top 3 videos were announced.
The top spot went to Jeff Siazon. The video shows a sports enthusiast who was wearing a pair of Vibram, and went from road to trail. The video truly embodies what Vibram VFF is all about – sports and lifestyle. Jeff went home Php20,000 richer!
The second spot was awarded to Celito – Jose Macacchor, or Maky, who apparently, is one of my friends in Facebook. In the video, Cielito runs "without any orders, and without any consequences." And he says, "I run because I was made to run." Maky took home Php15,000 cash.
The third place was bagged by Sid Apolinario. VFFs "changed the way he runs and how he stays fit." He received Php10,000.
The Top 3 Winners of "Why I really love my VVFs" video making contest. Iin the photo, from left: CEO Carlos Abad, 2nd Place Winner Celito – Jose Macachor, 1st Place Winner Jeff Siazon, 3rd Place Winner Sid Apolinario and the event host Rovilson Fernandez.
Vibram FiveFingers: Discovery the alternative. It's everybody's Very Friendly Footwear!
Vibram is available at SM Mall of Asia, SM Megamall, Trinoma, Planet Sports (Rockwell, Vmall Greenhills, Newport and Glorietta) Tobys (Mall of Asia and Shangrila), Runnr (BHS, Trinoma and Ayala Center Cebu), ROX BHS, Urban Athletics Greenbelt and Chimes Davao.
*Referenced from a Press Statement released.
Words by: Jared Baliguat