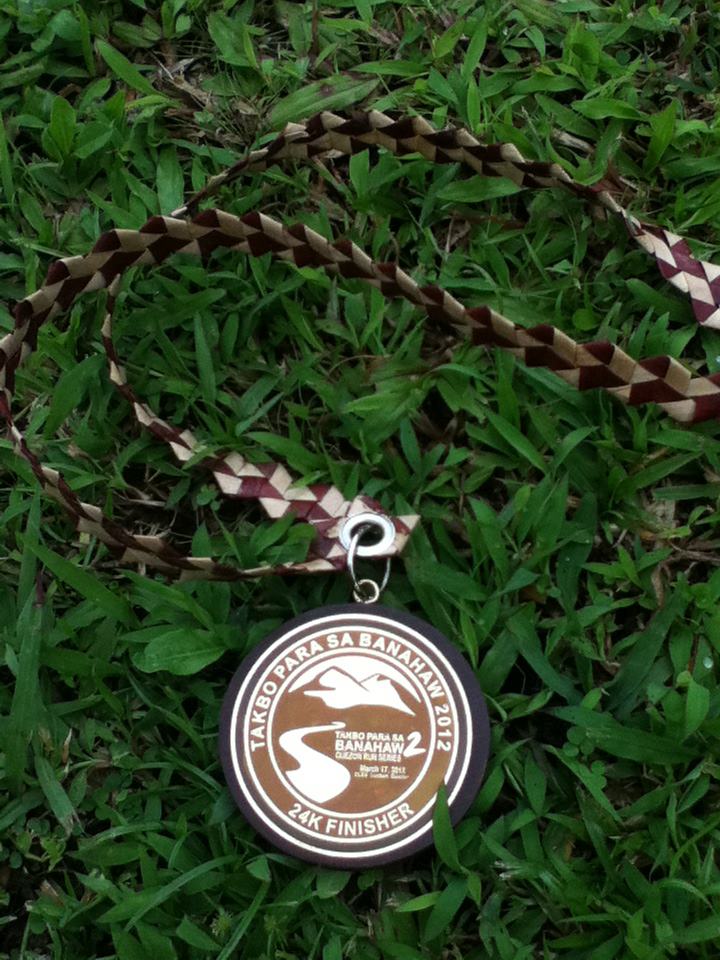 Running for a Mystical Mountain – Takbo Para sa Banahaw 2 (Review)
Words by: Ms_Mars / Photos: Ms_Mars and Rale Rodriguez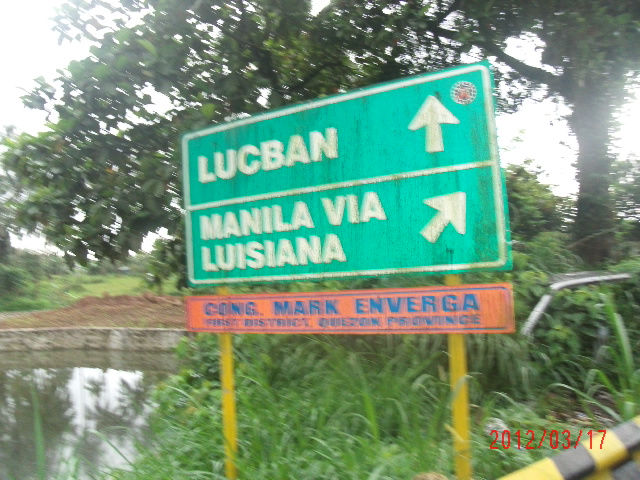 Nothing beats the fun and thrill everytime a runner attends an out of town run event regardless of the distance and location. Much more if your backdrop is the mystical mountain of Mt. Banahaw. This was how most Manila runners felt when they, including yours truly, participated in the Takbo Para sa Banahaw Part 2 recently held in Lucban, Quezon last March 17, 2012.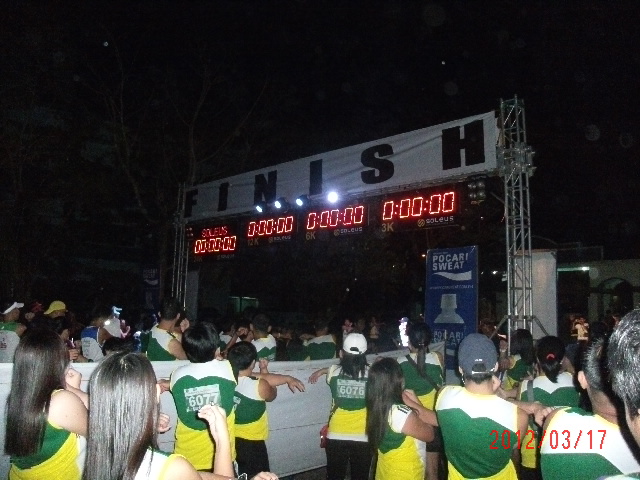 Takbo para sa Banahaw Part 2 is a project of the Southern Luzon State University Student Council Federation in partnership with the Global Excellence Promotion. It's their 2nd straight year to sponsor such event and this year with the addition of Quezon Run organizers. The goal was to make it the biggest run in Quezon Province targetting at least 6,000 participants. It had 4 categories – 24Km/12Km/6Km/3Km.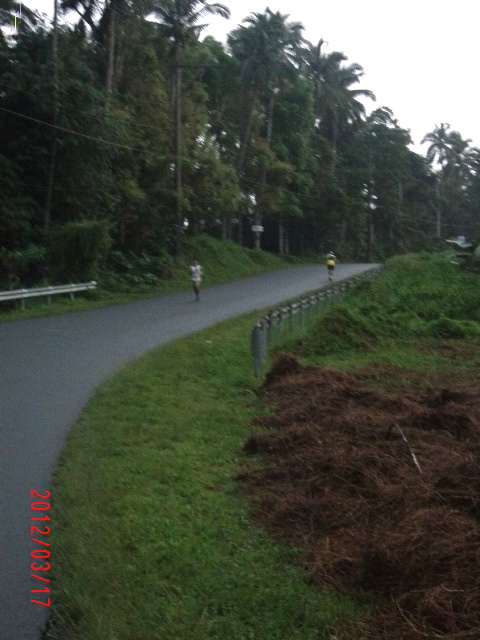 Commuting to Lucban and leaving Manila at 4PM via the Sta. Cruz, Laguna route, I was greeted by a very cold breezy weather at my destination 8:30PM. It was like Tagaytay and Baguio combined! My regret was not bringing along a sweater nor jacket with me. After having dinner at a family friend's abode, I headed to check the event site at the Southern Luzon State University (SLSU) campus and met up with Event Coordinator Glenn Arvy Eclavea. Tents were already pitched and we were given a brief tour of the route while installing a couple of distance markers along the way.
Having rained the night before, local runners and out of towners gathered at the Start/Finish line inside the campus as early as 4AM. It was going to be a chilly run but the runners didn't seem to mind at all. While waiting for the gunstart, the campus brass band kept the air alive with their upbeat and marchy numbers. A mandatory warm up session was held before officially letting go of the eager 24Km runners just a few minutes before 5:30AM, followed by 12Km until the very last 3Km runner/jogger.
The race route was predominantly flat roads along the highway of Lucban town proper with exception of the 24Km and 12Km wherein elevations were felt which made the run a bit challenging. Runners passed by the Lucban municipal hall town plaza, swerved through a couple of bridges, one major road intersection and inhaled fresh farm air while traversing through endless rows of coconut trees. This runner was even amused seeing a couple of farmers riding on their horses headed towards my opposite direction. We hardly had sweat due to the cold and condusive breeze coming from Mt. Banahaw and nearby Mt. Cristobal. Unlike the heat during CamSur Marathon, running in Lucban during summer is the exact opposite.
Hydration was sufficient and the stations were manned by volunteer students while cheering and motivating all runners. Event Coordinator Glenn himself backrode on a motorcycle and helped distribute Pocari Sweat bottles to the 24Km and 12Km participants. That's a very notable first in a running event. Hydration on wheels!
We also experienced intermittent light rain before crossing Kilometer12 and more cooling rain on our way back to the SLSU Campus. More Lucbanons lined up on the sidewalk to cheer the runners on their way back to the plaza en route to the Finish Line. And after crossing and glancing one's running time care of Soleus, the 12Km and 24Km runners each received a very unique and carefully crafted native finisher's medal. The lace was what made it more attractive. According to event co-organizer Glaiza Lee, Lucban is known for its world-renowned handicrafts and they have considered these hand-woven laced medals as a perfect keepsake from the town very popular for its longganisa and local delicacy of pancit habhab and uniquely colorful annual Pahiyas Festival.
While waiting for the Awarding Ceremonies to start, a special fire dance number kept the participants in awe. The officials of the State Luzon State University gave their speeches, thanked all runners for supporting the event and reiterated the importance of being conscious in saving Mother Earth. Plastic is not allowed at Mt. Banahaw and in major and minor business establishments brown paper bags are heavily implemented.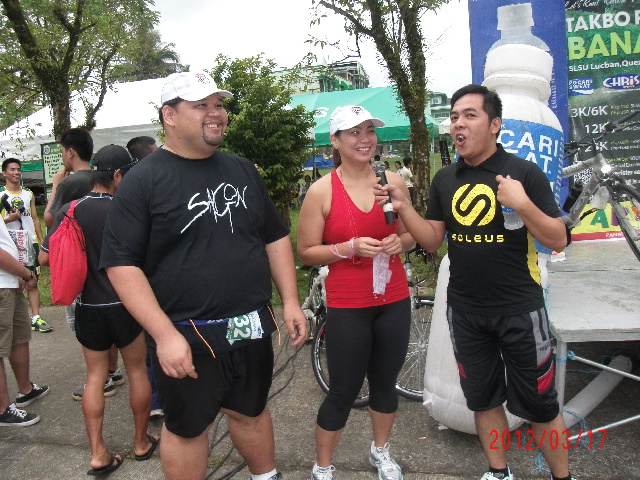 Several raffle items were given away which kept most runners glued to their raffle stubs and hoped to win a pair of mountain bikes, cellphones, Soleus watches and shirts. Congrats to all the winners!
This event was also graced by two Biggest Losers Finalists — Eboy Bautista and Angela Lupangco with whom I did not miss to have some photo ops with. During my brief conversation with Eboy he was amused to note that the Pinoyfitness peeps are in almost all events he has participated and ran with. The PF community has definitely grown is what he has observed. They both ran short distances and gamely posed for more wacky pics to the delight of most runners and SLSU students. Program Emcee Michael Safred interviewed the reality fitness show finalists and asked how it felt being in their town. Both replied that the Lucbanons are such happy and friendly people and expressed their intention to return for another visit or run event.
Lucban-born homegrown famous runner and mountain climber Leo Oracion was supposed to run in this event but due to work responsibilities in Chile, had to beg off but definitely looks forward to future runs in his native hometown.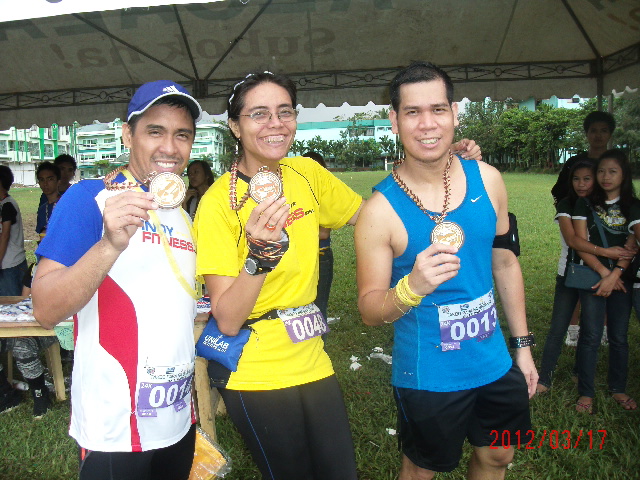 Met up with the rest of the Manila runners at the activity area proudly wearing our native 24Km finisher medals and swapped stories on how this event was worth the 4 to 6 hours travel. The run may not be as grand as the Manila races but it brought a fitting alternative and totally different environment adding provincial hospitality and excitement which made our Takbo Para sa Banahaw 2 a two thumbs up running experience!
Organizer Quezon Run is also excited to announce this early that their follow up fun run is scheduled for August 18, 2012. Event details will be posted here very soon.
Special THANKS to the Ocoma Family for my overnite accomodation in your humble abode. Glenn Arvy Eclavea and Glaiza Francia Lee and the rest of your hardworking staff for the warm hospitality and a quick happy side-trip of neighboring Tayabas, Quezon. And to Pinoy Fitness for the opportunity to review the race.