When I read that Nike launched the ZoomX Invincible Run and headlined it as a shoe that features 'injury-free technology,' my eyebrows shot up and I wondered just how true that could be. 
Because let's face it: That's a rather ambitious goal for anyone, including Nike. But I was especially skeptical about it because I'm a runner with weak ankles and have twisted them on multiple occasions while hiking or running – no matter which performance shoe I was wearing. So while the prospect of a shoe that protects me from injury is an interesting one, it also sounds like a pipe-dream for me.
When I got the shoe back in January, I made sure to test it out for myself and see just how stable it would keep my foot. This is me, reporting back on that progress and professing my love for this color-way.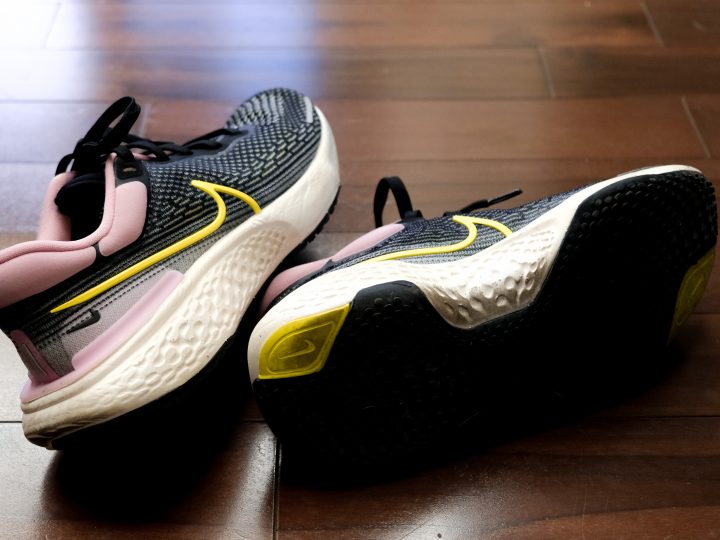 Shoe specifications
Aesthetics aside, the ZoomX Invincible run boasts a list of impressive features that, for a hefty price tag of PHP 9,295, are well worth it, in my opinion. Below, you'll read the most notable features of the Nike ZoomX Invincible Run.
Improved boat-like silhouette
Although it doesn't seem to be an obvious difference from other shoes from Nike, the ZoomX Invincible Run does have an improved silhouette. These improvements all contribute to making this shoe 'roomier' and allow for both foot stability and comfort. To be more specific, the shoe's rocker-geometry helps tremendously with stride efficiency.
It augments the ZoomX Foam's (which we will discuss down below) springiness and helps you ease into your forward motions by aiding your strides through a rocking motion.
However, for a person with narrow feet, I found this too wide for me. But I didn't see it as much of an issue when I could just tighten the laces to a reasonable degree to fit better.
Flyknit upper
This feature is also the reason why I didn't find its width too much of a problem. Fans of the Flyknit technology will know how comfortably it wears and how it follows the mold of your feet well.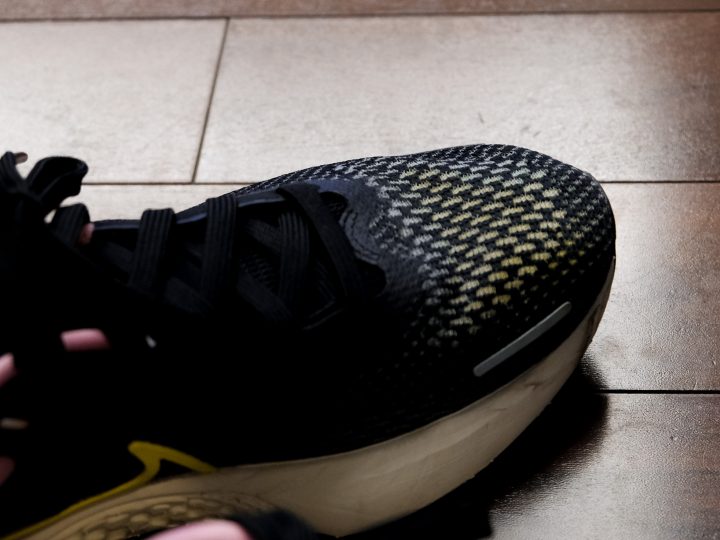 Runners can also delight in the fact that it has been strategically incorporated into zones of the shoe where your feet heat up fast. This optimizes breathability, keeping long runs comfortable for an equally long period.
On top of that, the cushioned collar is also one small detail that many runners will appreciate. It's plush and didn't rub against and irritate the back of my ankle as much as I thought it would.
ZoomX Foam
A feature similarly present in the highly coveted Alphafly NEXT% – a shoe inspired by the one worn by Eliud as he broke the SUB2 barrier for a marathon. While I am no Eliud Kipchoge, what I and a lot of other runners will appreciate with this feature is that it's firm without sacrificing the bounce.
This feature, for me, was the highlight of this running shoe not just because of its springiness but also for its shape. As mentioned above, the boat-like shape allows you to rock forward with ease.
One downside I noted though is that it's a touch on the weightier side. It's definitely more of a training shoe and not a racing shoe as you would normally opt for a lighter option for the race.
Waffle Outsole
This is one feature that I didn't quite feel the impact. According to Nike, this technology is engineered for added traction. But that doesn't translate as obviously as it should on dry concrete roads where I usually run.
More tests should be done on wet or muddy running trails to see how well it performs in terms of that promise.
The verdict
Overall, my experience with this shoe was stellar; I enjoyed running in them and would honestly use them for daily training. But considering its width and my wobbly ankles, I may have to still exercise the same amount of caution with landing as I would while wearing other shoes.
View this post on Instagram
That's a bummer considering that it did promise more protection from injury than any other shoe. But again, that's only considering the case of my weak ankles. If you have more stable joints down there, you'll have to let me know what you think of it.
In terms of price-point, I will reiterate that it is a bit of a premium and so I would recommend this if you are the type who is training every day and could maximize the shoe. Otherwise, if you're a casual runner, then there are definitely more budget-friendly options for you.
Anyone else here who scored themselves a pair of the ZoomX Invincible Run? Share your thoughts on them with us over at the Pinoy Fitness Community!
Got stories you'd like to share and feature on our website? Shoot us a message on Facebook. We'd love to hear them out.