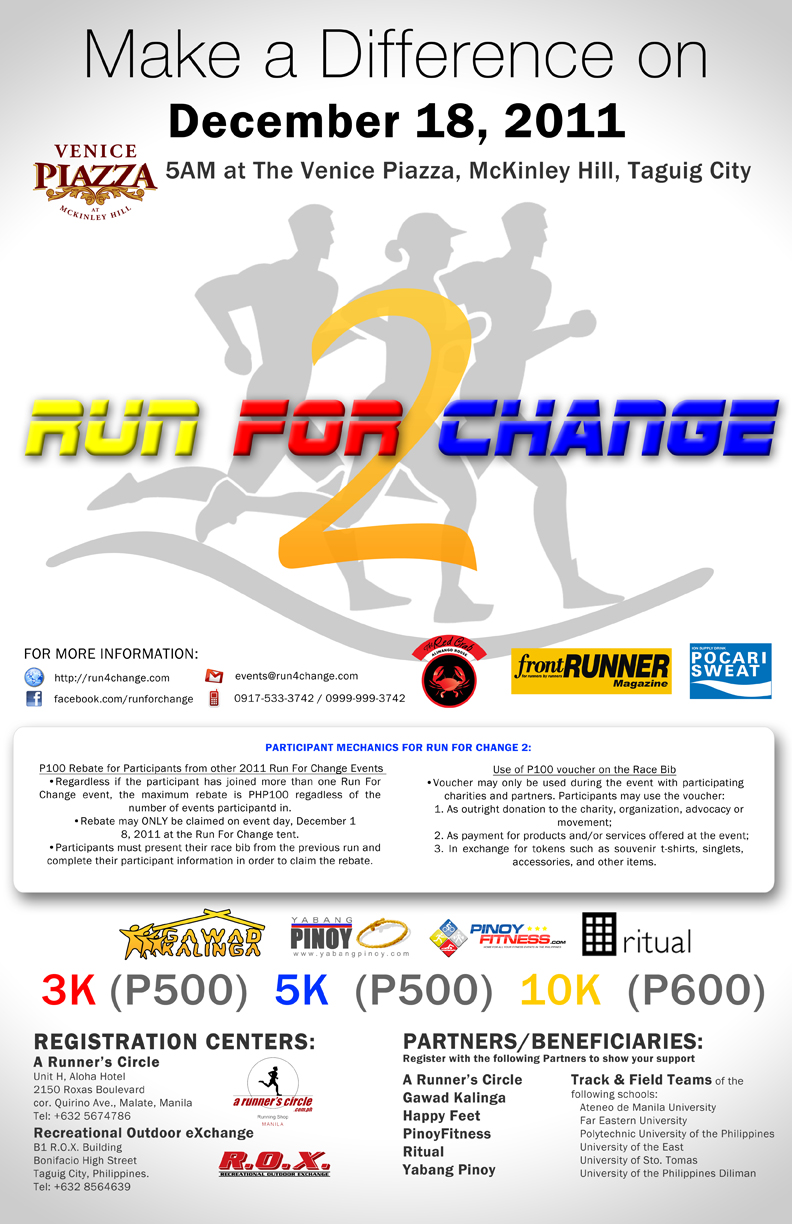 Let's Run together for Change and make a difference for our student athletes who will also serve as marshals for this event!
All race marshals of Run for Change are Student Athletes from UP, Ateneo, UST, FEU, UE, PUP, etc. They choose to train these athletes to be competent race officials and whatever honorarium they receive from our races serves as additional allowance for their food, transportation, school supplies, and other necessary expenses.
Run for Change 2
December 18, 2011
The Venice Piazza, McKinley Hill
3K, 5K, 10K
Gun Time: 6:00 AM (10K), 6:05 (5K) and 6:10 (3K)
Organizer: Run4Change
Registration Fees:
3K, 5K – P500
10K – P600
Registration Venues:
– A Runner's Circle
– R.O.X.
Race Features!
I. REBATE
As a token of our gratitude, we will be extending P100 rebate to all runners who have participated in any RUN FOR CHANGE event this year (except the free ones). They include:
Two for Taft
Mammothon
Run for Hope (Cardinal Santos)
San Beda Animo Run
MVP Birthday Run
Run and Leap (Lourdes Hospital)
Run, Doctor Run (Makati Medical)
Fam on the Run (Medical City)
Anson's Mardi Gras Run
Millennium Women's Run (Phil. OB-Gyne Society)
Empower Run (UP Manila)
Greenfinity (except those who were given free race kits)
The rebate may be claimed during the event. Simply present your old race bib to avail of the rebate. You can only avail of the rebate once.
II. INCENTIVE
To serve as an incentive to the site at continually inspires people to be active in sports and continues to motivate them by their stories, posts, insights, we will be extending a P100 DISCOUNT for all Pinoy Fitness members that register through Pinoy Fitness.
III. PAY IT FORWARD
We believe that blessings, big or small, should be shared with others.. especially those that have a genuine cause or advocacy. As such, we are giving all our participants a P100 cash voucher which they use to support different charities that will be present during the event (ie. Gawad Kalinga, Yabang Pinoy – Filipino Pride Movement, Ritual, etc). They may exchange their cash vouchers for souvenir t-shirts, caps, mugs, or other items.
Participants will also be able to use their cash voucher with our partners such as frontRUNNER Magazine, A Runner's Circle, purchase a Run for Change singlet or eat the Red Crab.
IV. FESTIVITIES
Our event is a no frills event. We decided not to get sponsors (but we would most definitely accept contributions or sponsorship if anyone offers). The event is basically meant to celebrate the year that was and enjoy each other's company. We will have a jousting arena for people to play in. We will have games and other activities as well.
For More Information:
For any questions, you may contact our HOTLINE at 0917-533-3742 and 0999-999-3742 or through email at [email protected]
Run for Change 2 – Pinoy Fitness P100 Promo Mechanics!
You must be a Follower on Facebook or Twitter:
– https://www.facebook.com/pinoyfitness
– https://www.twitter.com/pinoyfitness
Like the Facebook of Run 4 Change as well -> https://www.facebook.com/runforchange
Help Spread the word to other Followers: Twit or Post on Facebook -> "I will @runforchange this December -> @pinoyfitness https://wp.me/pQctC-3e5"
PROMO is until December 12 Only! So you have time to collect kits before race day! Cheers!
PS: Hope you can wear your PF Tech Shirt to shirt Race :) Batch 2 of the Pinoy Fitness Tech Shirt will also be available in this race!
NOTE!: Race Kit Pickup for this PROMO will be at ROX only! and you must present at least 1 VALID ID to claim the KIT