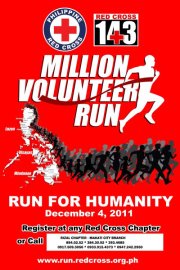 The Philippine Red Cross will embark on activities until December 2011 to highlight the celebration of the International Year of Volunteers, as declared this year by the United Nations (Resolution 52/17). They are now focusing on campaigns to build a nation of disaster response volunteers and we shall continue to promote volunteerism in order to serve humanitarian interest.
The highlight of 2011 will be on December 4, as they engage the nation's participation in the Red Cross Million Volunteer Run.
This aims to make a statement. Simultaneous run of millions of volunteers wearing red shirts staged in key municipalities throughout the country will constitute a "Sea of Red".
Million Volunteer Run
December 4, 2011 @ 5:00am
Mall of Asia
5K
Organizer: Philippine Red Cross
Registration Fees:
PHP 500.00
Race Kits Include:
1. Registration to Philippine Red Cross and Red Cross 143 as volunteer
2. Red Cross 143 ID
3. Red Cross Membership with Accidental Assistance Benefit
4. Official Volunteer Run Shirt
5. Disaster Preparedness Guide
6. Whistle
7. Certificate of Participation
Registration Venues:
Registration starts on October 17 – November 30, 2011 at
The Philippine Red Cross Rizal Chapter – Makati City Branch located at:
5/F Filipino Bldg. 135 Dela Rosa cor. Legaspi Sts., Legaspi Village, Makati City
or
Red Cross Training Area at Philippine Cerebral Palsy Sacred heart St. San Antonio Village, Makati City.
Sign-up Online -> https://run.redcross.org.ph/volunteers.php
Million Volunteer Run 2011 – Shirt Design: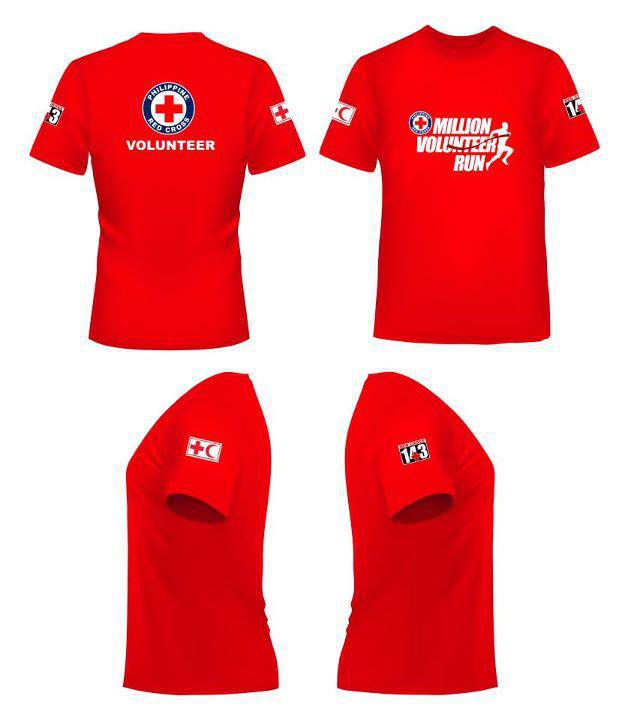 For More information:
Visit our Facebook fan page: https://www.facebook.com/redcrossmakati
Call: 894-0252 / 384-3092 / 393-4685