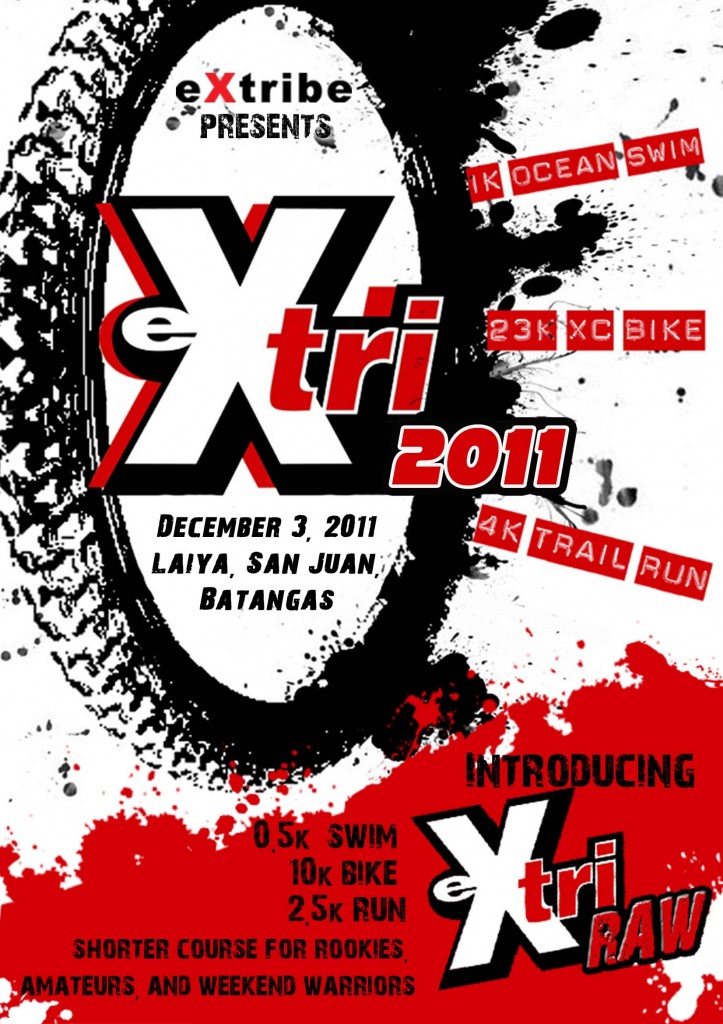 Do you consider yourself a Rookie, Amateur or just a Weekend Warrior in Multi-Sport? Then check this out! eXtribe Inc is Introducing the eXtri RAW (for Rookies, Amateurs, and Weekend Warriors). Details here!
eXtri 2011
December 3, 2011
La Luz Resort, Laiya, San Juan, Batangas
Organizer: eXtribe, Inc.
Distances and Disciplines:
eXtri:
1km ocean swim, 23km XC bike, 4km trail run
eXtri RAW (Rookies, Amateurs & Weekend Warriors):
0.5km swim, 10km bike, 2.5km run
Registration Fees:
For eXtri:
Oct 15 – Oct 30: Php 2,000.00
Nov 1 – Nov 15: Php 2,500.00
Nov 16 – Nov 19: Php 2,800.00
For eXtri RAW:
Oct 15 – Oct 30: Php 1,500.00
Nov 1 – Nov 15: Php 1,800.00
Nov 16 – Nov 19: Php 2,000.00
Registration Venues:
Online Registration at www.extribe.com.ph
Updates:
For eXtri RAW participants, there are twelve (12) mountain bikes for rent for 250/day. First come, first serve basis. Only registered and paid participants will be allowed to reserve mountain bikes.
eXtri RAW participants also have the option to use life vests and masks. Please inform the Race Director before the race if you want to use this option.
eXtri Team Discount!
eXtri 4+1
eXtri RAW 5+1
REQUIREMENTS:
– ALL Participants should have already filled out the online form
– Payment must be made in bulk (1 deposit slip only)
– Names of all included participants should be indicated on the deposit slip
– Registration dates and fees still apply
Invite your friends and teammates to register with you to avail of this offer! :D
Contact Details:
439-3007
438-9021
[email protected]