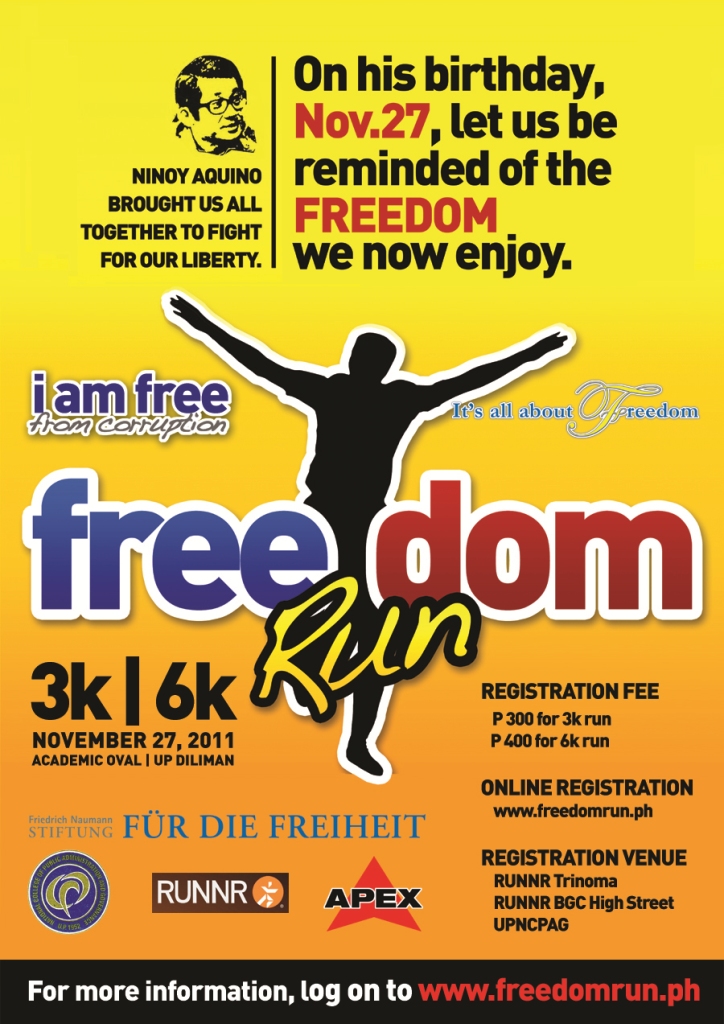 Freedom is an endowment that Filipinos sometimes neglect. It is more often associated to independence, as in from colonizers in 1896 and from dictatorship in 1986. Now that the Philippines is sovereign with a democratic political system, is the country really free? What is true freedom?
On 27 November 2011, the Friedrich Naumann Foundation for Liberty (FNF), together with the National College for Public Administration and Governance, and APEX are organizing a Freedom Run that could rouse the public's consciousness on the value of freedom that they enjoy today. Acknowledging that this kind of activity appeals to all ages and across all sectors, FNF endeavored in this project to engage more people and hopefully inspire positive action to address issues that restrain them from maximizing the benefits of freedom. For this year's Freedom Run, runners shall dash to a finish line where they can say "i am free from corruption." The date of the event is significant as it is also the birthday of Ninoy Aquino who exceedingly contributed to the country's freedom from tyranny and the Filipinos' self-actualization.
Freedom Run 2011
November 27, 2011 @ 6:00 AM
UP- Diliman, Academic Oval
3K / 6K
Organizer: Friedrich Naumann Foundation
Registration Fees:
3K – PHP 300
6K – PHP 400
Includes Freedom Race Kit (singlet, race bib, race map and instructions) plus Freedom Finisher's kit and other Freedom freebies.
Freedom Run 2011 – Singlet Design:
Registration Venues:
1. MABUHAY GERMANY EXHIBIT:
Bonifacio High Street, Global City
Booth #13 – Friedrich Naumann Foundation for Liberty Booth | October 7-9 | Friday: 4pm-10pm, Sat & Sun: 11am-10pm
2. MALL SITES:
RUNNR, Bonifacio High Street
RUNNR, Trinoma
Oct. 7 to Nov. 20 | 1:00 pm- 8:00 pm (Monday-Thursday), 11:00 am- 8:00 pm (Friday-Sunday)
3. UP-Diliman
National College of Public Administration and Governance (NCPAG) | Nov. 9- November 22 | 12:00 nn- 6:00 pm (Tuesday-Friday)
4. FNF Office
4/F La Fuerza Plaza 2, 2241 Sabio Street, Don Chino Roces Ave., Makati City (building beside Mazda Motors) | Oct. 3- Nov. 25 | 9:00 am- 6:00 pm (Monday-Friday)
5. ON-LINE Registration (starts on Oct. 11, 2011)
Website -> https://www.freedomrun.ph
Contact Details:
Pauline Sanchez
8196086/87
0920-9158428
[email protected]