[ad#square-middle]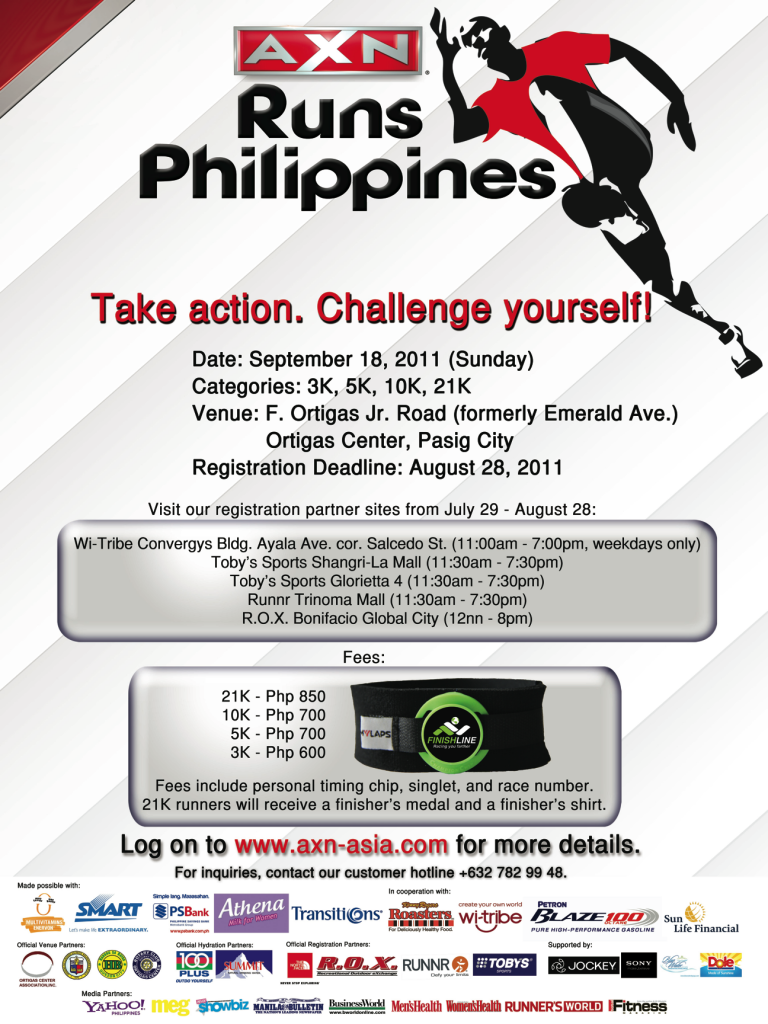 Thanks to everyone that dropped by the Pinoy Fitness booth and congratulations to all who participated in the AXN Runs Philippines 2011! Race Results and Photo Links will be updated here once it's released by the organizers.
View Race Results:
AXN Runs Philippines 2011 – Race Results
Photo Links:
AXN Runs Philippines 2011 – Photos c/o ActiveMoments.net!
AXN Runs Philippines 2011 – Sneak Peak Photos of Pinoy Fitness Friends!
[ANNOUNCEMENT FROM THE ORGANIZER]
Dear Runners,

Race Results will be posted later at 6pm. This is to give time for verification on those runners who did not follow proper wearing of chip. Instead of their ankle, there were many wearing them on their arms and wrists. Kindly re-visit "How To Wear Your Timing Chip" at www.axn-asia.com/runsph.

With regards to the 1,000 finisher shirts for race number 1-1000 and 1,500 medals we prepared for all 1,307 21KM runners: It was unfortunate that there were those that were not able to receive theirs, due to the looting by participants that occurred. We are devastated by this incident. For those who were not able to claim theirs, AXN is producing a special AXN Finisher Shirt and AXN Finisher Medal. Please keep your race numbers with claim stub. Mechanics will be released by AXN at the AXN website within the week.

With regards to the route: We are happy to hear runners enjoyed the challenging route we developed for all racing enthusiasts 3K, 5K, 10K, and 21K. A lot of time, effort, heavy coordination with government agencies, were poured into the route development. We would like to thank the Ortigas Center Association Inc, Ortigas Rotary Club, Pasig City Mayor, Quezon City Mayor, MMDA, DPWH, TPMO, QCPD, Pasig PD, DPOS, PNP and all the barangays.

To all the runners, thank you for your support. We welcome all comments and suggestions as we continue to provide you with better races. Feel free to email us at [email protected].

We hope to race with you again.

Racing you farther,

FINISHLINE
For now please feel free to share your comments and feedback about this event here!
Join the Growing Pinoy Fitness Community -> Click Here!