[ad#square-middle]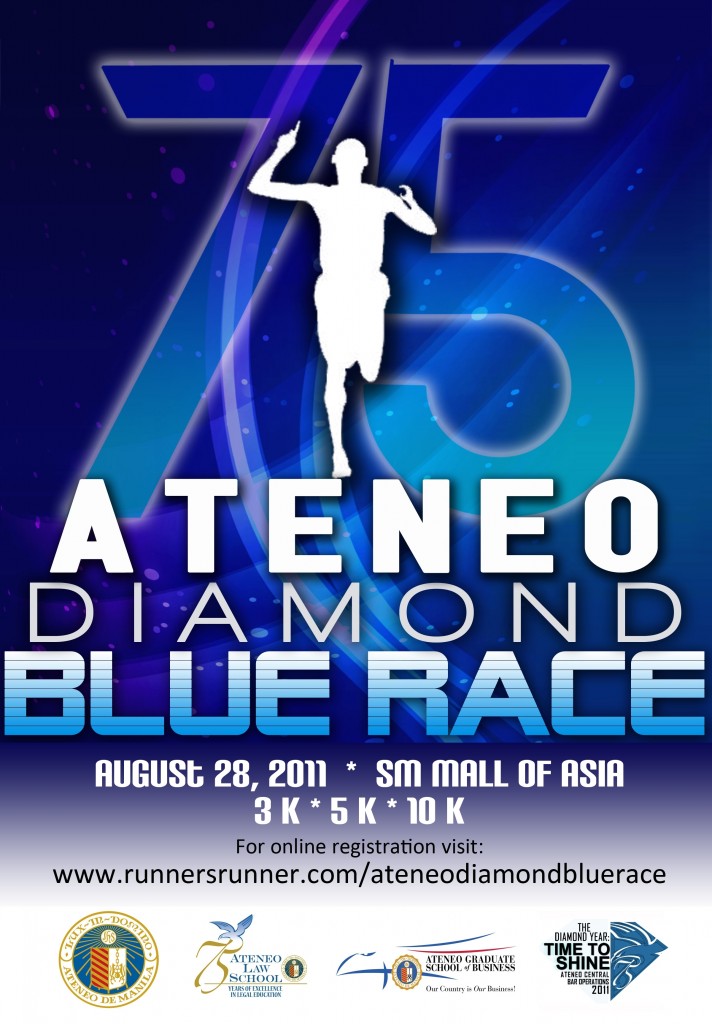 Congratulation to all winners and finisher's of the recently concluded Ateneo Diamond Blue Race 2011 that happened in MOA. Great to have been blessed with good weather despite the typhoon! Race Results and Photo Links will be updated here once it's released by the organizers.
View Race Results Here:
Ateneo Diamond Blue Race Results
For now please feel free to share your comments and feedback about this race here!
From the Organizers:
Dear Runners,

First of all I would like to thank our dear runners for joining the Blue Race.

As we promised this is a charitable event and we will fulfill all our promises to feed poor children for better learning, help during national disasters and save the poor at risk through medical and legal missions. This is the best way that we can repay you.

Your safety is very important to us. Nobody collapsed during the race and we have no injury reported. We really made sure of this aspect.

There was also no report of any missing item. We added marshals to make sure that the signages do not get blown away by the strong winds.
At the start of the race registration, the ADBR group has always been very generous in giving what our sponsors could share.

We had enough doctors who were with you during the race. They joined as runners and health sweepers. We also had adequate amount of ambulance to make sure that everybody will be safe.

The organizers would like to apologize for the following:
First,Hydration preparations. We really had logistical problems as the weather was really bad prior to the race. The additional water stocks that we requested were not delivered due to bad weather.
Second, Restrooms were supposed to be open but people who were assigned to open were not able to report on time due to bad weather.
Third, Other hydration partners, suppliers and sponsors had to pull out at the last minute due to bad weather. This explains why some sponsors suppliers like portalets were not present during the event. The ADBR was situated at a wide open area fronting the bay and we were informed to make sure that we avoid objects or set up that can be blown off easily like steel signages, portalets and hanging streamers. In lieu of the portalets some restrooms were to be opened but the people tasked to open them were not able to report due to the weather. We appeal that we understand some of our sponsors as they also have to protect their employees.
Fourth, We had enough water for the runners. Onsite registrants increased even if the weather was not good. This somehow affected our allocations.
Sixth, For the certificates, we shall give it to you in Rockwell for pick up. We can schedule a day for pick up and we shall announce it soon. Some certificates got wet due to the heavy rains while we were setting up. We deem it is not wise to give wet certificates. We were able to give only those that were saved.
Seventh, For the raffle, we have announced repeatedly that everybody should drop them already at the drop box. The prizes were also announced repeatedly. Our apologies if some runners were not able to hear the repeated announcements.

For those who have concerns about the water system. The run is over and we can only improve for the next run. Giving you a glass of water now will not remedy the situation. We hope that every time we feed poor kids, provide legal, medical and dental care to those who are at risk through the fund you shared by joining the race, sana mapawi na ang uhaw niyo…in our race to help people, the ADBR Group will move on kahit wala na water…no amount of thirst can stop us…

I hope the runners would also appreciate the good side of our event. There is always room to make things even better. We hope that the other side of our coin would also be appreciated.

Thank you Very Much,
ADBR Group
Join the Pinoy Fitness Community as well! Cheers!