[ad#square-middle]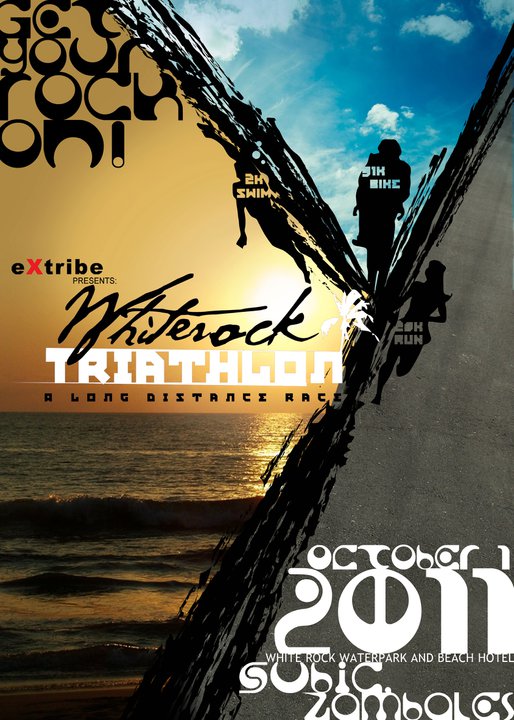 Get ready to face the adventure as Extribe brings you the White Rock Triathlon happening on October 1, 2011 at Subic Zambales, check out the full details here!
White Rock Triathlon 2011
October 1, 2011
White Rock Waterpark and Beach Hotel, Subic, Zambales
Distances and Disciplines:
2km Ocean swim / 91km Road Bike / 20km Run
Registration Fee: (INDIVIDUAL)
Jul 16 – Aug 15: Php 4,000.00
Aug 16 – Aug 31: Php 5,000.00
Sept 1 – Sept 15: Php 6,000.00
ONLINE REGISTRATION OPEN 16 JULY 2011. Register Here!
Age Group Categories:
Male – 18-24 / 25-29 / 30-34 / 35-39 / 40-44 / 45-49 / 50-above
Female – 18-24 / 25-29 / 30-34 / 35-39 / 40-above
Note: The top 3 male and top 3 female finishers will be declared the Over-All winners and will not be included in reckoning age group podium finishers.
Race Course:
Swim Course
The swim leg is a 2 km course at the beachfront of the White Rock Beach Resort into Subic Bay. The Greater Subic Tourism Bureau, together with the White Rock Resort and the local communities, assures eXtribe that efforts are going to be made to ensure the safety and cleanliness of the swim course.
Features: anchored swim buoy lines, multi-loop course, jet-ski patrols, kayak guides.
Bike Course
The 91-kilometer bike course will pass through several towns of Zambales, each with aid stations to provide water and/or medical aid, thanks to the support of the local government and the Zambales Department of Tourism Office. Traffic marshals will be deployed along the major intersections and critical areas. The road is flat and in excellent condition. Efforts will be made to free the highway of traffic and hazards.
Features: flat and smooth road, police motorcycle escort, aid stations at strategic locations, medical support and ambulance, and a 45-km turn-around station (supplied with isotonic drinks, bananas, ice and water, equipped with toilet facilities, medical aid and special needs bags).
Run Course
The run course is 20 kilometers long and will enter the Subic Bay Metropolitan Authority, allowing for much improvement of the racecourse, in terms of traffic flow, pollution control and logistical support. The "notoriously" difficult portions of the run course – what has come to be called the "Heartbreak Hills" and the "Microwave" from the previous editions but were not around in last year's WRT are now back.
Features: Rolling course, water stations every 2.5 km (supplied with isotonic drinks, ice and water), sponging stations in between water stations, and a run turn-around station (supplied with isotonic drinks, bananas, ice and water, equipped with toilet facilities, medical aid and special needs bags).
RULES AND OFFICIATING GUIDELINES
The standard triathlon rules employed in the previous editions of WRT will still be applied. This is a non-drafting race. A dedicated team of draft marshals, both stationary and mobile, will be patrolling the course, and time penalties will be issued for drafting. Penalties will also be issued to unauthorized support vehicles on the race course. Detailed rules and regulations will be made available on the WRT page on the eXtribe website. A printed copy of the rules and regulations will also be included in the Race Entry Kit.
All finishers will receive their finisher's medal and shirt at the finish line. The participant must surrender the timing device (provided) in exchange for the finisher's items. An amount equivalent to Php1,500 will be charged as penalty if the timing device is not returned.
Participant Entitlements
1. Each participant will be issued a Race Entry Kit, which contains the following:
– Race Kit Bag
– Race numbers (2 pcs.)
– Swim cap
– Tyvek band
– Bike and helmet stickers
– Nutrition gel
– Event shirt
– Sponsor's freebies
– Souvenir program
2. During the race proper the following will be made available at strategic areas along the course:
– Nutrition (fruits, energy bar)
– Hydration (Water, energy drink, cola)
– Cold towel
– Water bottles
– Medical assistance
3. At the finish area, the following will be made available:
– Finisher's medal
– Finisher's towel
– Medical assistance
4. Awards and prizes will be given to the top finishers of each category (top 3 male over-all, top 3 female over-all, top 3 male and 3 female age group) at around 3PM. During this time, a light buffet will be served to the participants. Over-All Winners will receive the following:
– Cash and prizes
– Winner's medal
– Gift packs