[ad#square-middle]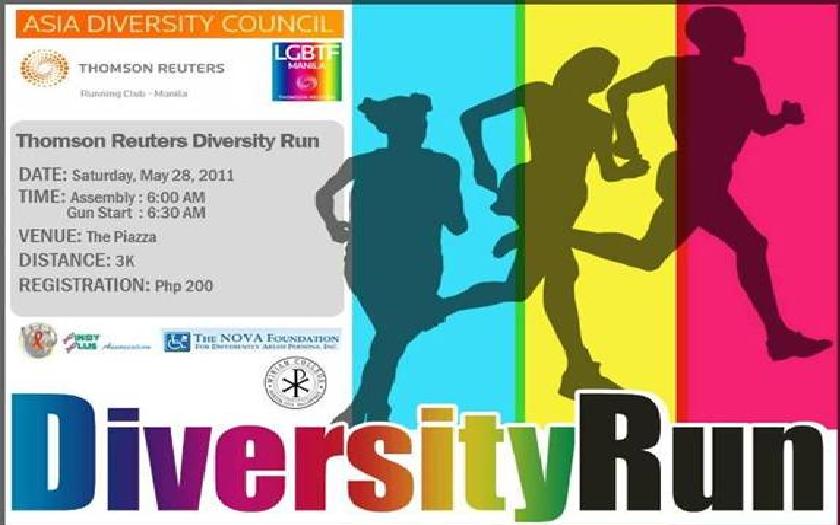 Thomson Reuters Running Club-Manila and Lesbian, Gay, Bisexual, Transgender and Friends (LGBTF) invite you, your family, and friends to celebrate diversity through the Thomson Reuters Diversity Run on May 28, Saturday at the Venice Piazza, McKinley Hill.
The Diversity Run will have a distance of 3 kilometers and will wound through the main streets of McKinley Hill. Medals will be awarded to the top 3 finishers in the male and female categories.
Runners are encouraged to come in costumes… Finish in good time, come in costume, win prizes!
Thomson Reuters Diversity Run
May 28, 2011 @ 6:00 AM
The Piazza, McKinley Hills Taguig
3K
Registration Fee: Php 200
Download Registration Form:
[download id="487″]
Assembly starts at 6 am, while gunstart will be at 6:30 am. Registration fee is at P200 per participant. Download the Registration Form to officially register and submit your payment/s for this event to any of the following individuals based at the Ayala-FGU and McKinley Hill offices. They will have on-site registration as well.
Proceeds from the Diversity Run will benefit the Pinoy Plus Association Inc., which offers counseling, care, skill building, and support programs to people living with HIV and/or AIDS, as well as the Nova Foundation for the Disabled.