[ad#square-middle]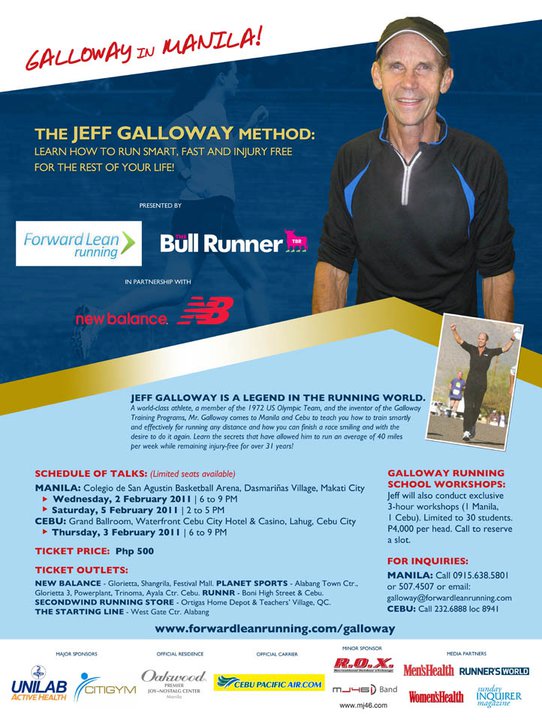 Catch this once in a lifetime opportunity to learn how to run smart, fast and injury free for the rest of your life from the running legend Jeff Galloway here in Manila this February 2011.
Jeff Galloway in Manila – Schedule of Talks
Manila – Colegio de San Agustin, Basketball Arena, Dasmarinas Village
– February 2, 2011 (Wed) – 6 to 9PM
– February 5, 2011 (Sat) – 2 to 5PM
Cebu – Grand Ballroom, Waterfront Cebu City
– February 3, 2011 (Thu) – 6 to 9PM
Ticket Price for Talks is PHP 500.
Ticket Outlets: New Balance Stores, Planet Sports, RUNNR, SecondWind Running Store, The Starting Line
Jeff Galloway will also conduct exclusive 3-hour workshops (1 in Manila and 1 in Cebu), limited only to 30 students, P 4,000 per person. Call to reserve your slot.
For Inquiries:
Manila: 0915-638-5801 or 507-4507
Email: [email protected]
Cebu: 232-6888 loc 8941
Website: https://www.forwardleanrunning.com/galloway