[ad#square-middle]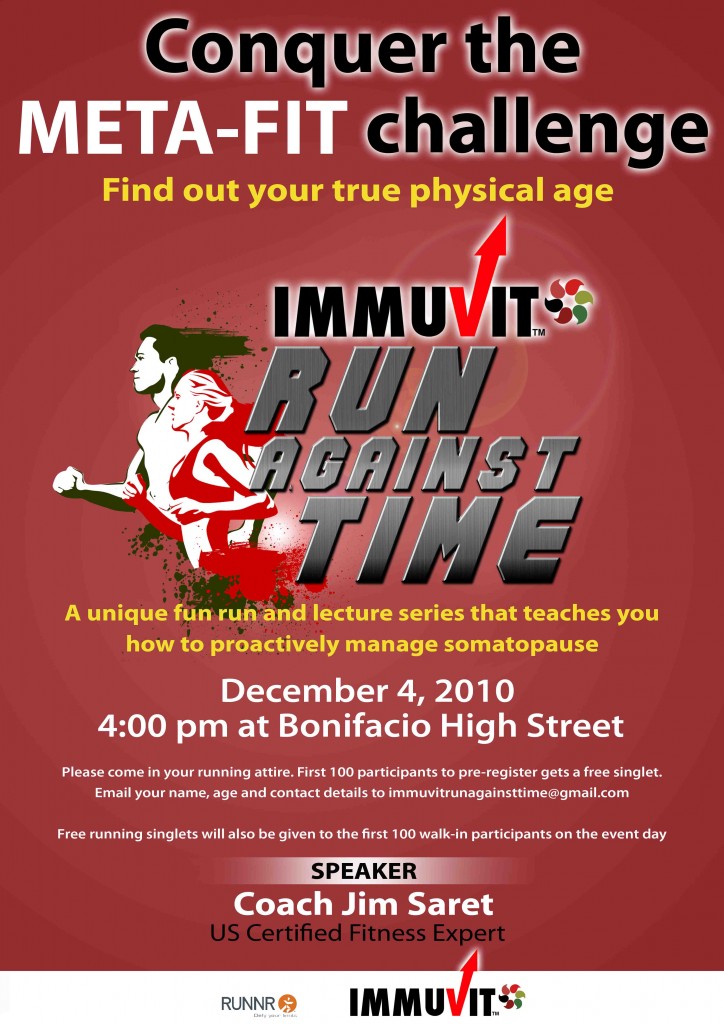 A tougher and more challenging Immuvit Run Against Time is scheduled on December 4, 4 pm, at Bonifacio High Street.
If the last leg of this fitness and running event had participants savoring "deliciously painful" challenges courtesy of the META-FIT Run of U.S.-trained fitness science expert Jim Saret, the latest leg would have them doing not just the fun run, but specific META-FIT challenges as well.
Run Against Time Metafit Run
December 4, 2010 @ 4PM
Bonifacio High Street
"Only the toughest of our runners and fitness enthusiasts will get to do the META-FIT challenges, though," explains Saret. "We will only choose the top ten participants from the event to do specific routines."
This does not mean that not all can participate in the new leg, though. Immuvit assistant brand manager Valerie Sison explains that everyone can still participate in the fun run.
"The fun run is for everyone who wants to join our cause in fighting the signs of somatopause," she says.
Immuvit's Run Against Time is being held to encourage people, specifically those in the somatopause age (mid-20s to 30s), to learn how they can maintain their youthful looks and energy despite getting on in years.
As with the previous legs, Saret will conduct a lecture on how to effectively and proactively fight the symptoms of somatopause through the help of the META-FIT program and Immuvit.
The META-FIT program has been scientifically proven to trigger the release of somatotropin, a growth hormone whose decline is directly related to the changes brought upon by somatopause.
Somatotropin is commonly referred to as the human growth hormone and is produced in the human body and excreted into the blood by the somatotrope cells of the pituitary gland. Current research indicates that fast, short, and intense workouts help unleash these natural growth hormones.
"It's never too late to take care of your health and Immuvit Run Against Time will teach you how to make health and fitness a way of life," says Saret.
To learn more about Immuvit Run Against Time, please join its Facebook fan page.
Interested participants for the 4th leg, meanwhile, can pre-register by emailing their name, age, address, and contact details to [email protected]. The first 100 registrants will get a free running singlet.