[ad#square-middle]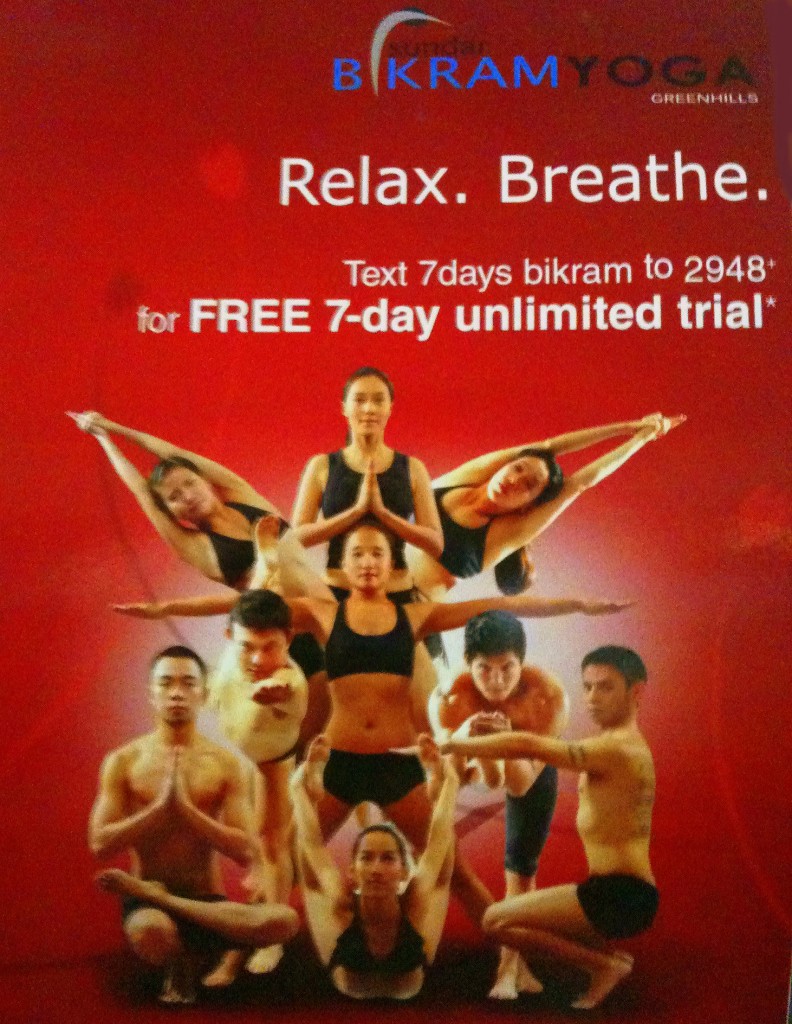 I was recently invited by a friend to try out the 7 days unlimited trail of Bikram Yoga in Greenhills for 7-days. I successfully finished the 7-day trail and just thought i'd share my experience.
The basics: Each class session lasts for 1 and 1/2 hours in a heated room where everyone is synchronized by the instructor to complete 26 Bikram Yoga postures and 2 breathing exercises with 2 water breaks.
I personally do a lot of physical activities like running, surfing, and gym workout, so at the start of the session I was confident I'll be able to breeze through the poses, even when the instructor (Dax) told me that for my first day in class my objective is just to 'stay in the room', then after the 1 and 1/2 hours I now know what he means…
Breathing heated air and performing the Yoga poses was really a challenge for a first timer like me, it was also probably the first time I sweat so much that it feels like I have no more water left inside me. I was humbled and have to rest for a bit for my first session but I was able to stay in the room and complete the entire session.
I returned for my second session with renewed dedication. This time my rest was shorter and I was able to improve some of my postures thanks to Betty (another instructor). I was also able to meet some new friends, one of them was Kim, who told me she started yoga way back in 2008 and is now an advance student, I whimsically asked her how long would it probably take for me to get to her level and really see the results, she said about a year… 358 days to go… : ) her advice, just do it, its a mind over matter thing.
Thinking about it, her statement truly aligned to what Bikram Yoga is, one thing I personally learned from my 7 days of Yoga, is that Bikram requires great personal disciple, from the time the class starts, the concentration needed to execute each posture, the allowed water breaks, everything is synced and timed, and focus is key.
For my 3rd to 7th session, I was able to successfully do all the poses and see significant improvements in my Yoga postures. 700 calories is how much each sessions burns according to Dax, roughly equivalent to a 10K run, good thing about Bikram Yoga? You can do it everyday…
So if your eager to try out what Bikram Yoga can do for you, head on out to Bikram Yoga Greenhills located at Connecticut Greenhills. Oh, and thanks to Olay for greeting me happy birthday on her class.
Checkout their website @ https://bikramyogagreenhills.com/