Annoucement:
In light of the inclement weather forecast for the next 24 hours, please be advised that the Grand Launch of Car-Free Sunday Mornings at Ayala Avenue as well as the 5k Fitness Run tomorrow – September 3, 2023 will be rescheduled to September 10, 2023, next Sunday.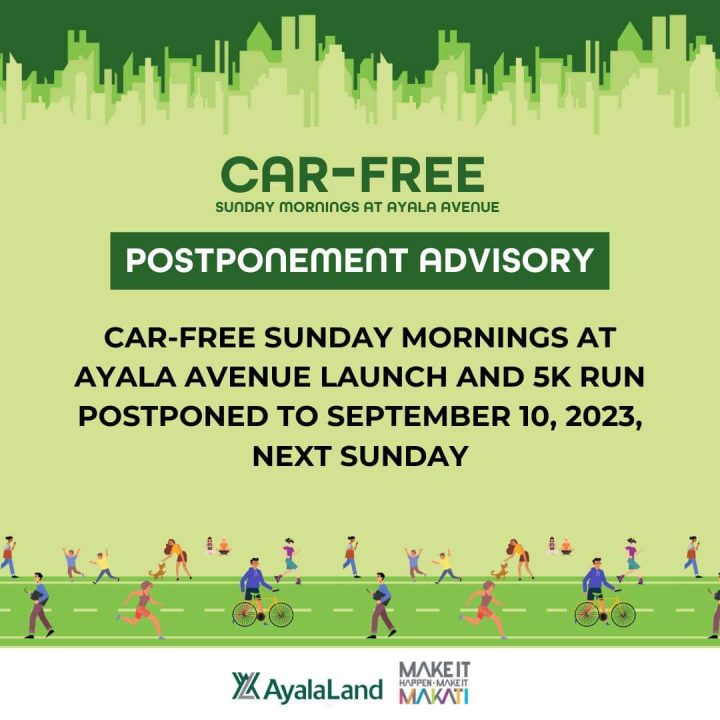 Embark on a vibrant morning at Ayala Avenue as Makatizens unite for the Grand Launch of Car-Free Sunday Mornings on September 3, 2023. This momentous event marks the commencement of a transformative program, where approximately a 2KM stretch of Ayala Avenue will be cordoned off every Sunday morning from 6AM to 10AM. This initiative allows runners, bikers, and fitness enthusiasts to revel in a car-free environment and engage in invigorating activities.
The event schedule for September 3 is as follows:
Commence your day at 6:00 AM with the ceremonial opening.
Engage in an energetic warm-up led by Adidas Runners Manila at 6:05 AM.
Groove to the live melodies of the Hernandez Brothers during the 6:30 AM Fun Run.
Discover tranquility with an 8:30 AM Yoga Class by Movement in Play at Ayala Triangle Gardens.
Explore the offerings of the National Bicycle Organization (NBO Bike Lessons) for bike and skate rentals.
Savor a variety of breakfast pastries and goodies from local food merchants.
For those seeking an active experience, consider joining the Car-Free, Run-Free 5k fitness run. Alternatively, relish the car-free ambiance of Ayala Avenue, creating cherished moments with family and friends.
This inaugural event signifies the start of a program that promotes wellness and community engagement through car-free Sundays.
Want to join the Car-Free, Run-Free 5k fitness run? Click the link to access the waiver: https://forms.gle/ZwtL2DfQ8dudeZnR8
CAR-FREE Sunday Mornings FAQ:
Parking Areas: