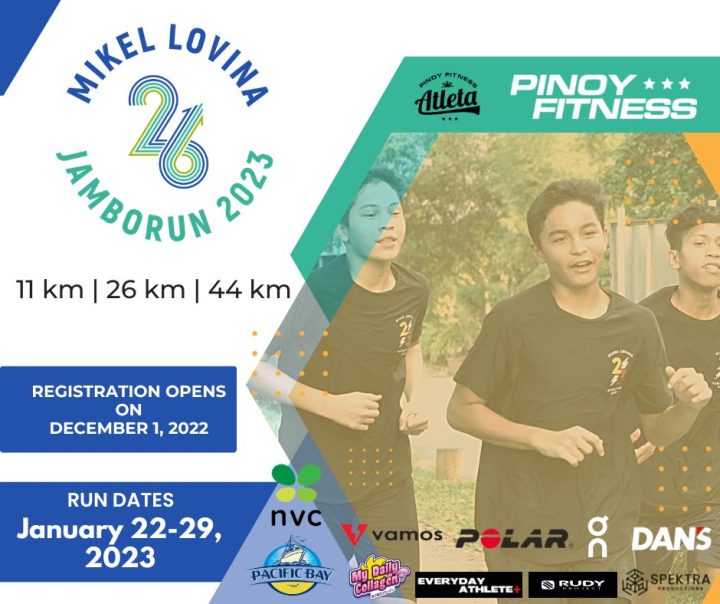 The Mikel Lovina Jamborun, now on it's 11th year, is an annual fund-raising event in memory of our beloved sportsman and dear son, brother, cousin, and friend who passed away in a car accident at the age of 18. Mikel's family and friends run the corresponding number of years to commemorate his passing.
Proceeds from registration will go to our partner beneficiary, the Negrense Volunteers for Change Foundation (NVC) to help fund their Feeding Force Project.
For every kilometer that you run, a child will be fed. Generous sponsors have pledged to donate 1 Mingo Meal for every 1 kilometer that we raise. The more kilometers we run, the more children will be fed.
Mikel Lovina Jamborun 2023
January 22-29, 2022
Anywhere in the World
11K|26K|44K
Donation Fee:
Donation – P500
Inclusions: e-Bib, e-Frame, e-Certificate, Donation
Registration Venue:
1. Download the PF Mobile App – Click Here
2. Apple Store – Click Here
3. Play Store – Click Here
Payment Details:
1. Register to the event via the PF Mobile App
2. Wait for confirmation Email
3. Deposit Payment via:
BDO
Account Name: PINOYFITNESS INC.
Account Type: Savings
Account No: 00-742-001-6795
East West Bank
Account Name: PINOYFITNESS INC.
Account No: 200003486744
BPI
Account Name: PINOYFITNESS INC.
Account Type: Savings
Account No: 3211-0912-57
GCASH
Mobile Number: 0936-934-2528
4. Email Deposit Slip together with your PF Atleta Transaction ID to [email protected]
How does a Virtual Race work?
– Choose and Register on a Virtual Race
– Use a GPS-tracking running app, watch or treadmill
– Track and Finish the Race
– Take a photo of your result
– Submit your Run
Rules:
– "No completion, no reward" policy; This race is based on honour system, periodic checks will be done on the submissions.
– All GPS-based App and Treadmill Submissions are allowed.
– Account will be suspended if fraudulent results are found.