We learned about Jet Acido when he posted in our community about his first ultramarathon and trail run, despite being diagnosed with Coronary Heart Disease with three stents in his heart. I mean, who wouldn't be intrigued and inspired?
Getting to know Jet
Jet Acido of Cebu City is turning 34 years old this month. He works in the IT industry and started doing it freelance since the pandemic. Last December 2021, he had to go through an angioplasty due to 4 narrow blood vessels. Although Jet used to exercise before going through his medical procedure, it was still not often or regular, since he was busy with work and studying. Hiking in the mountains of Cebu was his weekend thing, besides playing PC games and watching movies.
How does one learn to detect narrow or blocked blood vessels? Jet recalled that he felt some pain in his chest and teeth after two long, tiring hikes. At first he thought it was normal pain, coming from high elevation hiking. When the pain lasted a few days, he already knew there was something different about the pain. "At dahil kilala ko sarili ko, I told my mom, I wanted to get checked," Jet shared.
The doctor saw irregularities in his ECG results, that he needed to see a cardiologist right away. He went through a 2D echo and stress test and recalled, "Hindi ko na pasa or na finish yung stress test." The cardiologist showed concern and requested for an angiogram. Immediately, they scheduled an angioplasty, which is a procedure to open narrowed or blocked blood vessels that supply blood to the heart. They had to place three stents in Jet's heart. Stents, which are made of metal mesh, are tubes placed in the coronary arteries, where it will expand and remove the blockage. According to Jet's cardiologist, the cause of blockage was a lot of cholesterol.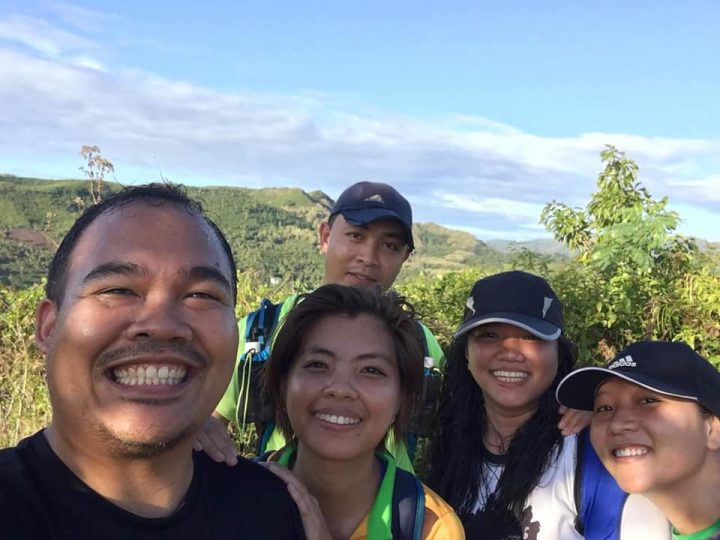 A history of rich food and other medical conditions
Naturally the cardiologist asked about Jet's lifestyle, "Do you smoke, drink, sleep late, and lack exercise?" and Jet said that he sadly answered yes to all those questions. He was a young, working student, doing graveyard shifts and then going to school during the day. At that time, his respite was smoking and drinking with friends, and the occasionally hiking. He laughed and embarrassingly shared how he would drink alcoholic beverages during and after hiking, sometimes. His diet included lots of pungko-pungko, which is Cebu's famous street food of ginabot, isaw, dugo. His favorite dish would of course be puchero.
It turns out, Jet had already been diagnosed with arthritis and hypertension, during an annual physical exam conducted for work in 2018. As early as then, the doctor advised him to watch his diet. Jet shared, "Dumating sa point na I needed to use a BP monitor 24/7, but at that time I didn't accept that I needed such device, and told my doctor that I can try a lifestyle change first." He shared that he tried to do it, but he could not stay consistent. The longest streak he had was a month or two of being aware of his lifestyle change, but as time passed, Jet said, "Life happened. It was hard for me to be conscious. Masarap kumain, masarap uminom kapag pagod."
Back tracking a little bit further, Jet had another annual physical exam for work in 2015-2016. They found spots in his chest x-ray result. He was told that it was not tuberculosis per se, but since there were spots, it was standard protocol to treat it with TB Medication for six months and two weeks of isolation just for precautionary measures. He was told to stop smoking but, Jet recalled, "Bumalik pa rin ako sa pag yosi, bakit? It was a stress reliever for me. Comfort yung inom at yosi sa akin."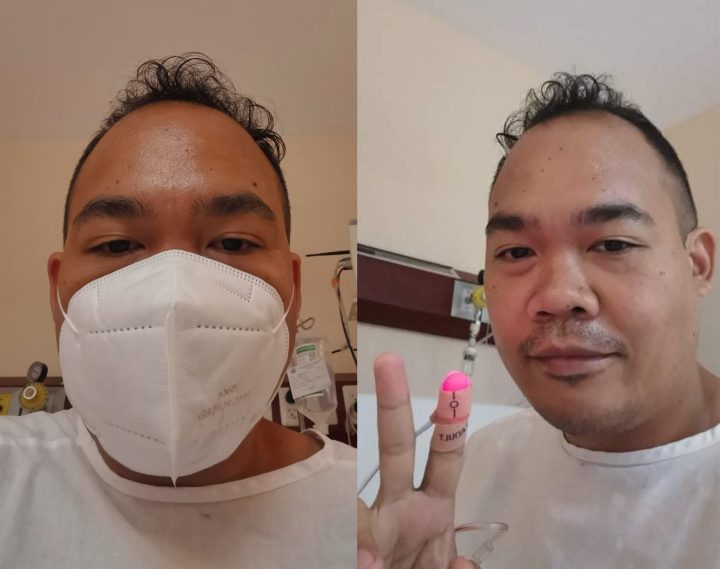 The new year came with a resolution he couldn't break
January 2022 was Jet's angioplasty. A week after the procedure, his cardiologist advised that one's mindset should be that after the heart procedure, "anytime pwede bumigay ang heart mo. Hindi fixed ang angioplasty." It is only supposed to help the blood flow. Automatically, after this procedure, you already have a coronary heart disease. The stents remove the blockage so that you can live and breathe comfortably, but anytime you do not fix your life, complications could be fatal. Stents normally last for five years. For your stents to last you must live a better lifestyle. Jet is determined to extend his stents' lifespan to ten years. He admittedly said that it is a scary situation, adding that "Bata pa ako, wala pa akong anak at asawa, hindi pa tapos mag-aral. Madami pa akong gusting i-prove, so I really need to change my lifestyle."
What steps did Jet take to stick to his resolution? He had to stop eating rice, consulted a dietitian for a meal plan for his condition. To make his diet change affordable and sustainable, he had to learn to prepare healthy meals for himself. It was a full commitment, shared Jet, "Bumili ako ng measuring cups, food scale, I learned how to cook more healthily." Jet's diet includes only lean meats, no fatty food, no oil, less salt (just a pinch). He learned the essence of herbs and spices – "because they make your food tasty and lively. Kasi dahil wala na akong salt, soy sauce, patis, wala nang lasa yung food. But herbs and spices make all the difference."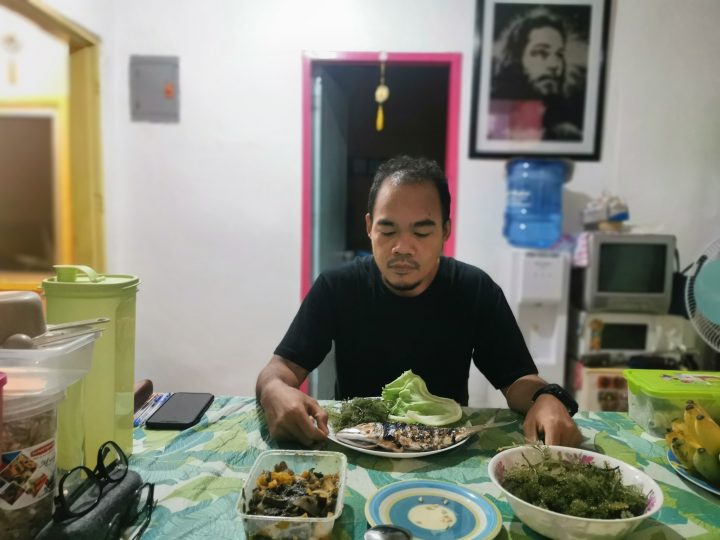 He stopped smoking cigarettes and vape, and also stopped drinking alcohol. With the go signal of his cardiologist, he ventured out to running, he quipped "I read that running is good for my heart. So I am trying to do what is best for my heart and for myself." Jet really made a 100% investment for himself.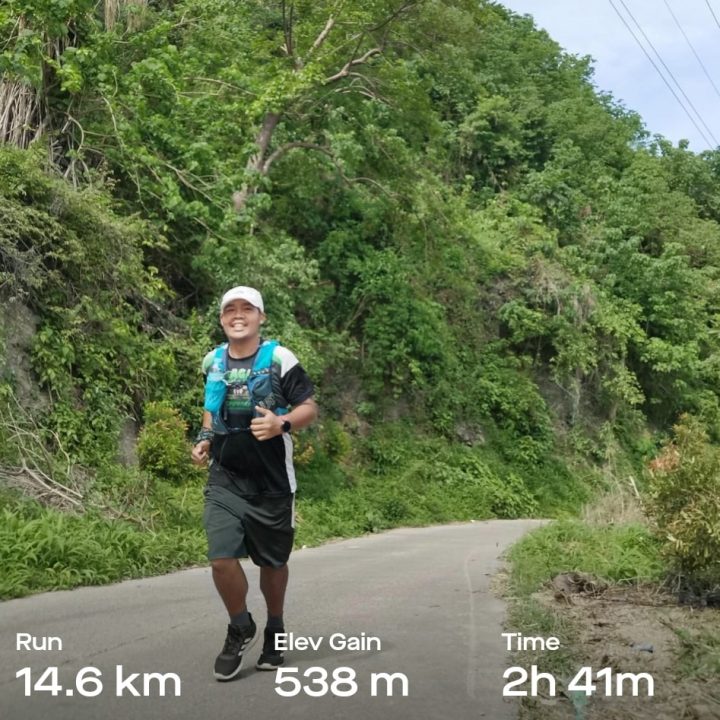 Jet's running journey has only just begun
His "Day 1" of running was one month after his angioplasty. Since the friends he hikes with are trail runners, they encouraged each other to run. Jet finds trail running to be more comfortable than road running. He also enjoys the scenery. But on his first solo trail run, his feet hurt, in a way that was not just fatigue. Jet started reading about the Dos and Don'ts of running and learned that it is advisable to train on the road first and lose some weight. He joined the Cebu City Virtual Run with 22km as the distance and realized, "Sobra yung impact ng weight sa knees and feet ko. Matagal yung recovery ko kasi masakit masyado. So I decided to learn more, read more, and plan ahead." Jet's weight was 90kg when he started running, eight months into his new life, he has lost 40kg.
Jet stressed on the importance of consistency, since his cardiologist said that after an angioplasty, you need to be as active as possible. To stay consistent, he joined virtual runs. "Nagsimula lahat sa virtual, controllable kasi, kahit nag-eensayo may progress, may medal; very engaging." He added that since he is already immunocompromised, it was hard to go out. Road running on his own, where there are no crowds, was good for him.
He first discovered the Pinoy Fitness App because of the Earth Run in April this year. After that, he enjoyed using the app because of the free runs, the badges you collect, and the progress tracking. Jet plans to continue joining the Pinoy Fitness App's free virtual runs.
Staying consistent gets tiring, but do we have a choice?
Eight months into this new life, Jet admits that his biggest challenge is getting tired from all the meal preps, staying consistent with the lifestyle change despite having long, and tiring days. In his words, "Meron talagang days nakakapagod talaga. I changed everything in my life." He described his new life as accepting that he can no longer do graveyard shifts, but he still needs to work, study, cook his own meals, and stay social, but with limits i.e. when he's out with friends, he has a strict curfew.
Jet's doctor advised that he needs eight hours of sleep. Every day, he is asleep on or before 10pm, wakes up 6am, works at 7am, does food prep (which he says is the most difficult), and then he adds "After all that, you will ask yourself kaya mo pa bang mag exercise? Running for me was the easiest and controllable."
What keeps Jet motivated to move every day? How does he keep himself enthusiastic even if it becomes a routine? For him it's simple, "I have goals. I want to experience getting married, just keep living and experiencing life. The procedure made me closer to my family, made me value them more. I want to keep living so that I can return the love my family has been giving me. Na change talaga ang mindset ko after the procedure."
Part of what keeps Jet going is how he started posting his meal preps in Facebook, almost every day from when it started. He wants to inspire and motivate others to have a lifestyle change. His mindset is: "I don't want this to happen to them, so prevention is better. Mahal magka sakit at mahirap."
Staying consistent can get really tiring, but Jet makes it a point to ask himself "Bakit ka pumasok sa ganitong buhay ngayon? Bakit mo kailangan magbago?" Knowing that this is his only chance to stay alive is enough for him to keep going.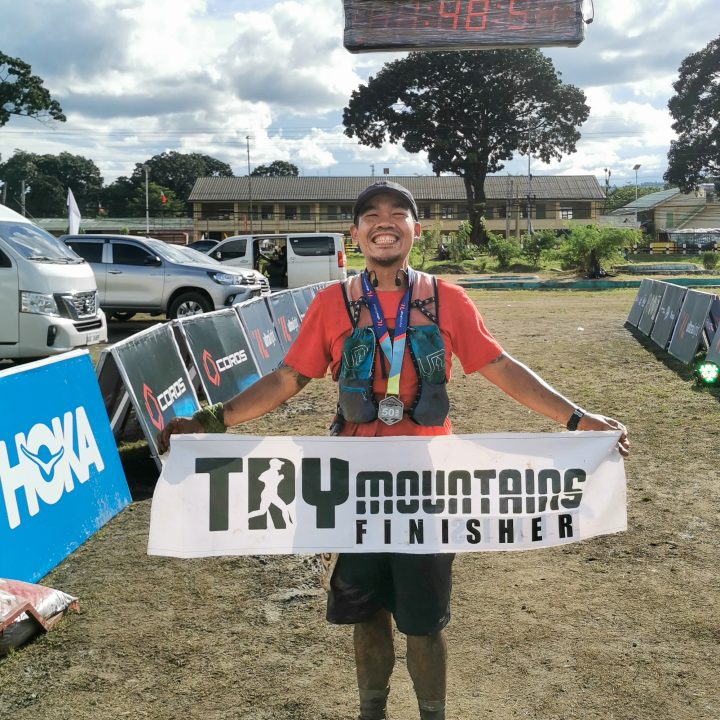 Listen to your doctor, take advice from professionals
Jet's top two lessons from this experience are 1. It starts with a warning sign or an APE with results. If you ignore those, there will be consequences; and 2. Everything is cumulative. All the small, bad habits add up, "and babawian ka in years to come. What you eat babalik sayo."
The best thing you can do for yourself is to eat healthy. Jet shared that he avoids things that are bad for his heart. He also emphasized that if you get a chance to talk to your doctor, just listen to them. His biggest regret is ignoring the advices from previous APE results. "Sinabihan na ako dati e, di ko in-address, sabi ko kaya ko, bata pa ako." Don't wait for something drastic to happen before you address things.
Find a group, find someone who will accompany you. "Recently nagtry ako mag ultrarun, but that never crossed my mind before. Naging confident ako dahil sa running friends ko." Jet also consulted his doctors and got clearance. Besides finding your tribe, if you are immunocompromised, it is important to heed technical advice from your doctors. Friends and a good support system are truly essential in your path to a fit, and healthy life, since this will make your journey feel less like a punishment. It becomes something you do because you have the company.
More importantly, Jet's words of encouragement to our readers is that it's never too late to start. "If you're starting now, and you're stuck at one point, then start again, as long as meron ka pang goal, alam mo kung saan ka papunta, just keep on starting, and focus. Kahit Day 1 nang Day 1, that still sums up to more than none."