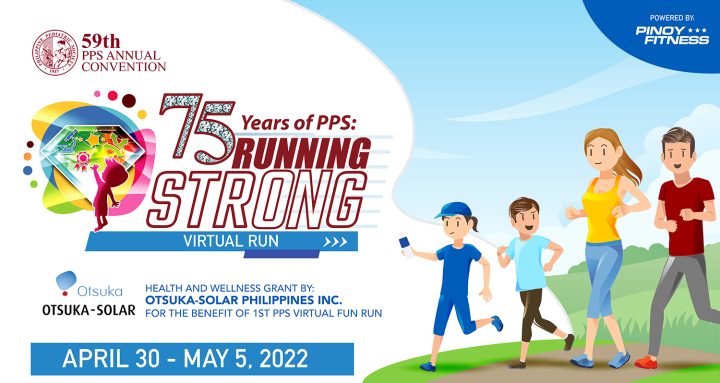 The PPS Sports Committee has been on a temporal hibernation these past couple of years due to the pandemic. But for the Society's 75th Golden Jubilee and 59th Annual Convention, it's time to dust off the cobwebs of inactivity, and everyone is wholeheartedly invited to join the first-ever Philippine Pediatric Society-Otsuka- Solar Virtual fun run!
In partnership with Otsuka-Solar Phils Inc., embark on the new normal way of running during the pandemic together with Pinoy Fitness as our virtual platform provider. One may walk, run or do both! It is not a contest of speed against each other, but it is a step in the right direction, towards physical fitness, and overall wellness.
The best thing is, that it is FREE! Plus, the chance to win raffle prizes and special awards to all participants and finishers.
ADVOCACY:
The Virtual Fun Run is one of the fundraising activities of the Philippine Pediatric Society Inc., and It's chosen beneficiaries:
1. "Piso Para sa Scholar" PPS Scholarship Program
2. PPS Task Force on Mental Health for Children and Youth
Run Participants can make a separate donations through:
Bank: China Banking Corporation
Account Name: Philippine Pediatric Society, Inc
Account Number: 3180015116
75 Years of PPS: Running Strong Virtual Run (FREE)
April 30 to May 5, 2022
1K|3K|5K|10K|21K
Anywhere in the World
Warm up Exercise:

Click Here: https://youtu.be/CICrLO1h54g
Facebook Contest:

Click Here: https://youtu.be/v7hcZtkbNLA
Registration Fee:
FREE!
Registration Venue:
1. Google Play Store – Click Here
2. Apple App Store – Click Here
3. Web Browser – Click Here
Rewards:
– Virtual Badge
– e-BIB
– e-Certificate
Virtual Badge: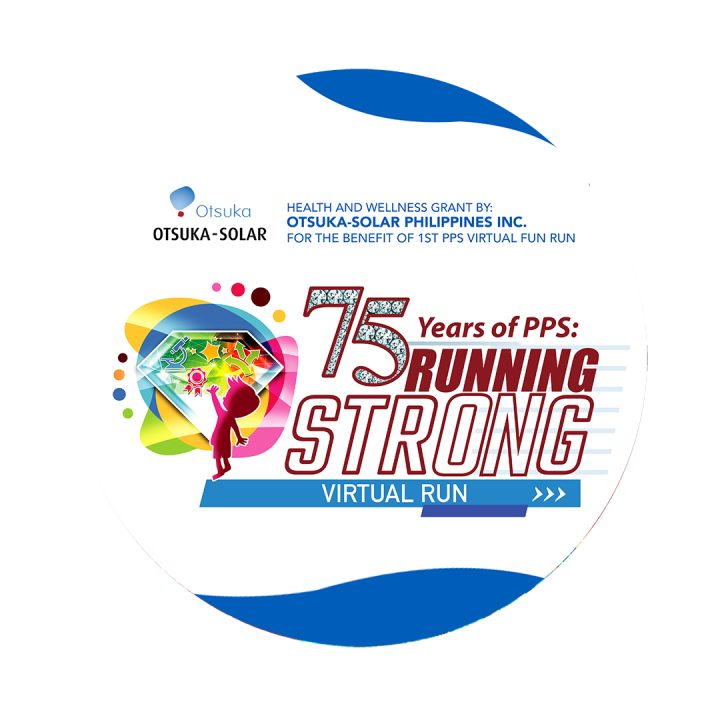 How does a virtual fun run work:
1. Download the Pinoy Atleta app on your Smartphone
2. Choose and Register on the 1st Philippine Pediatric Society-Otsuka-Solar Virtual fun run!
3. Use a GPS-tracking running app (Fitbit, Strava etc.), watch or treadmill
4. Track and finish the chosen Race Category (1k,3k,5k,10k,21k)
5. Take a photo or screenshot of your result
6. Submit your Run via the Pinoy Fitness Mobile App.
Rules:
"No completion, no reward" policy; This race is based on honour system, periodic checks will be done on the submissions.
All GPS-based App and Treadmill Submissions are allowed.
Account will be suspended if fraudulent results are found