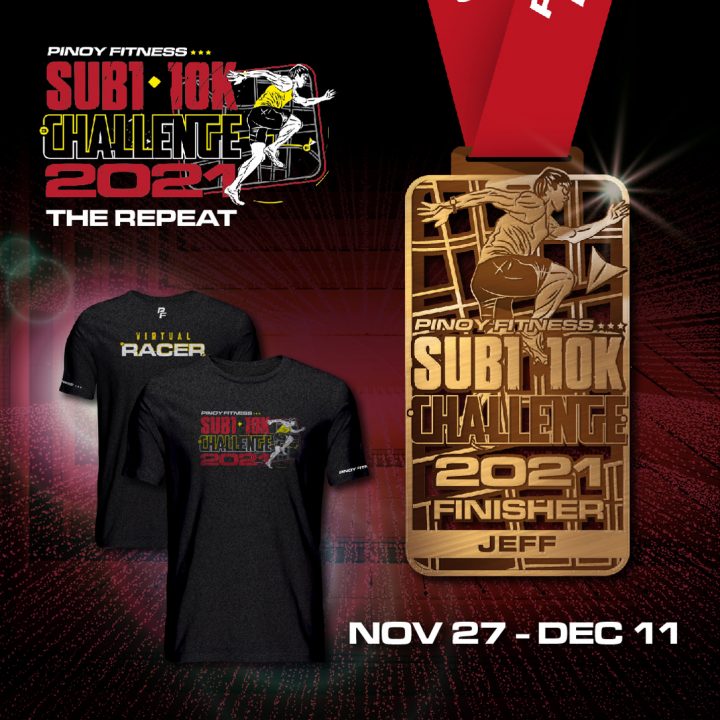 Missed the 1st Pinoy Fitness SUB1 10K Challenge? Here's another chance for you to get hold of the 2021 Pinoy Fitness SUB1 10K Medal! Run your fastest SUB1 10K and submit your run proof from November 27 to December 11, 2021!
Get FREE MEDAL NAME ENGRAVING if you register on or before November 15.
NOTE: CUT-OFF time for this SUB1 10K virtual event is 10K in 1 HOUR and 1 RUN ONLY.
What is PF SUB1 10K?
Being able to complete a 10K Race Route in 1 hour or less has always been the 'Holy Grail' of most runners and Pinoy Fitness SUB1 10K Challenge is the only race in the Philippines that highlights this achievement. It's also a test of one's fitness. As runners, we know what it means to break the SUB1 time limit – consistent training, dedication and hard work.
Pinoy Fitness SUB1 10K Virtual Challenge (The Repeat)
November 27 to December 11, 2021
Anywhere in the Philippines
10K
Registration Fees:
Package 1: Medal Only – P595
Package 2: Medal + Race Shirt – P895
– Additional Flat Rate P100 delivery fee Nationwide
– Finisher Medal for SUB1 10K Qualifiers (SUB1 10K should be done in one run)
– Race Shirt, Medal and other Entitlements will be delivered 3-4 weeks after the event ends on December 11, 2021
– Medal will only be delivered to SUB1 Qualifiers, if unable to beat the challenge, other entitlements (Race Shirt) will still be delivered without the medal.
Registration Venues:
1. Google Play Store – Click Here
2. Apple Store – Click Here
3. Web App – Click Here
Payment Details:
1. Register to the event via the PF Atleta App
2. Wait for confirmation Email
3. Deposit Payment via:
BDO
Account Name: PINOYFITNESS INC.
Account Type: Savings
Account No: 00-742-001-6795
East West Bank
Account Name: PINOYFITNESS INC.
Account No: 200003486744
BPI
Account Name: PINOYFITNESS INC.
Account Type: Savings
Account No: 3211-0912-57
GCASH
Mobile Number: 0936-934-2528
4. Email Deposit Slip together with your PF Atleta Transaction ID to [email protected]
PF SUB1 10K Race Shirt: (Concept: Final Design might slightly vary)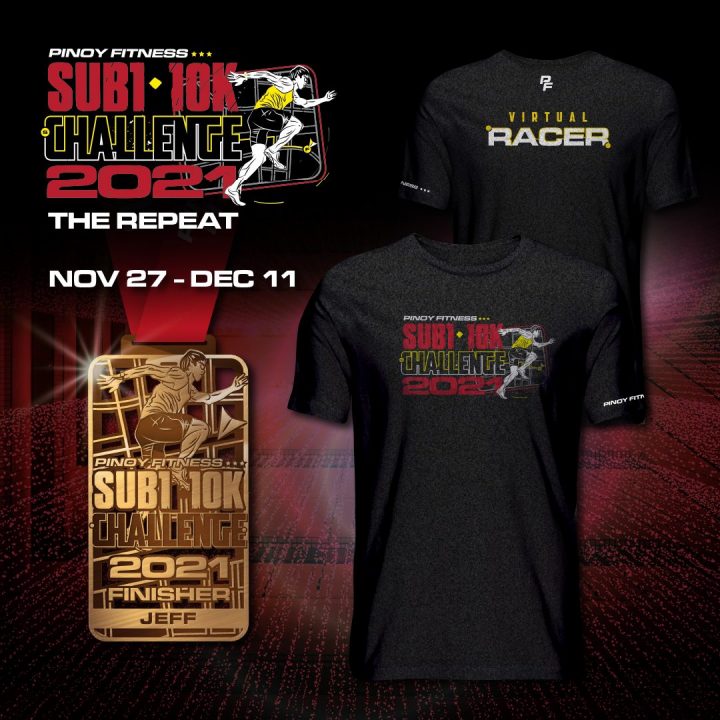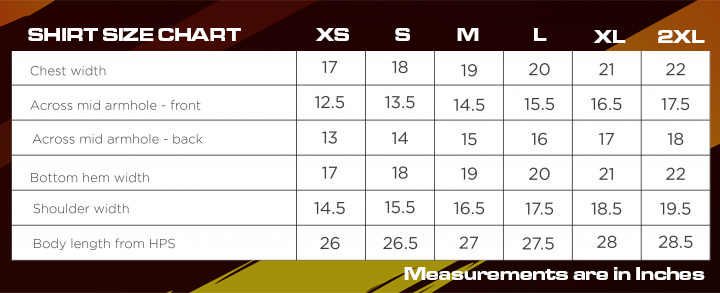 PF SUB1 10K Qualifying Medal: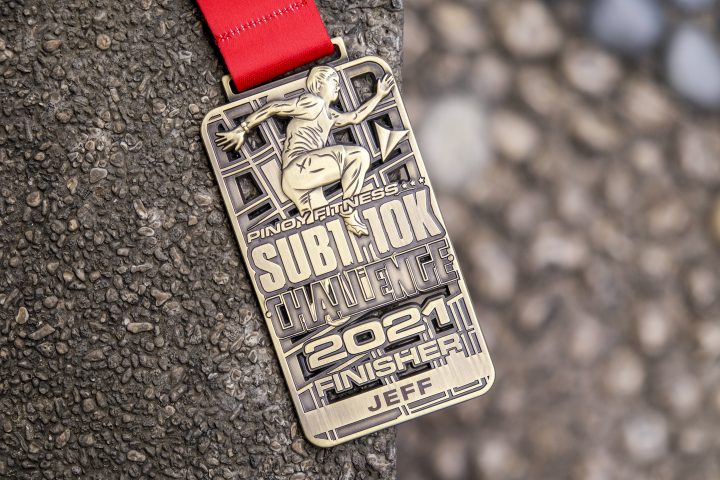 For More Information and Sponsorship Inquiries:
Email: [email protected]