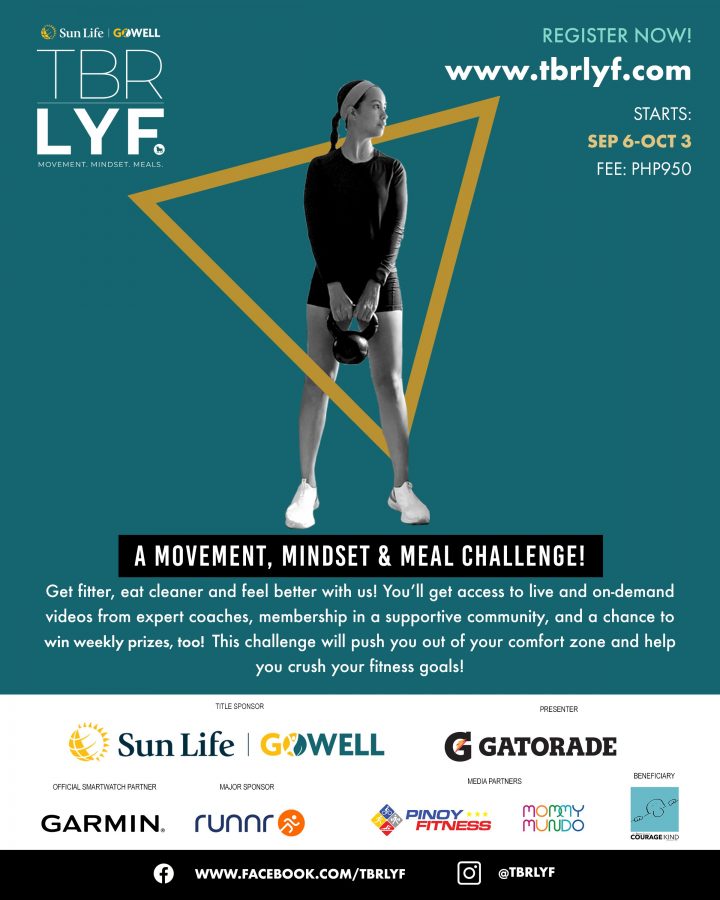 SUN LIFE TBR LYF Challenge is a four-week MOVEMENT, MINDSET and MEAL challenge designed to motivate and support people to get fitter, eat cleaner, and feel better physically and mentally. This challenge will push participants out of their comfort zone and help them crush your fitness goals.
The Challenge begins on Sept. 6 and ends on Oct. 3, 2021. It is open to everyone above 18+ years old anywhere in the world who is willing to do the work and challenge themselves for the next four weeks.
TBR LYF was designed by marathoner, girl boss and Certified Health Coach, Jaymie Pizarro, The Bull Runner.  TBR LYF Partner Coaches include Coach Chappy Callanta for Strength, Tricia Chiongbian Concepcion for yoga and meditation, Coach Lit Onrubia for Running and Cardio, Harvie de Baron for Nutrition and Jaymie Pizarro for mindset and accountability.
TBR LYF participants receive the following:
A solid four-week TBR LYF fitness plan and journal
Access to live and on-demand videos
Live guided coaching with The Bull Runner, Jaymie Pizarro
Chance to win Garmin watches and other prizes
Discounts from partners
Daily LYF Habit reminders
Healthy recipe guides
Certificate of Participation
LYF-time membership in a supportive community
Donation to help Courage to be Kind foundation
How will a TBR LYF Challenger's week look?  All participants will gain access to live and on-demand videos.  For Movement, the fitness plan will have three weekly strength training workouts (full body, upper body, lower body), two to three weekly DIY cardio sessions, yoga slow flow or rest days once a week and running and cardio talks.  For Mindset, there will be a 21-day Meditation Challenge, weekly mindset tips and accountability check-Ins.  Lastly, for meals, there will be weekly nutrition talks and a healthy cooking class.
Registration for TBR LYF is on-going and will close as soon as slots are filled.  Registration fee is Php950 inclusive of a Php100 donation to Courage to be Kind Foundation of Dr. George Canlas.
Register now at www.tbrlyf.com.
TBR LYF Challenge is sponsored by Sun Life and GoWell for title sponsors.  The Presenter is Gatorade, Major Sponsor is Runnr, and Media Partners are Pinoy Fitness and Mommy Mundo.