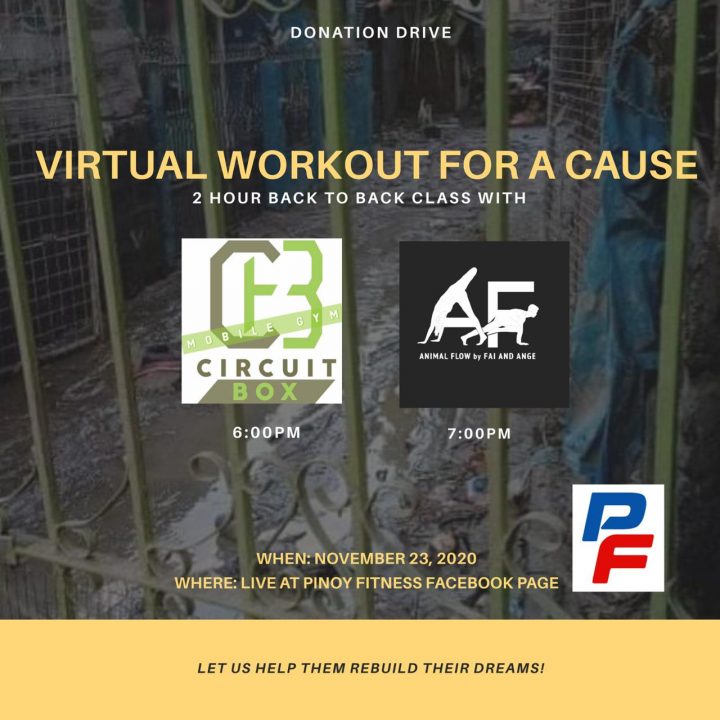 Over the past few weeks, two super typhoons that hit the country affected more than 8 regions in the country. To support the families that lost their homes or in other ways affected by typhoon Ulysses and Rolly, Circuit Box PH together with Animal Flow by FAI and ANGE is hosting a Virtual Workout For a Cause to be streamed live on our Pinoy Fitness Facebook Fanpage on November 23, 2020 at 6PM to 8PM.
Virtual Workout For a Cause
November 23, 2020 @ 6PM
Pinoy Fitness Facebook Fanpage – Click Here
Registration Details:
Pledge your Donation – Click Here
Note: Registration is FREE, if you are donating, please register using the pledge form, this will help us to keep track of all incoming donations and be alble to thank you personally. You also have the option to stay anonymous.
How to Donate: You can deposit any amount to the following bank details
1. PNB | 1505-1001-3585 | Andi Raisa Noor R. Tabusalla
2. BPI | 6266-288-075 | Kristina R. Delos Reyes
All proceeds of the fund raiser will be forwarded to PAGASA.PH and OLOPSC'S OPLAN DAMAYAN to help in their relief operations to help rebuild the lives of those affected by the typhoon.
Equipment Needed:
1. Yoga / Workout Mat
2. Hydration
3. Stable Internet Connection
4. Laptop or Tablet
5. Speakers or Headphones
Workout Schedule:
Circuit Box PH Bootcamp – 6PM to 7PM
Animal Flow – 7PM to 8PM
That's it! Hope to see everyone on November 23, 2020!