The Philippines finally has a shot at winning Gold at the Tokyo 2020 Olympics. Next year, we place our hopes on the talented 24-year old Pole Vaulter and UST Student Athlete Ernest "EJ" Obiena. This article shares more about EJ's journey to the Olympics, and shares a short Q&A on being an athlete.
"My goal is to medal in the Tokyo Olympics. I really believe that it is within reach on a good day. My PR is 5.81 meters and the bronze at Rio Olympics 2016 was 5.85 meters. I believe it would be higher on the upcoming Olympics but I am training hard for it." – EJ Obiena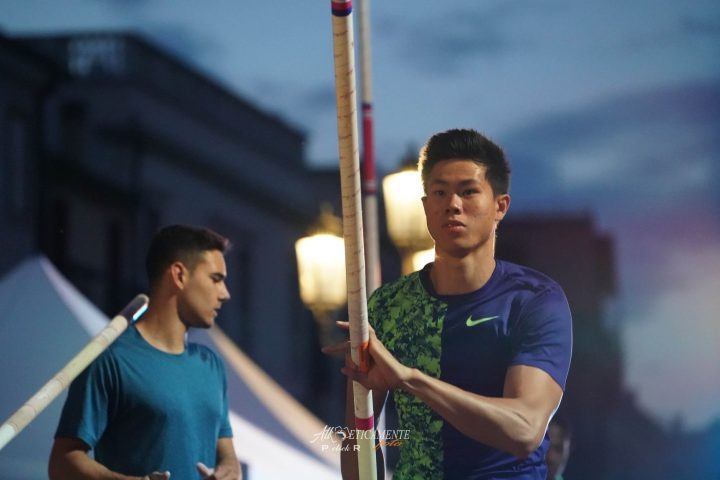 WHO IS EJ OBIENA
Ernest John "EJ" Obiena (born November 17, 1995) is a Filipino pole vaulter. He started holding the Philippine national record in pole vault in April 29, 2016 when he recorded 5.55 meters at the 78th Singapore Open Championships in Kallang, Singapore.
On August 18, 2017, EJ was 21 years old and ranked #31 Globally. He was a veritable shoo-in for the Gold Medal at the 2017 Southeast Asia Games (SEA). However, while doing a final vault in preparation, he landed awkwardly on the pad and completely tore his ACL. He had a partial tear of one other ligament. EJ had reconstructive knee surgery, followed by grueling rehabilitation sessions. Of course, he missed the 2017 SEA Games and missed medaling. But he worked with his coaches, including Running Coach and Filipino athlete advocate Coach Jim Lafferty to recover from the devastating injury.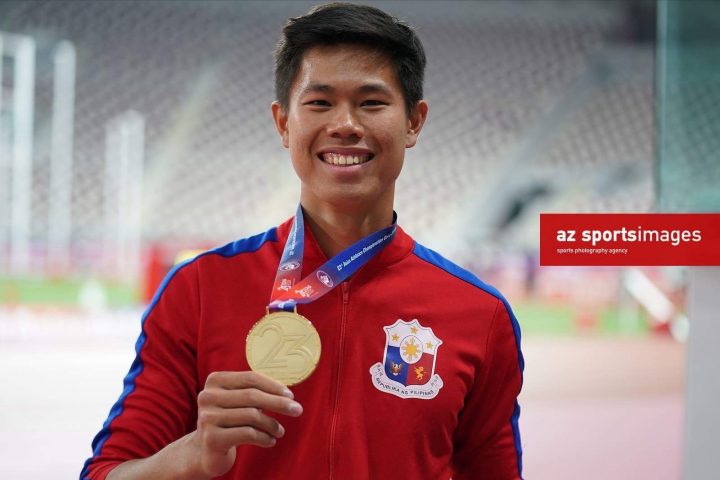 As a comeback, EJ later broke the Asian Athletics Championships record with 5.71 meters on April 21, 2019 on its 23rd biennial meet at Doha, Qatar which earned him the coveted gold medal finish. He holds the Philippine National Record which he broke in that event, and later exceeded in September.
On September 3, 2019, EJ became the first Filipino athlete to qualify for the 2020 Tokyo Olympics after clearing 5.81 meters in a Pole Vaulting athletics meet in Piazza Chiari, Italy. He qualified after beating the 5.80 meters qualifying standard for men's pole vault.
"That just changed my world. I take pride in that, and I hope I can reach their expectations as well. It's a little bit of pressure, but that's what I do, that's what I like. That feeling that I need to do something." – EJ Obiena
EJ is a University of Santo Tomas (UST) Electronics Engineering student. He was born to track and field athletes, Emerson and Jeanette Obiena.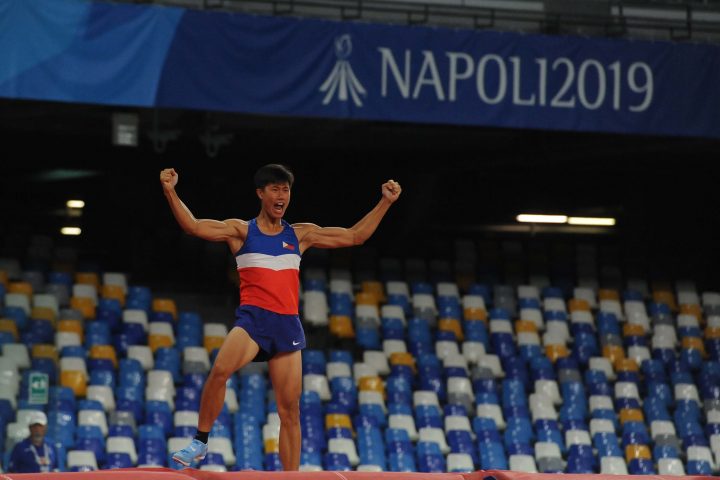 Q&A WITH EJ
What is the most difficult part of being an athlete?
Being an athlete means a constant drive to push yourself everyday to the limit.
Who inspires you?
There are two people who inspire me the most. My coach inspires me to do what I can each day. He is 74 years old and still pushing. Sir Jim (Lafferty) shows me how being honest, staying true and having a good heart is the key to something great.
Aside from physical preparations, how else do you prepare yourself for a big event?
Physical preparation is important but it's just a part of a complicated mix of attributes that you need to have. Specifically, for the Pole Vault, I would say mental preparation is the most important aspect. I do session with a psychologist to help me keep my head in a good state. I also plan meals before my big competition because I am trying to cut as much fat and excess weight off. These are the days where I eat nuts as snacks and I really avoid carbs and sugar.
What do you think when the competition gets tough?
I think that I have done all that I can. That I have prepared all season for this, and I'm ready.
Can you describe the defining moment when you decided to pursue being an elite Filipino athlete?
In 2017, I tore my ACL. It was the time that life showed me how short it is. I realized that I would regret not trying to be in the Olympics. I could have stopped there and just be a student and eventually graduate and go to my work life. But at that time, I felt that if I didn't try, I would regret it in the end. And so, I focused and I did everything I can to train and recover.
Who have been your biggest supporters? How have they helped you in your journey as an athlete?
There are people who came to my life and opened doors I can only imagine. Sergey Bubka is one of those people. He sent me to Italy to train with my current coach. I wouldn't have known or even have any connection with my current coach without him. Sir Jim Lafferty has also supported me. We got connected back in 2015 where he sponsored my pole and from there, we just have been working together thru my ACL injury. He has been a big guiding force behind my decisions and he always has my back.
What is your message to athletes who want to excel in their field?
Enjoy it and keep pushing. It's the only way up!!!
SUPPORTING OUR OLYMPIAN:
The Pukers Running Team based in Alabang is conducting a Fund-Raiser to support EJ's expenditures for his Training Camps in China on Jan-Feb 2020. He will be competing for two championships there for the indoor season. The Pukers are hosting a Charity Run and Breakfast on Dec 8, 2019, and we are inviting everyone who supports Filipino athletics to contribute to EJ's training.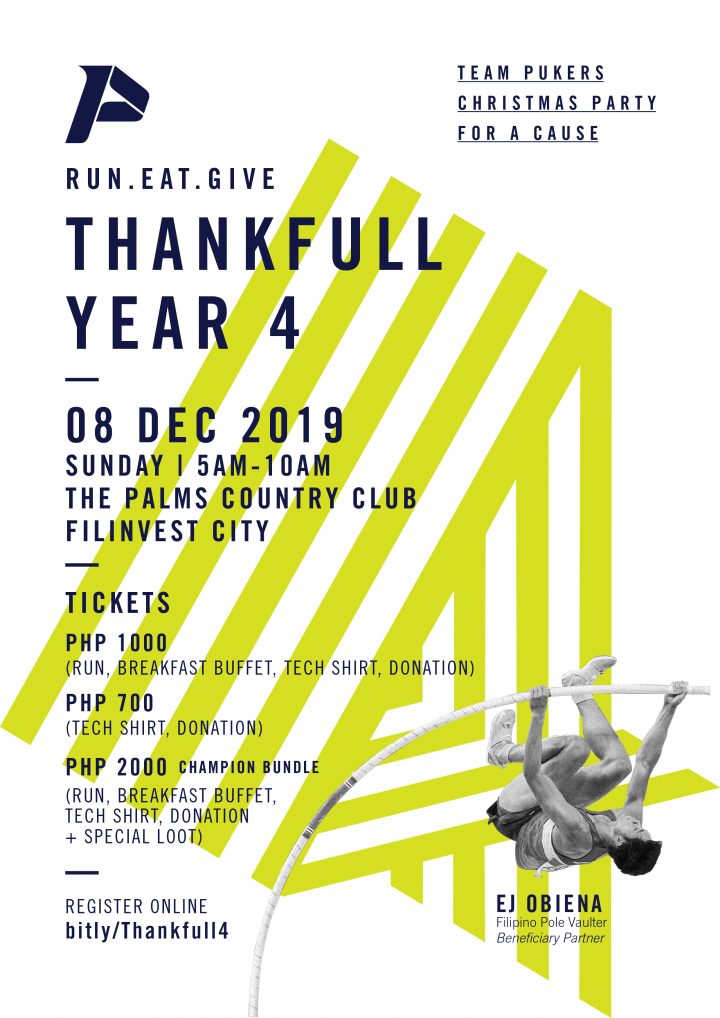 Registration HERE. We are also setting up channels for those who want to directly contribute. Please contact [email protected] or Allan Lim +63922 819 2264 or Jen Rosales +63905 303 4588.