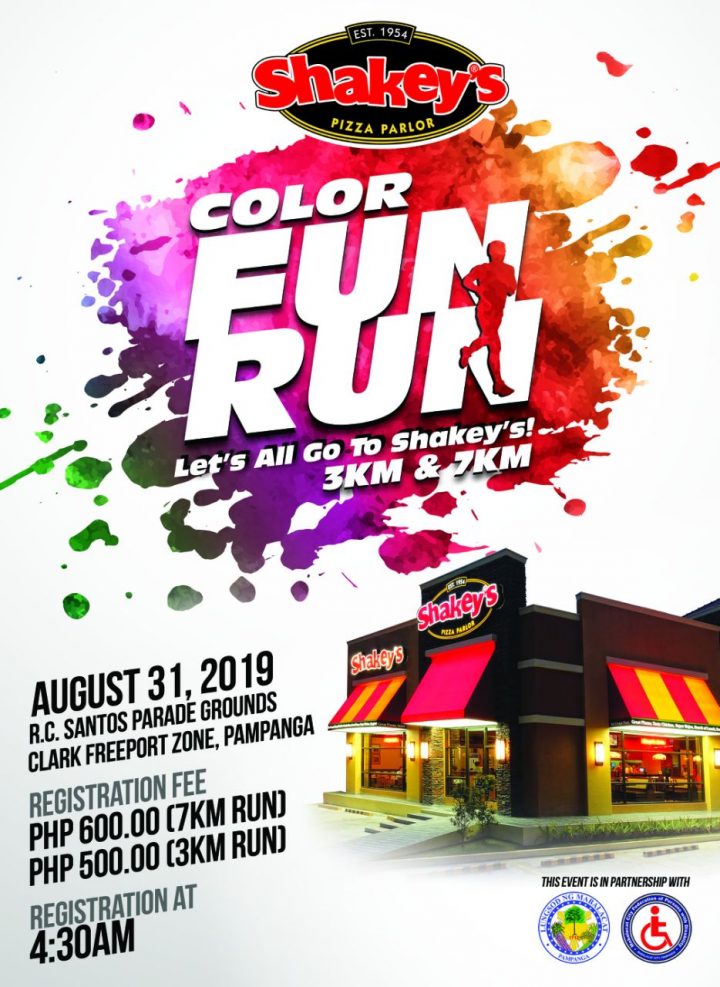 In line with its commitment to provide great times and great memories, Shakey's, the leading casual dining restaurant in the country, is hosting its very own "Color Fun Run" on August 31, 2019.
More than a restaurant that serves fun and pizza, Shakey's recognizes the importance of maintaining good health and wellness. Nowadays, there's a constant need for people to relieve stress and improve their state of health. This fun-filled event is a great opportunity for patrons and fitness enthusiasts to bond and come together for a good cause, promote healthier living.
The race will be held at RC Santos Parade Grounds, Clark Freeport Zone, Pampanga, and there will be two race categories, 3km and 7km. As part of the event, 7km participants will get Shakey's Chicken 'N' Rice, regular-sliced Hawaiian Delight pizza and bottled water, while the 3km participants will get Shakey's Chicken 'N' Rice and bottled water. All runners will receive a T-shirt, a running bib and a finisher medal.
Exciting prizes await the winners as there are a total of 20,000 pesos in cash to be given away. The top three finishers of the 7km category will receive 8,000 pesos, 5,000 pesos and 3,000 pesos respectively. The top three finishers of the 3km category, on the other hand, will receive 4,000 pesos, 2,000 pesos and 1,000 pesos.
Now more than ever, Shakey's brings together families and friends for a more active lifestyle. So you can still enjoy your pizza guilt-free, as there are a lot of ways to stay fit, active and healthy. With Shakey's "Color Fun Run", it's fun, family and fitness.
Shakey's Color Fun Run
August 31, 2019
RC Santos Parade Grounds, Clark Freeport Zone, Pampanga
3K|7K
Organizer: Shakey's
Registration Fees:
3K – P500
7K – P600
Registration Venues:
1. Shakey's SM Clark
2. Online – https://www.shakeyspizza.ph/shakeyscolorfunrun2019
For More Information:
Visit – https://www.shakeyspizza.ph/