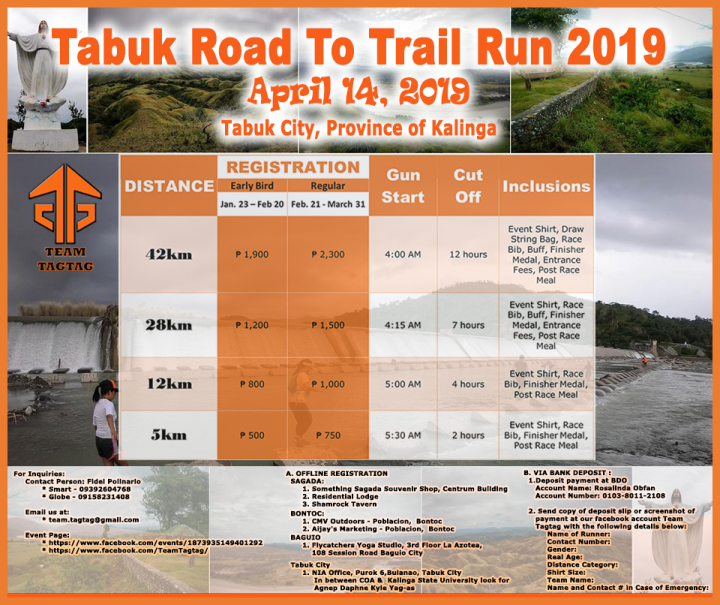 Experience Tabuk, Kalinga for the first time, where a quiet life awaits everyone in this mountain city. We are inviting every runner to visit and explore the beautiful trails of the region.
We believe that through this event, we can encourage, inspire and motivate people of all ages and backgrounds to live a healthy and balanced lifestyle by engaging in running and other outdoor activities.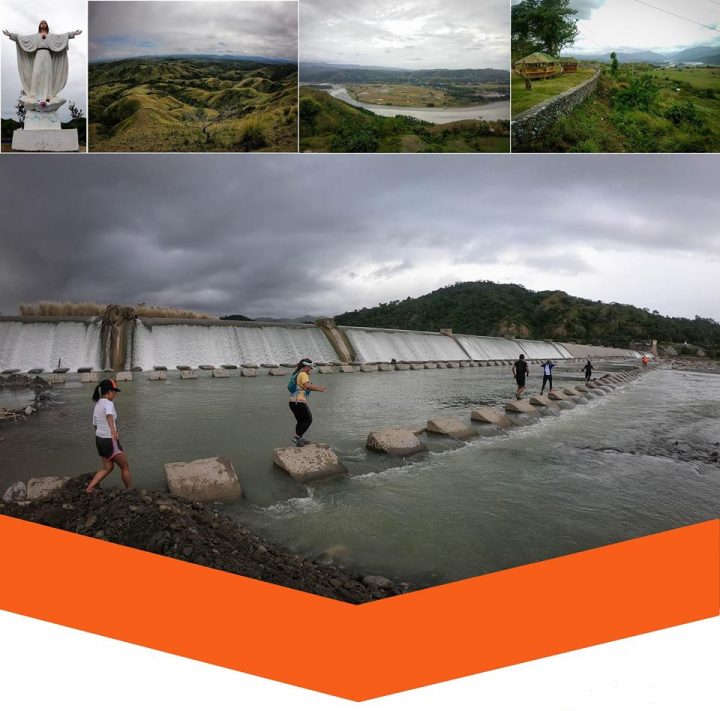 Nestled in the mountains of Cordillera is the city of Tabuk, in the province of Kalinga. This remote highland city is a total contrast of an urban metropolis – no skyscrapers, malls, nightlife, and crowded highways.
It is home to Chico River and its tributaries, the country's longest river flows from Mountain Province to Cagayan, and a popular destination for White Water Rafting in Luzon (White Water Rafting Capital in Northern Philippines), with difficulty peaking at level 5 during the rainy season. The river also serves as a source of irrigation for rice fields of Tabuk, (dubbed as the Rice Granary of the Cordilleras), and the entire province of Kalinga.
Tabuk Road To Trail Run
April 14, 2019
Tabuk City, Province of Kalinga
5K|12K|28K|42K
Organizer: Team Tagtag
Get Updates – Click Here
Registration Fees:
Early Bird Registration rates: Jan. 23 – February 20, 2019
42km – 1,900
28km – 1,200
12km – 800
5km – 500
Regular Registration Rates: Feb. 21 – March 31, 2019
42km – 2,300
28km – 1,500
12km – 1,000
5km – 750
Inclusions:
42km – Event Shirt, Draw String Bag, Race Bib, Buff, Finisher Medal, Entrance Fees, Post Race Meal
28km – Event Shirt, Race Bib, Buff, Finisher Medal, Entrance Fees, Post Race Meal
12km – Event Shirt, Race Bib, Finisher Medal, Post Race Meal
5km – Event Shirt, Race Bib, Finisher Medal, Post Race Meal
Registration Venues:
A. OFFLINE REGISTRATION
SAGADA:
1. Something Sagada Souvenir Shop, Centrum Building
2. Residential Lodge
3. Shamrock Tavern
BONTOC:
1. CMV Outdoors – Poblacion, Bontoc
2. Aijay's Marketing – Poblacion, Bontoc
BAGUIO
1. Flycatchers Yoga Studio, 3rd Floor La Azotea,
108 Session Road Baguio City
Tabuk City
1. NIA Office, Purok 6, Bulanao, Tabuk City
In between COA & Kalinga State University look for
Agnep Daphne Kyle Yag-as
B. VIA BANK DEPOSIT :
1.Deposit payment
BDO
Account Name: Janice A. Salas
Account Number: 0036-0033-0629
BPI
Account Name: Janice Aliswag Salas
Account Number: 0039-4580-04
2. Send copy of deposit slip or screenshot of
payment at our facebook account Team
Tagtag with the following details below:
Name of Runner:
Contact Number:
Gender:
Real Age:
Distance Category:
Shirt Size:
Team Name:
Name and Contact # in Case of Emergency:
For More Information:
Contact Person: Fidel Polinario
* Smart – 09392604768
* Globe – 09158231408
Email us at:
* [email protected]