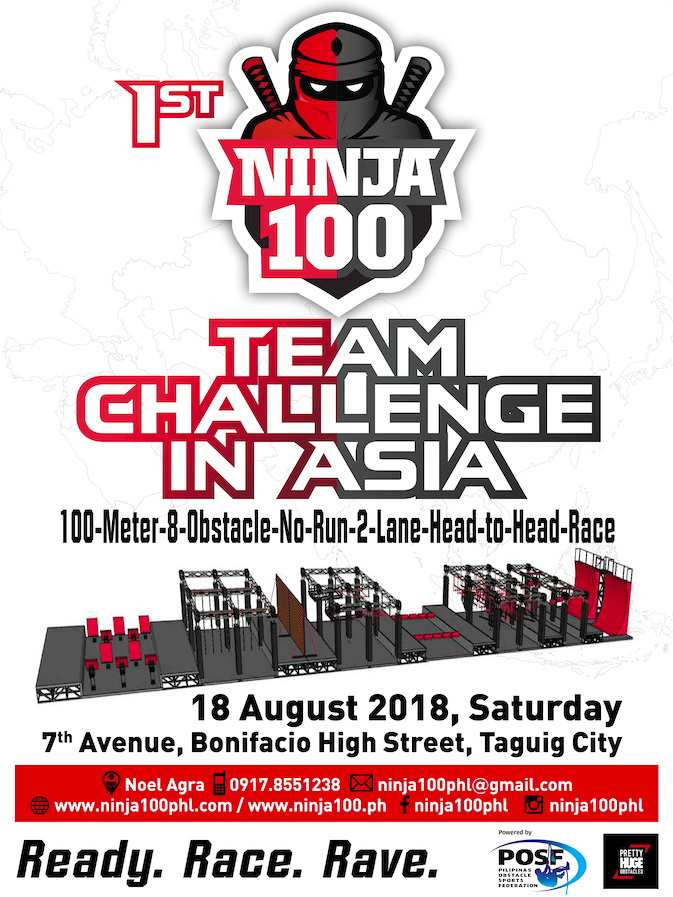 Ever dreamed of being a Ninja?
Get ready for the first ever Ninja 100 Team Challenge in Asia this coming August 18, 2018!
All you need to do is form a team of 3, have a team Name and team uniform. Each team must be composed of 2 Males and 1 Female and must be led by a playing team captain.
This race is open to all nationalities and to every one aged 18 above!
Ready. Race. Rave.
1st Ninja 100 Team Challenge in Asia
August 18, 2018
7th Avenue, Bonifacio High Street, Taguig City
8 obstacle race
Get Updates – Click Here
Registration Fees:
– P2000 per team
– Maximum of 32 Teams
Winners
– Prize money of P20,000 for the team champion and P10,000 for the 1st Runner-up
– Ninja 100 Trophy or Medal
– Defy Athletics Winner's Jerseys
Registration Venues and Reminders:
o Walk-in Registration
o Sign-in and Deadline of Entries: 11:00a.m. to 12:00n.n. (1st-come 1st served basis; All Team Members must be present at sign-in)
o Drawing of lots or matchups and briefing immediately follows
o Schedule matchups will be posted
o 1st matchup: 1:00 p.m.
o Finals: 7:00 p.m. (subject to change without prior notice)
o No practice allowed
Mechanics
o The racer who rings the buzzer/ bell at end of course shall win the matchup
o Only one false start allowed
o A racer who falls, goes outside the designated lane or touches the ground mats can no longer continue and will lose that round
o If both racers do not complete the course, the one who goes the farthest wins the matchup
o Pairings shall be drawn by lots and matchups placed in single elimination brackets
o All Team Members must be present when called, otherwise, default
o For every Head-to-Head matchup, the Team Captain submits order (i.e., M-M-F, M-F-M or F-M-M)
o Sequence of players may be changed every round
o All decisions of Course Director are final and unappealable
o Event and Race Organizers assume no liability
Reminders for Ninja 100:
1. Determine team members (2 male and 1 female)
2. Finalize your Team Name
3. Designate your Team Captain
4. Train (may be at Obstacle Sports Factory)
5. Event will push through even if it rains (may be cancelled if there is a typhoon and for safety reasons)
6. Sign-in starts at 9am (not 11am as earlier announced) at area near Kabisera. All 3 members must be present. Sign-in ends at 12nn.
7. Drawing of lots for matchups at 12nn. All 3 members must be present.
8. First matchup (1 vs. 2) at 1pm subject to change without prior notice. 2nd match (3 vs. 4) immediately follows and so on.
9. No practice on course on event day.
10. Waivers and Registration Forms available at Registration Booth.
The POSF Challenge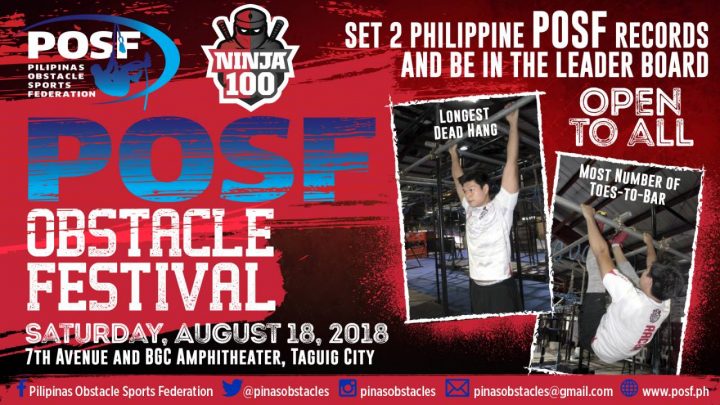 For More Information:
Noel Agra – 09178551238
[email protected]