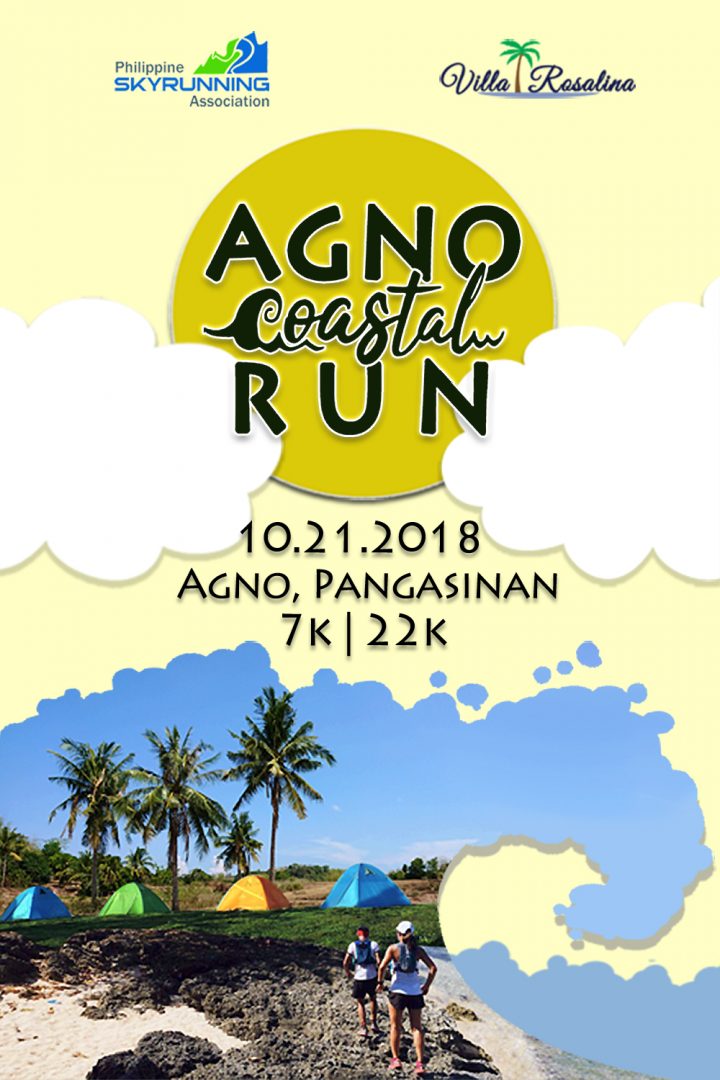 ACR is a brand-new event organized by the Philippine Skyrunning Association as their fun running event for charity. Runners will be able to explore and enjoy the spectacular scenery of coastal Agno in the province of Pangasinan and the Balincaguin river delta. This year, the inaugural run will be limited to 100 entries.
Runners may choose from two distances; 22km and 7km. Both are beginner-friendly and take in beautiful sections of the beach with their brightly colored fishing boats and undeveloped coastal hills. The 22km category stretches from the beach up to the Pinsal Falls, rice paddies, Mango and Duhat orchards and unspoiled trails.
The courses have been designed to be varied and minimize the number of time runners has to be on the road. As far as the organizers and the Tourist Authority are aware, this is the first running event to be held in the area.
The event will be based at Villa Rosalina, a coastal property that boasts large mango and coconut orchards 300 meters from the sea in Barangay Aloleng. Camping will be available on site with facilities.
The program starts on Saturday 20th October in the afternoon with registration, followed by an evening meal and activities. Registration will start at 3 pm and finish at 9 pm. On Sunday there will be a pre-run and a post-run meal, followed by a prize giving ceremony.
The runs will be marshaled and water will be provided on course.
Close by are some of the iconic sights of Pangasinan including the Umbrella Rocks, Rena Point, Abagatanen beach, Simmumbaan Cave, and Bangol Crags. The church in Agno, St Catherine of Alexandria, was built in 1610 making it one of the oldest in the country. Slightly further away you could visit the Hundred Islands National Park and take in the giant clams at the Bolinao Marine Laboratory.
Agno Coastal Run 2018
October 21, 2018
Agno, Pangasinan
7K|22K
Organizer: Philippine Skyrunning Association
Get Updates – Click Here
Registration Fees:

7K – P1500
22K – P2200

- Inclusive of Race Shirt, Evening Meal (Saturday), Pre-race Breakfast, and Post-race Lunch
Registration Venues:
1. Online – Click Here
For More Information:
Facebook PageSky Running Pilipinas