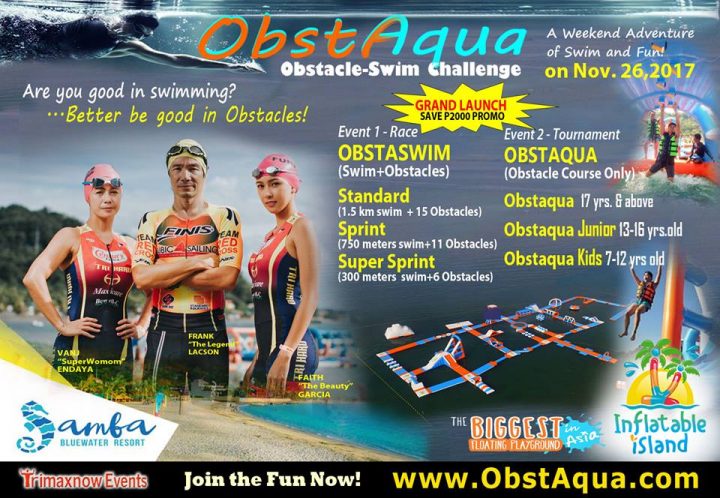 In partnership with the Inflatable Island, Samba Bluewater Resort and Trimax Travel Wellness Leisure and Events, we are very excited to launch both the ObstAqua tournament where racers compete against each other over water-based obstacles and the ObstaSwim Challenge which combines the endurance sport of open water swimming and ObstAqua racing. Both are unique, fun, and spectator-friendly. This is envisioned to be an emerging, participation and family-oriented sport or event that will surely follow the success of the land version of Obstacle racing (Spartan) that is spreading around the world.
ObstAqua is organized and owned by TriMaxNow Events -an event company of Trimax Travel Wellness Leisure and Events based in Subic Bay that promotes Subic Bay as the Sports Tourism haven, Events and Travel Destination in the Philippines.
ObstAqua Obstacle Swim Challenge
November 26, 2017
Subic Bay
ObstaSwim | Obstaqua
Registration Fees:
OBSTASWIM (Open Water Swim+Obstacle Course)
– STANDARD 1.5km + Obstacle Course – P2,800
– SPRINT 750m + Obstacle Course – P2,500
– SUPER SPRINT 300m + Obstacle Course- P2,000
OBSTAQUA (Obstacle Course Tournament)
– OBSTAQUA (17 yrs. old & above) – P2,000
– OBSTAQUA JUNIOR (13-16 yrs.old)- P1,900
– OBSTAQUA KIDS (7-12 yrs old minimum of 3 feet tall & above) – P1,800
* Swimming Skills not required. No Distance Swimming. Obstacle course only.
Registration Venues:
1. Online Registration – Click Here
For More Information:
Visit – obstaqua.com