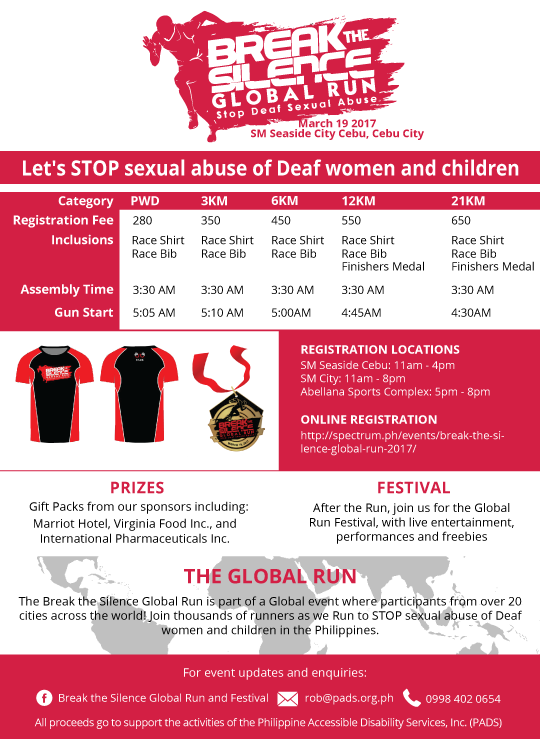 On Sunday 19 March, 2017, PADS is hosting approximately 5,000 global change-makers of all abilities and ages to participate in Break the Silence: The Global Run, in cities around the world. Our goal isn't to break world records. Instead, our goal is to generate a wave of awareness across the globe which will contribute to the eradication of the sexual abuse of Deaf women and children.
Our primary run will be in Cebu City, the Philippines, where Filipinos and international guests will take to the streets to show their support. Simultaneously, other Filipino cities will host runs with the support of SM Malls. On the same day around the world, our partners and networks will host runs in their cities. We have confirmed runs across in North / South America, Europe, Australia, Asia and the Pacific Nations. The final run of the day will be hosted by Google at the Googleplex in Mountain View, California – USA.
Break the Silence Global Run and Festival
March 19, 2017
SM Seaside City, Cebu City
PWD (1K)|3K|6K|12K|21K
Organizer: Philippines Accessible Disability Services, Inc. (PADS)
Registration Fee:
PWD 1K – P280
3K – P350
6K – P450
12K – P550
21K – P650
– Registration includes Race Shirt and access to the Festival after the Run.
– 12K and 21K finishers will receive Finisher's Medals.
Registration Venues:
1. Online Registration – Click Here
2. In-Store Registration:
– SM Seaside (Mountain Wing): 11am – 4pm (Monday – Saturday)
– SM City (Sports Ave) from Feb 20: 11am – 8pm (Monday – Saturday)
– Abellana Sports Complex 5pm – 8pm (Monday – Sunday)
– Infinitea VCMC Jones and Infinitea CTS Mandaue: 10am – 11pm.
For More Information:
(e) [email protected]
(m) +63 998 402 0654
(fb) https://www.facebook.com/events/1372070929490239/
(w) www.pads.org.ph