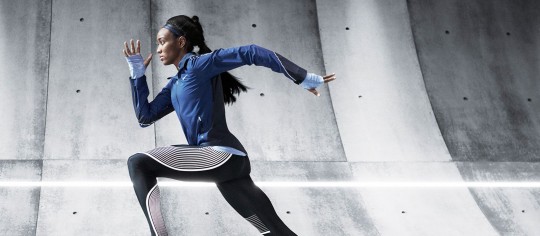 Athletes of any field require apparel that adapt to the individual needs of their body in motion.
This mandate drives design at Nike, as underscored by its new tight offerings – Power Speed Tights, Pro Hypercool Max Tights, and Zoned Sculpt Tights which support specific mobility, regulate body temperature, and adapt to requirements inherent to running, men's training, and women's training.
NIKE POWER SPEED TIGHT
Top sprinter English Gardner doesn't mince words: "I have to have my tights. Tights help keep you stabilized, [and yet] give you enough free flow of movement to have the power."
A full-time training schedule, with the motivation of winning in Rio in her mind's eye,Gardner on the track all week, which means she relies on her tights to help stabilize sore muscles and aid recovery.
Taking Gardner's insights as a starting point, Nike designers crafted tights to aid the linear motion of running and the muscles it engages.
Designers employed a slim cut to maximize compression provided by a lightweight, high-elastane Dri-FIT fabric that has ample stretch and retraction to smoothly adapt to the runner's stride.
Notably, enhanced compression along the hip, thigh, calf and Achilles tendon boost muscle control. These compression zones are accentuated by screen-printed graphic lines, inspired by the flow of a track, that visually enhance the natural beauty of the athlete in motion.
Beyond Gardner's immediate requests, designers solved for the needs of elite and everyday runners by adding an encased drawcord at the waist for a personalized fit, reflective details for low-light conditions and bonded ankle zips for easy on and off. A vapor-lined pocket for phones or keys sits on the back hip for men and at the center back for women.
From sprints to distance training, Nike Power Speed tights provide perfectly tuned performance support. (Retail Price: Php7,295)
NIKE PRO HYPERCOOL MAX TIGHT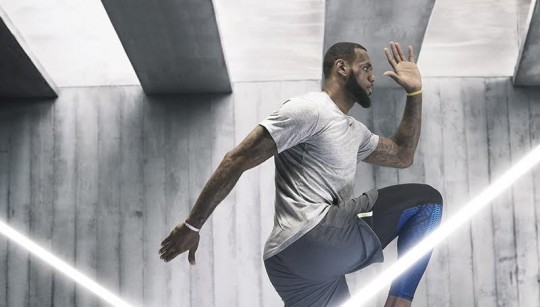 When it comes to pinnacle performance, LeBron James champions action over words. "I'm always trying to push the limit and not worry about what people say the body can and cannot do," declares James.
James employs this philosophy in-season and during his dynamic, year-round indoor and outdoor training, which includes yoga, running, biking and weightlifting — just a few elements of his routine. This range of activities is best served by tights with a second skin-like fit that minimize external conditions to help improve focus.
The Nike Pro Hypercool Max men's training tight provides a compression fit from ankle to hip that moves with the body, while seamlessly managing the heat of indoor and outdoor training with a breakthrough combination of zoned venting and reflective, metallic material.
Designers tapped into research from Nike's Advanced Innovation Kitchen that tracked cricket players in some of the world's hottest geographic zones. These outdoor athletes were constantly under direct sunlight and needed more than just lightweight materials to combat the heat. Inspired by the reflective windshield sunshades that help cool car interiors, Nike designers created a thin, metalized polymer film that blocks UV light and infrared heat.
The Nike Pro Hypercool Max men's training tights, comprised of ultra-lightweight Dri-FIT Max fabric, incorporates that thin film into a graphic pattern across the knee and shin, areas most affected by the sun's warming rays, while zoned venting across the back of the tight increases airflow in key sweat zones.
NIKE ZONED SCULPT TIGHT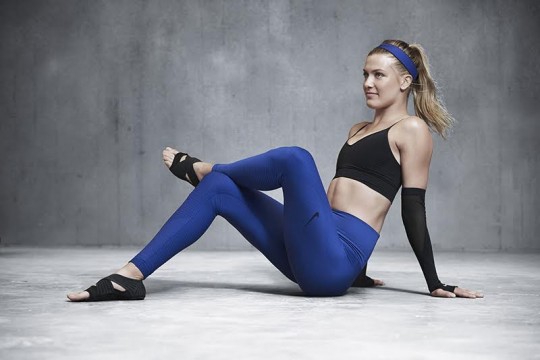 For Genie Bouchard, visualization is a key component of success. "It's so important to dream big," the tennis player declares, "and to work as hard as you can to achieve those dreams."
This mind-body connection plays directly into Bouchard's choice of training apparel. She needs gear that will activate her muscles, keep her warm and help prime her – physically and psychologically – for performance.
Inspired by the way athletes such as Bouchard employ a varied and vigorous training routine, Nike designers devised the Nike Zoned Sculpt Tight to offer support, fit and comfort for the body in motion. They looked to the six core training moves – push, pull, lunge, squat, bend and rotate – to tailor a tight that moves with the natural motion of a woman's body, wraps and defines muscle movement and promotes a sense of fluid control.
The Nike Zoned Sculpt Tight is crafted from soft, light Dri-FIT fabric that employs knitting process to help provide compressive support to muscles around the core, quadriceps and glutes.
Simultaneously, the knit offers built-in breathability and sweat management, while the nearly seamless construction allows for freedom of movement. A higher, tilted waistband provides a firm, locked-in feel while strategic venting areas enhance cooling in key areas, such as behind the knee. (Retail Price: Php6,795)
Discover more information about Nike Running or Nike Women's tights or shop the Nike tights collection at nike.com.
– ADV
For Instant Updates – Follow US!
https://www.facebook.com/pinoyfitness
https://www.twitter.com/pinoyfitness
https://www.instagram.com/pinoyfitness
PF Online Community -> https://members.pinoyfitness.com
PF Online Shop -> https://shop.pinoyfitness.com
Like this Post!? Share it to your friends!