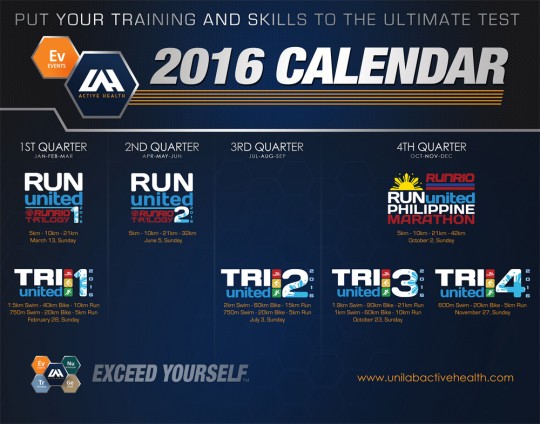 Check out the 2016 ActiveHealth Calendar!
Put your skills and training to the ULTIMATE test! Bring out the better version of yourself. You may choose to upgrade to longer distances, or establish new personal records. Whatever your performance goal may be, each event was designed to test the skills you currently have, the nutrition regimen that you have been following, the gears that you have acquired and most importantly the training that you have been undergoing!
The 2016 ActiveHealth calendar has been developed with experts within the swim, bike, and run community to cater to those who desire to progress from where they are today, to be better tomorrow.
RUN UNITED SERIES:
Run United 1
March 13, 2016
5K | 10K | 21K
Run United 2
June 5, 2016
5K | 10K | 21K | 32K
Run United Philippine Marathon
October 2, 2016
5K | 10K | 21K | 42K
TRI UNITED SERIES:
Tri United 1
February 28, 2016
Standard | Sprint
Tri United 2
July 3, 2016
Long | Sprint
Tri United 3
October 23, 2016
Half-Distance | Long
Tri United 4
November 27, 2015
Sprint
Mark your Race Calendar and Save the Date!
For Instant Updates – Follow US!
https://www.facebook.com/pinoyfitness
https://www.twitter.com/pinoyfitness
https://www.instagram.com/pinoyfitness
PF Online Community -> https://members.pinoyfitness.com
PF Online Shop -> https://shop.pinoyfitness.com
Like this Post!? Share it to your friends!