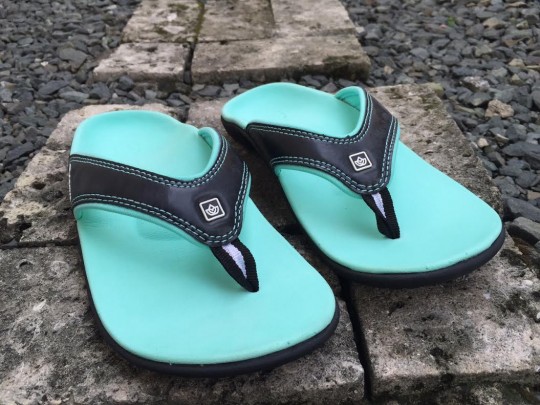 SPENCO Yumi recovery slippers now in Manila
by Ria Cruz
SPENCO a brand well known for their insoles recently released a new line of products here in the Philippines, SPENCO Recover Footwear. To be honest, it's actually the first time I heard about recovery slippers, before the Yumi, I buy my flip flops just because I like the design, not really about thinking about the functionality.
In a nutsell, the SPENCO Yumi comes with some unique features: Compression molded EVA Footbed, the material used in most running shoes, SPENCO's proven TOTAL SUPPORT Contour, Deep heel Cupping and an Orthotic-grade arch support all designed to support recovery after your run or while walking.
But enough of the science, after using the SPENCO Yumi for a few weeks here are some of the things I personally love about it:
1. Comfort – After a long run or good run workout, there's nothing more glorious than taking off your shoes and resting your feet. With the Spenco Yumi Flip Flops, there's no need to wait until you get home! The contoured footbed that hugs my arches, heels and toes instantly provides relief to your tired feet. What I liked best is the maximum cushioning and arch support that massages your sole in every step.
2. Style – My Yumi came in a cute mint green and black, with a sleek profile that's not too sporty or bulky and with sturdy material, so it can also be used as casual footwear. It can easily be swapped with those stylish beach flip flops but will feel as comfy and soft as those plush clogs ;). Perhaps, malling after a run workout would be possible since you could really stay on your feet longer without looking so drab.
3. Lightweight – Being made with proprietary synthetic material, the Yumis boast of a lightweight feel despite the cushioning feature. At times that you really need to be in shoes (haha), it also helps that it's easy to lug around in my gym bag or shoe bag without much added weight on the go.
I was very satisfied with the feel and look of these sandals. I would say that it's an easy choice for a runner since you would definitely benefit from it's overall design. It would hasten recovery either from foot injuries like plantar fasciitis, or your regular workouts to get you ready for the next run as soon as possible.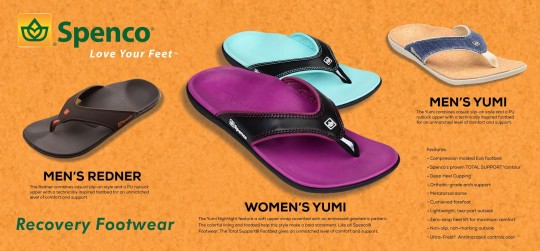 The SPENCO Women's Yumi comes in 2 colors, Purple and Blue, while the Men's Yumi comes in a white & denim design.
Check them out in Toby's Shangri-La Plaza, Tobys Glorietta 2 and RUNNR BHS. SRP is Php 2,695. This could be the best investment you make for your feet next to your running shoe.
For Instant Updates – Follow US!
https://www.facebook.com/pinoyfitness
https://www.twitter.com/pinoyfitness
https://www.instagram.com/pinoyfitness
PF Online Community -> https://members.pinoyfitness.com
PF Online Shop -> https://shop.pinoyfitness.com
Like this Post!? Share it to your friends!