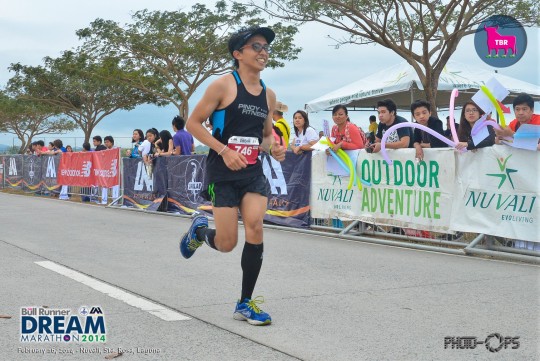 The author as he finishes his first full marathon on TBRDM 2014 | TBR | Photo-Ops
6 Tips for Runners Who Wanted To Hike Mountains
by: Miko Santos 1. Train and prepare.
Yes, you may be active in running, which means you would need to worry less about the aerobic fitness and endurance needed for hiking mountains. However, you still need to be prepared to deal with a different kind of physical stress on your legs, back, and shoulders that climbing mountains would bring. This means running more uphills, climbing stairs, and doing lunges at least a few weeks before the climb.
2. Bring enough food and hydration.
As runners, we know how vital nutrition and hydration are in races and trainings. The same can be said in mountaineering. Before you embark on your journey, pack enough food for the number of meals you will consume while in the wilderness. For trail food, I usually bring nuts, gelatin, and chocolates. Always carry emergency rations. Cooking using portable stoves is encouraged, as opposed to making campfires, because they have less environmental impact. Plan ahead for possible water sources (i.e. rivers, springs, communities) in your itinerary, especially in a multi-day hike.
3. Wear proper clothing and gears.
Two of the most important gears is a comfortable backpack and a good pair of trekking shoes. The size of the backpack will depend on the number of days of your trip. Typically, I use a 25-30L bag for a day hike, a 50L pack for a multi-day hike, and anything in between for an overnight climb. Wear bright-colored clothes to increase visibility. Other necessities include a raincoat, a cap, a headlamp (even for a day hike, you must always be prepared to night trek), a whistle (6 blasts per minute is the international distress signal), first-aid kit and personal medicines.
4. Leave no trace.
Leave what you find as you found them. Respect wildlife (both plants & animals) and observe them from a distance. Bring down every piece of trash you brought up the mountain, preferably in individual trash bags (easier to bring down), rather than stuffing the entire group's trash in a single big container. Climb mountains in small groups to reduce environmental impact. Be considerate of other hikers by yielding to other users of the trail and minimizing noise in campsites.
5. Research.
Plan ahead and prepare. Research on the specific mountain you are about to hike. There is a vast amount of resources available just a click away (e.g. PH Mountains app). Check the weather and prepare accordingly; cancel if necessary (e.g. typhoon). Assign a contact person (who will not join the hike) and update him or her of your group's whereabouts during the entire trip.
Know more about PH Mountains APP – www.phmountains.com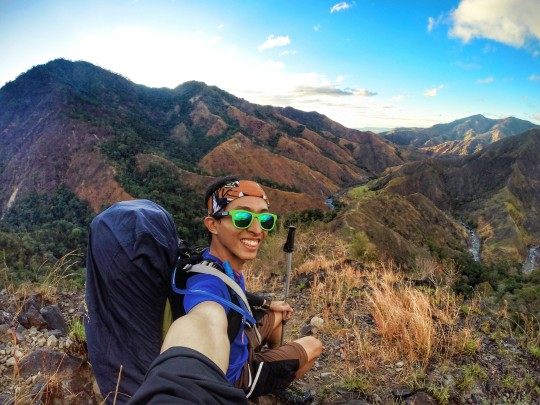 6. Enjoy the great outdoors.
Races tend to make us do everything in a fast pace. It is a race after all. In mountaineering, we are encouraged to take time to enjoy the scenery and the majesty of nature. To let it all in. Do not hesitate to make new friends. Join a local mountaineering club and learn from the members' experiences.
"We came. We saw. But we never conquered. Because through the years, the mountains have remained — conquering us with every storm, with every wildflower, and with every windswept peak. That is why we keep on climbing: Because the mountains have conquered us." — Kris Lacabax
For Instant Updates – Follow US!
https://www.facebook.com/pinoyfitness
https://www.twitter.com/pinoyfitness
https://www.instagram.com/pinoyfitness
PF Online Community -> https://members.pinoyfitness.com
PF Online Shop -> https://shop.pinoyfitness.com
Like this Post!? Share it to your friends!