"You will never know your limits, unless you PUSH yourself to them"… We run and break new PRs, we Bike and push to new distances, we hit the gym like there's no tomorrow. We're fit, we're strong, and we're powerful… are we really?
I've seen the fit fall, witnessed the strong break. We might look fit and strong on the outside, but on the inside? Maybe not.
There are a lot of factors that affect our fitness and performance that we cannot readily see. Our cholesterol, sodium, potassium levels, possible abnormalities and birth defects can be a limiting factor on the amount of stress we can give our body.
Normally we're fine but it's best to be sure than to be sorry. But how do we know!? Last week I don't know as well until Hi-Precision Diagnostics sent me an email.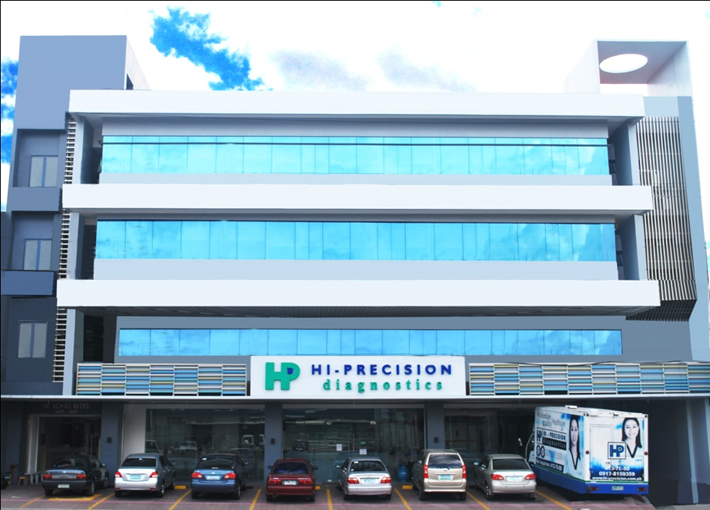 They are offering a diagnostic package that determines the fitness level of a person; the test includes a full blood work, ECG, 2D ECHO, Treadmill Stress Test and a doctor's consultation.
The Complete Blood Work includes:
Complete Blood Count, Fasting Blood Sugar, Blood Urea Nitrogen, Creatinine, Blood Uric Acid, Cholesterol, Triglycerides, Lipoprotein Profile, SGPT, SGOT, Alkaline Phosphatase, Na (Sodium, K (Potassium), Complete Urinalysis.
Here are the findings:
The good news is my cholesterol level are still in check, however the ratio of the good vs. bad cholesterol is rather high according to the doctor, which means I have to increase my good cholesterol intake such as Fish Oil.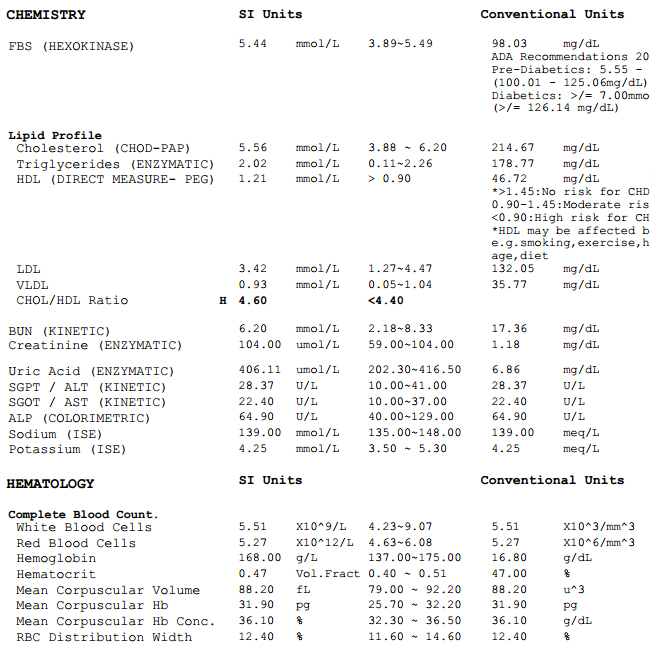 An alarming finding is that my creatinine level is on the high side, since creatinine is a good indicator of kidney function, it could be an indicator that I'm overworking my kidney. It's possible because I sweat a lot or because I occasionally also take in protein shakes that push my kidney to work overtime… The solution? Drink more water.
The ECG (Electro Cardiographic Report) findings:
I got SINUS BRADYCARDIA… which means my heart has a resting rate of under 60 beats per minute. In normal conditions people with this symptom may experience lightheadedness, dizziness, hypotension, vertigo, and syncope.
But this is not always problematic; the doctor told me that this can be a normal condition to people who regularly practice sports and exercise, because trained hearts can pump enough blood the body needs at a slower pace.
The 2D ECHO findings:
Happy results here. Everything is normal and I get to see my heart pumping as well. Checkout the snapshot of my heart!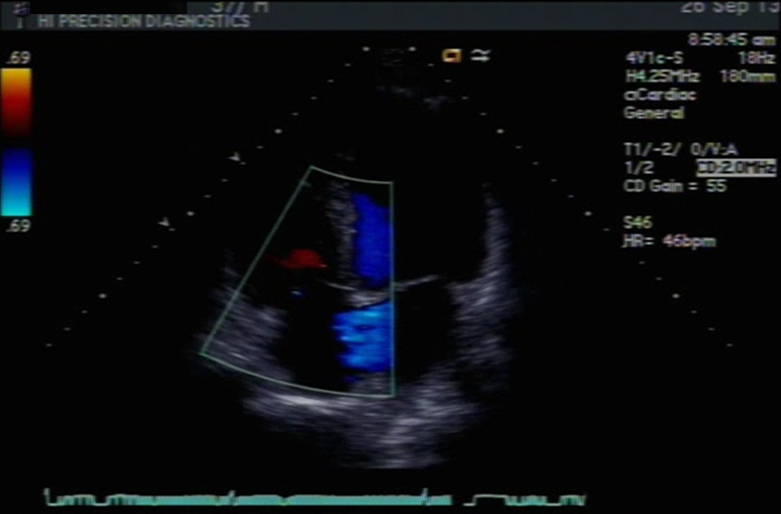 The Treadmill Stress Test findings: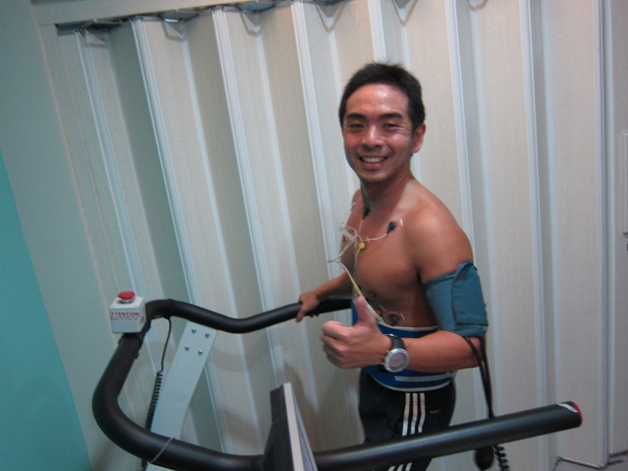 I thought this is going to be easy since I run, boy was I wrong! The test measures your hearts' performance and recovery capability, the test is divided into stages, each stage is 3 minutes long and increases in speed and incline as you move on to the next stage. I got up to stage 5, that's just about 15 minutes.
The findings are normal, except for an episode of Sinus Arrhythmia while recovering… WHAT'S THAT!? I was assured that it is a NORMAL variation in the beating of the heart. It happens when the heart rate cycles with your breathing, as you breathe in the heart rate speeds up slightly, and slows back down as you breathe out. Everything went back to normal after a minute, so I'm fine.
The Verdict
Is that I'm generally fit to pursue sports and fitness. I just need to increase my water intake and watch my cholesterol level and I should be fine. Now at least I can say that I'm fit INSIDE and OUT. How about you?
For those who want to also get the same test, I got the rates of each test from Hi-Precision Diagnostics.
Complete Blood Work – P1,150
ECG – P 350
2D ECHO – P 2,300
Treadmill Stress Test – P 1,400
Doctor's Consultation – P 300
Total Test Cost is approximately P 5,500. Not bad in exchange for some additional peace of mind. So just in case you're interested to take the same tests that I did, drop in to any Hi-Precision branches near you.
Customer Care: (02) 741-7777
Website: www.hi-precision.com.ph
Facebook: www.facebook.com/hpdiagnostics
Now for a quick Raffle Contest! I'm giving away P2,000 worth of Hi-Precision GCs! Who Wants!? Don't forget to LIKE and SHARE this post!
Hi-Precision Branches:
DEL MONTE: W. Long Bldg. 440-442 Del Monte Ave., Brgy. Siena, Q. C. (02) 413-7777/ 0922-8906664
EAST AVE.: 18 East Avenue, Diliman, Q. C. (02) 435-8228/0922-8906688
LAS PINAS: Units 21-24, Las Piñas Comm'l. Complex, Alabang Zapote Road, Talon Uno, Las Pinas City
N.S. AMORANTO: 674 N. S. Amoranto Sr. Ave., Q. C.
PASIG: Unit 102-202 Armal Bldg. Compound F. Legaspi St., cor. C. Raymundo Ave., Maybunga Pasig City
SUCAT: Unit A-4B Jaka Plaza Mall Dr. A Santos Ave, Sucat, Parañaque City
T.M. KALAW: 638 T.M. Kalaw St. Ermita, Manila
BULACAN: Benigno Aquino Sr. Avenue, Bagong Nayon, Baliuag, Bulacan (044) 766-0280/0932-8908922
CAVITE: Unit GF-19/14-17 Central Mall Salitran Road, Dasmariñas City, Cavite(046) 424-1796/0932-8908920
PAMPANGA: McArthur Hi-way cor. Angeles-Magalang Road Brgy. Sto. Cristo, Angeles City (045) 322-2111/ 0922-8966726
CEBU CITY: G/F Medalle Bldg. Osmeña Blvd., Cebu City (032) 255-4131/0917-6344366
CEBU CORPORATE: WES Bldg., No. 28 J. Llorente St., Capitol, Cebu City (032) 256-0151/0917-6211266
MANDAUE: G/F Diamond Plaza Bldg. MC Briones, National Hi-way, Maguikay, Mandaue City (032) 238-8600/0917-6244266
MACTAN: MV Patalinhug Avenue Basak, Lapu Lapu City, Cebu (032) 520-1142/0917-3022230
TABUNOK: South National Hi-way, Talisay City (032) 236-6277/0917-6266277
HPD PLUS -ALABANG: 2301 Civic Place Unit 106 No. 2301 Civic Drive Filinvest Corp. Alabang
HPD PLUS-ROCKWELL: Concourse Level No. 020-B Rockwell Center, Makati
HPD INTERNATIONAL-TAFT: 1852 Taft Avenue, Malate, Manila
For Instant Updates – Follow US!
https://www.facebook.com/pinoyfitness
https://www.twitter.com/pinoyfitness
https://www.instagram.com/pinoyfitness
PF Online Community -> https://members.pinoyfitness.com
PF Online Shop -> https://shop.pinoyfitness.com
Like this Post!? Share it to your friends!