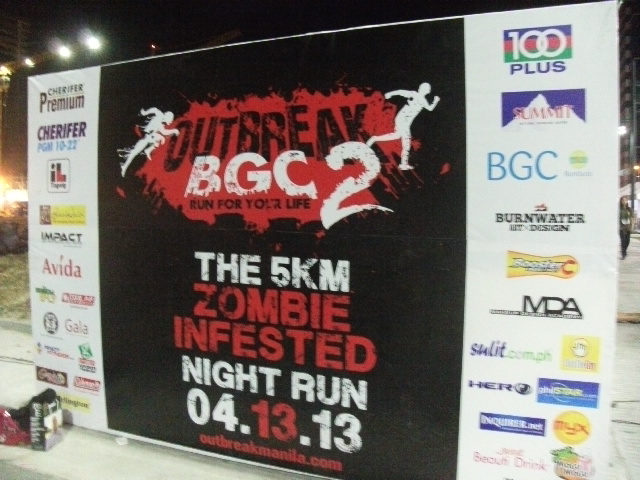 A Year-long of Zombies — Outbreak BGC 2 – And the Scary Saga Continues …
Words by: Ms_Mars
Photos by: Ms_Mars, Booster-C and Outbreak Manila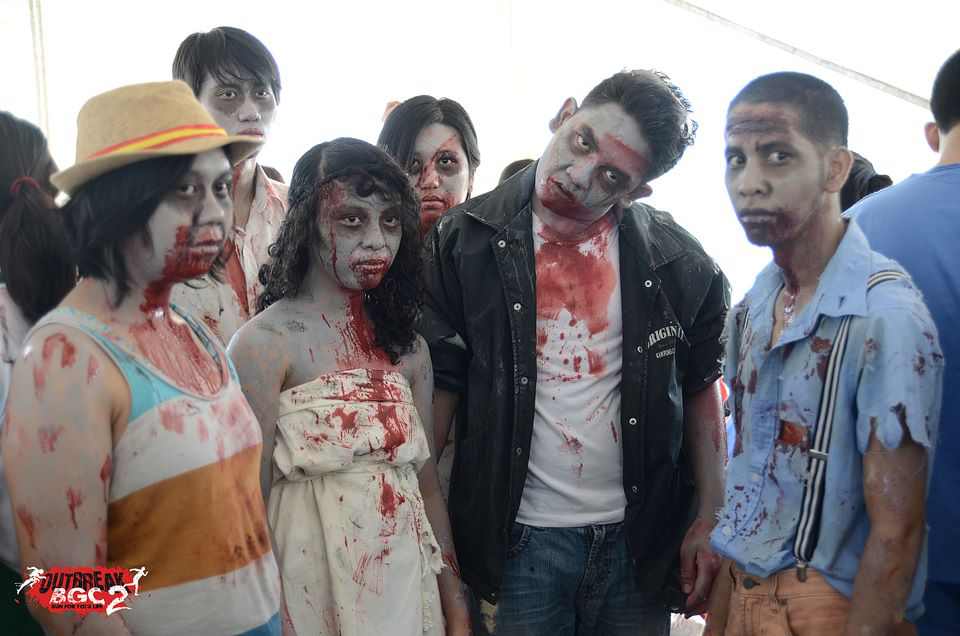 They came… they scared… and they keep on zombie—ing! Time really flew that fast and before we even realized, the Outbreak zombie run series just got back and did what they loved best!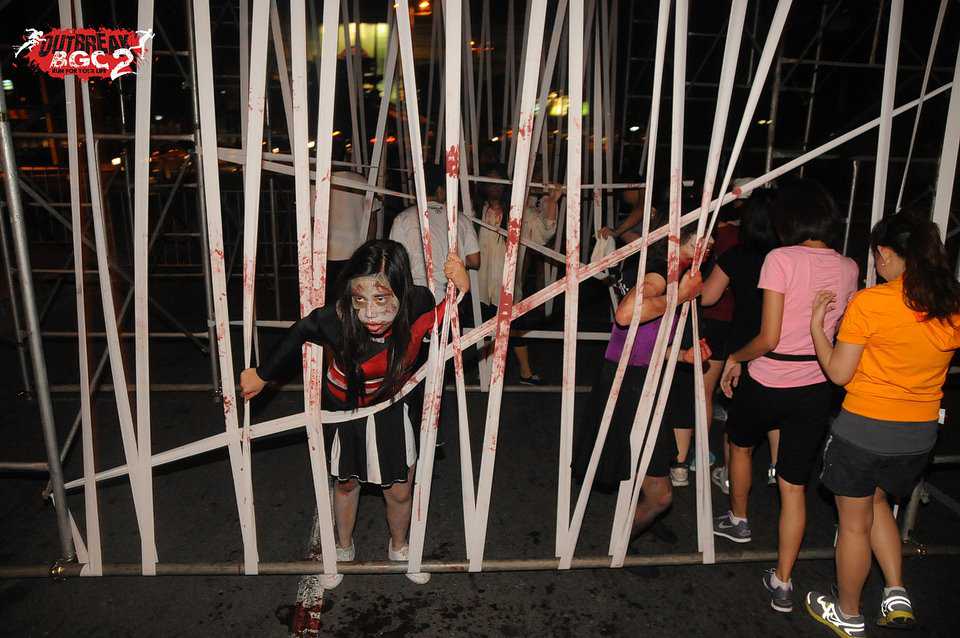 Yes, the ghoulish horde of Outbreak Manila had its recent return scare as it attacked Bonifacio Global City anew during their anniversary zombie run dubbed Outbreak BGC 2 held April 13th weekend. Still a night run, this instalment may have been the biggest yet to date in terms of attendance at a whopping seven thousand estimated registered runners! Timing was of great essence since it is summer vacation and thousands of the previous Outbreak runners were back. Some donned again in their character costumes and a variety of hand-held or decorated props. Spotted were The Flintstones, Army Guys, IronMan, among others who had a really fun time with photo ops from their fellow runners.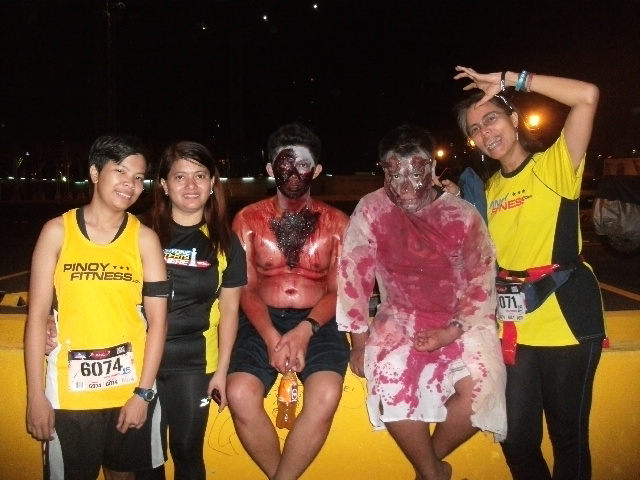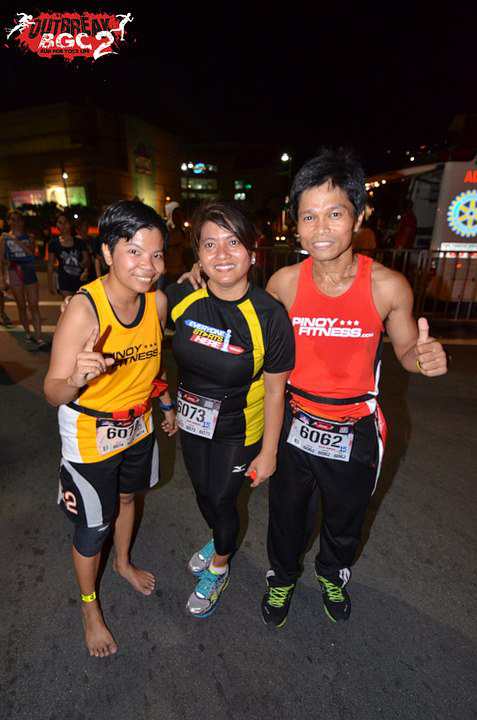 A good number of active PINOYFITNESS runners had a great time and didn't miss the chance to run for their dear lives as a fresh horde of zombies lurked and scared our very wits in the dark shadows of BGC's zombie town. Congrats shout out goes to fellow PF runner Russel Fernandez who landed 3rd fastest finisher for Wave 15 (Pinoyfitness Wave). You already! Only the Top 3 male and female are awarded medals in each wave. Total number of waves was 34 with gunstart every 10 minutes. If there was at least one life or ribbon left per runner, they get to take home a well-deserved finisher's medal. But weep not, since everyone went home with the signature Outbreak Manila finisher's shirt.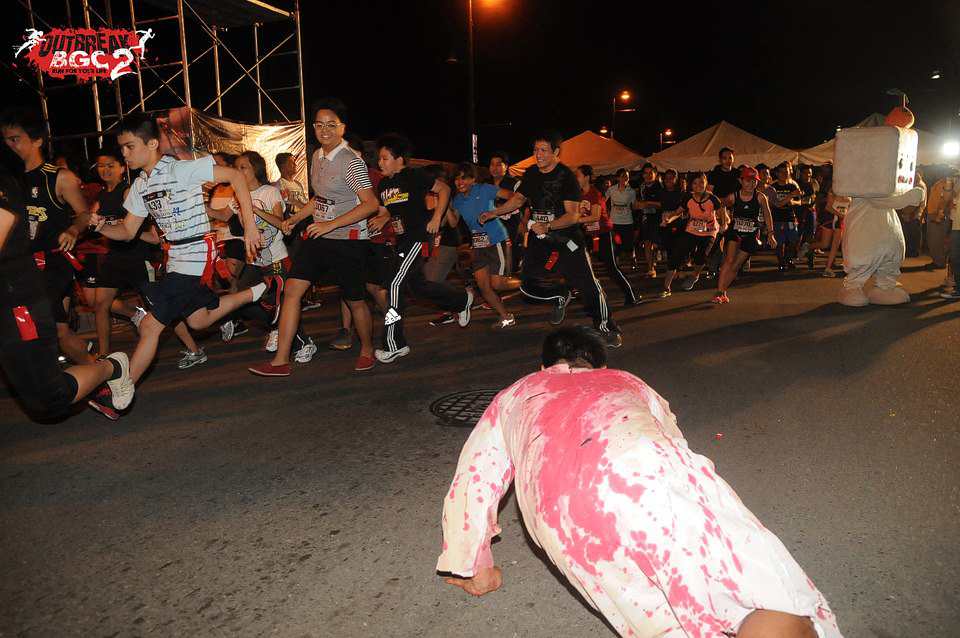 "The difference of this zombie run from the 3 previous Outbreaks is that, we had a one hour break which allowed the zombies to rest since it's not easy to scare people until midnight despite having 2 shifts," shared to us by Mitch Cruz of Runtertainment Inc., the creative group behind the success of the Outbreak series.
Was extra thrill seeing very familiar zombies from the first two Outbreaks. Their chase and scare level still very high and relentless. If you request them to be nice and less scary, you'd have to think twice and they'd just grab a ribbon or two from you in split second.
Even if the grand mini Cooper or the haunted house has not made a comeback as part of the obstacles, Outbreak BGC 2 maintained the confusing yet challenging maze and extra fun garter web within its 5K route. Medics/ambulances and hydration stations were deployed in certain spots. Marshalls were also on hand to guide and inform runners what direction to take next.
Celebrities like Rhian Ramos officiated a fun Bring Me Game to the delight of the crowd while Rovilson Fernandez and Illac Diaz survived the apocalyptic feel and for sure had a challenging time dodging hungry zombies.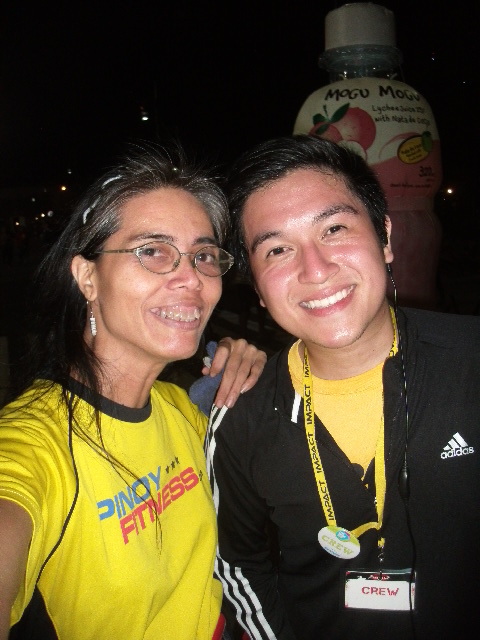 Got the chance to chat with Angelo Cruz, also from Runtertainment Inc. and I made him recall that the last time they held Outbreak BGC it was a very wet rainy night. "Yes that's right," he confirmed. "And because of that, we never wanted to hold an Outbreak on a July!" laughed of Angelo.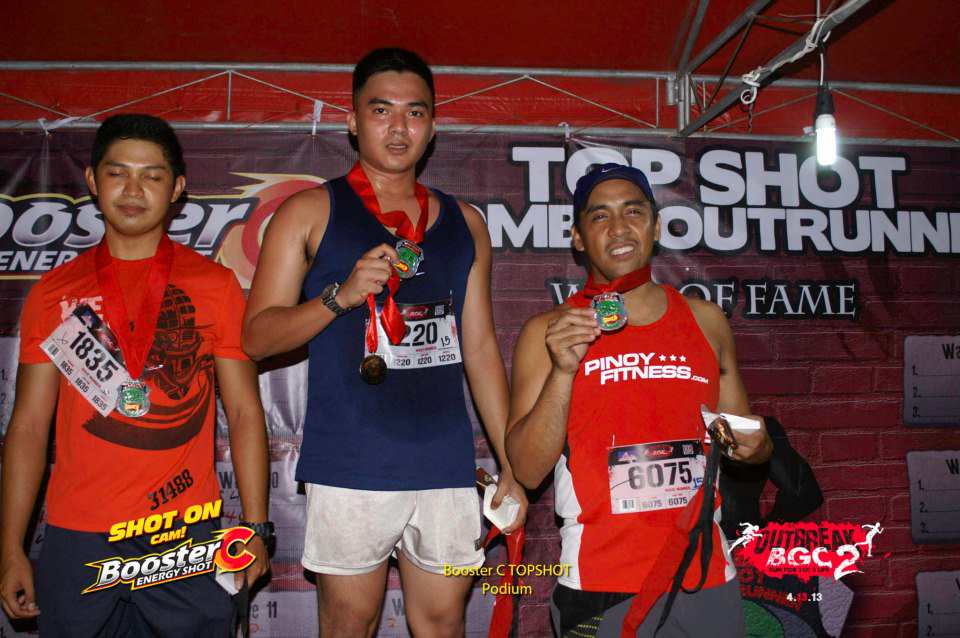 Regardless whether the next Outbreak will be done again in daytime or at night, one thing's for sure that it's still more fun being chased by freaky, ghouly Outbreak Manila zoooombies! Till the next scare… we just keep coming back for more and more…
Many thanks to Angelo, Mitch, Nina Cruz and Ms. Judy Cruz-Malabanan of Runtertainment Inc. and PINOYFITNESS for the chance to cover this exciting event.